Best Dog Names For Yellow Labs
This post may contain affiliate links. We may earn money or products from the companies mentioned in this post.
Congratulations! You've decided to become the proud parent of a yellow Lab, either a newborn pup or an older dog in need of a happy new home.
Once you've adopted your dog, the next challenge is to find the perfect name for the newest member of your family.
It can be hard to choose the right name while you are still getting to know your pup and their personality.
At this early stage, looking for inspiration in their physical appearances, such as their color or other prominent traits, can be a great place to start when deciding on the perfect name.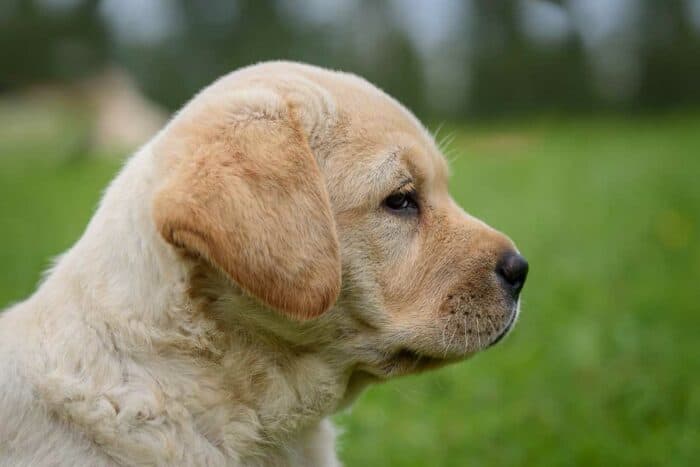 The distinctive yellow-gold color of yellow Labrador retrievers provides lots of inspiration, as can the history of the breed and some of its other special characteristics.
Read on for my recommendations for some of the best names for yellow Labs, as well as some helpful advice when it comes to choosing the perfect name.
Labrador Retrievers: About The Breed
Labrador retrievers, or just Labs for short, are retriever gun dogs that were originally bred in the United Kingdom from fishing dogs that were imported from Newfoundland in Canada. They are named Labradors after the Canadian province of the same name.
The breed was created by the 10th Earl of Home and his nephews, the 5th Duke of Buccleuch and Lord John Scott.
The 2nd Earl of Malmesbury was also very interested in the dogs when they arrived. The first two male dogs of the line were Buccleuch Avon and Buccleuch Ned.
Officially, Labs can come in black, chocolate, or yellow coat colors. Yellow is the most popular color, and it can range from a pale, almost white shade of yellow to a red or auburn fox-like color.
Above all, Labradors are intelligent, obedient, energetic, and playful. Their intelligence and eagerness to please mean they are often used as working dogs, as they can learn what is required from them quickly and tend to find the work fulfilling.
Their naturally friendly demeanor means they are also ideal disability support dogs. You will often see them functioning as guide dogs for the blind.
Yellow/Color-Inspired Lab Names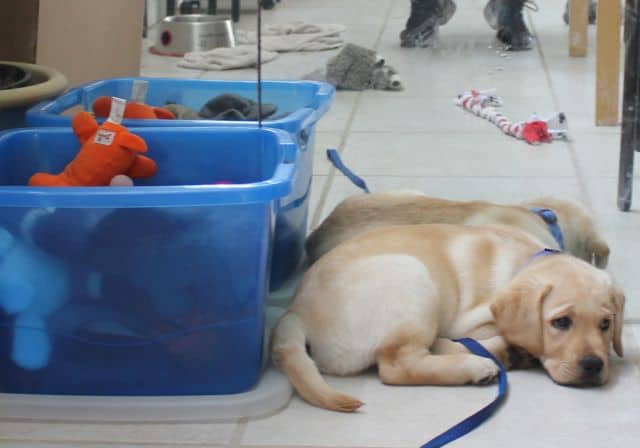 The color of your dog can provide a lot of inspiration for the perfect name. Below are several colorful names that bring to mind the yellow Lab's distinctive coat.
Buffy – after the blonde Vampire slayer
Cabby – like a yellow taxi cab
Dandelion – like the cute, yellow flower
Flaxen – for their flaxen-colored hair
Highlighter – for their yellow color and popping energy
Penny – as well as being yellow-ish, they represent luck
Sun or Sunny – for our yellow sun; also brings to mind the Lab's sunny disposition
Sunflower – for the large, sun-loving flower
Sunshine – this name also matches the Labrador retriever's bright, sunny personality
Treasure – since treasure is golden, and they are your golden treasure
Food-Inspired Names
There are lots of yellow foods out there that make great names for yellow Labs. Here's a great selection of delicious names perfect for a yellow Lab!
Butter
Butterball
Buttercup
Biscuit
Butterscotch
Cheesecake
Cookie
Creamer
Crackers
Custard
Dew – as in Mountain Dew
Latte
Marzipan
Nilla – for Vanilla
Noodle
Popcorn
Taffy
Tapioca
Tequila
Toffee
Waffle
Other Names Meaning "Yellow"
While you could just decide to call your dog "Yellow," you can also find inspiration in other languages.
Amarelo – yellow in Portuguese
Ar – gold in Albanian
Arany – gold in Hungarian
Auksas – gold in Lithuanian
Aurum – gold in Latin
Bulawan – gold in Cebuano
Emas – gold in Indonesian and Japanese
Horia – yellow in Basque
Ginto – gold in Filipino
Groc – yellow in Catalan
Jaune – yellow in French
Kollane – yellow in Estonian
Koura – gold in Maori
Kuld – gold in Estonian
Kulta – gold in Finnish
Oltin – gold in Uzbek
Ouro – gold in Portuguese
Vang – gold in Vietnamese
Verdhe – yellow in Albanian
Volamena – gold in Malagasy
Zelts – gold in Latvian
Zinari – gold in Hausa
Zut – yellow in Bosnian
Historical Names For Yellow Labs
Why not give your dog a name that points to something about the history of the breed? Consider one of these clever historical names below.
Alanis – after Alanis Morrisette, one of Canada's most famous celebrities
Avon – after one of the first male Labs
Avril – after Avril Lavigne, the famous Canadian punk rocker
Duke – easier to pronounce than Buccleuch!
Earl – to honor both the Earl of Home and the Earl of Malmesbury
Malmesbury – a cute and distinctive name to honor the Earl
Maple – after the famous Canadian leaf and syrup
Mike Myers – the famous Canadian comedy actor
Ned – after another of the first of the breed
Scott – after the young Lord John Scott
Celebrity Labrador Names
There are actually quite a few famous Labrador retrievers out there, many of which could lend you a name for your own.
Bayou – the Lab who discovered and saved the life of Drazhika Vlako after she was disoriented by painkillers after surgery
Dorado – the Lab of blind programmer Omar Eduardo Rivera who helped him escape the North Tower on 9/11
Luas – is the Lab that features in The Incredible Journey and The Way Home
Ned – the protagonist in The Boy and Dog series by B. Jakes (though he is a black Lab)
Spark – participates in E. Collier's Three Against the Wilds
Trison – is the guide dog protagonist in Rainbow of a Friend by M. Samarsky
Celebrity Labrador Owners
Maybe you can find some inspiration in the celebrities who have owned Labrador retrievers. Why not consider one of these great famous names?
Booster – Jennifer Lopez's Lab
Bubba – Minnie Driver's beach-loving Lab
Buddy – Bill Clinton's presidential Lab
Esmerelda – Anne Hathaway's loveable Lab
Flossie – Drew Barrymore's Yellow Lab
Holden – Gwyneth Paltrow's beautiful Lab
Luca – Mary Kate Olsen's dog
Marley – Edie Falco's Lab-German Shepherd mix
Martha – the yellow Lab of Jennifer Garner
Oliver – Tommy Hilfiger's Lab
Rex – Sarah McLachlan's Lab, who often joins her on tour
Roger – Steve Martin's Yellow Lab
Rosello – the Yellow Lab of former wrestler Hulk
Spinee – Sandra Bullock's Yellow Lab
Waylon – Miranda Lambert's beloved Lab
Popular Male Lab Names
Do you have a male yellow Lab? How about choosing one of the following popular names below?
Bailey
Bear
Beau
Bo
Buddy
Charlie
Chloe
Cooper
Finn
Gunner
Hank
Harley
Jack
Jake
Jax
Leo
Maverick
Max
Milo
Moose
Murphy
Oakley
Riley
Rocky
Scout
Shadow
Toby
Tucker
Zeus
Popular Female Dog Names
If you have a girl Lab, consider some of these popular, classic female dog names.
Bella
Coco
Daisy
Ellie
Gracie
Koda
Kona
Lily
Lola
Luna
Lucy
Maggie
Millie
Molly
Nala
Penny
Piper
Rosie
Ruby
Sadie
Sophie
Stella
Willow
Zoey
You can find more name suggestions based on popular dog names here.
Tips For Choosing Your Dog's Name
If you just can't decide on the perfect dog name, you might want to look for any rules or advice out there to help you.
While there are no specific, set-in-stone rules, some of this advice might help you narrow down your choices and settle on the right name for your pup.
Go For Something Short
While your intelligent Labrador retriever might seem like they understand everything you are saying, remember that your pup doesn't understand language in the same way you do.
Rather than understanding specific words and phrases, dogs learn to associate sounds with things. This means they will learn to associate the sound of their name with them!
You can make this easier on your dog by keeping their name short–no more than one or two syllables. This will make it easier for them to recognize their name and distinguish it from all the rest of the background noise in life.
Consider Using Nicknames
If you want to give your dog a longer, quirkier name, consider how you are going to abbreviate it. While they might have their official name, they'll need something shorter and more practical for day-to-day use. It is best to consider this from the beginning.
For example, if you're going to name your dog something long like Butterscotch, consider shortening it to Butters.
Choose Something Distinct
Remember, your dog's name is not the only word that they are going to need to learn. They will also need to learn important commands such as sit, stay, leave it, and fetch.
So, when choosing a name, try to avoid names that sound too much like these important commands so that your dog never gets confused.
For example, names like Tay or Ray might not be a great choice, as your dog will end up confusing them with the word "stay."
Make It Distinguishable From Background Noise
Your dog will often need to distinguish their name from all the background noise, whether that be the conversation around the house or the din of the park.
Dogs find it easier to distinguish sibilant or blend consonants, such as S or SH, or something hard and commanding like K or C.
For example, names like Carl, Simon, or Shelly are all good choices, as they start with consonants that are easy to differentiate from background noise.
Make Sure It's Appropriate
Don't be tempted to choose anything that is too funny, borderline offensive, or edgy, and definitely avoid anything that is outright rude.
While it might seem funny at the time, you may come to regret it later. Imagine yourself yelling the name loudly to get your dog's attention at the park, in front of other people, including children.
Now, imagine your kid, or a young dog walker, having to do the same. Don't be too clever or edgy!
How To Teach Your Dog Their Name
Once you have chosen the perfect name, you need to teach your pup to recognize it. The process of teaching a dog their name is the same as teaching them other commands.
However, you are teaching them that the response that you want from their name is their attention rather than a specific gesture or action.
Use the same process of positive reinforcement to teach them to stop what they are doing and look at you when you say their name.
Avoid using any kind of punishment when training your dog, especially when you are teaching them to recognize their name. This can result in negative associations, and that is the last thing you want them to have when it comes to their own name.
Start with short micro training sessions daily (just 5 to 10 minutes or so) during which you have your dog in an attentive situation, and then say their name. When they respond to you, give them a treat.
Next, you need to teach your dog to respond to you when you don't necessarily already have their attention. Take them out on the leash (even if it is only into the backyard), and let them explore.
Then, while walking your dog, call their name. If they turn and give you their attention, that's a success, so reward them with a treat.
If they don't turn in a timely manner, lightly tug on the leash to get their attention and say their name again. When they do turn towards you, you can say their name again and then reward them for their response.
With this kind of reward-based training, your dog will quickly learn to associate their name with good things, and they will always want to give you their attention.
For this reason, avoid using your dog's name in negative situations. For example, don't say, "No, Rover;" just say, "No," in order to avoid associating your dog's name with negativity.
FAQs About Lab Names
Is it OK to rename a dog?
While it can be confusing for dogs to have their name changed, there is nothing wrong with renaming a dog when you bring them home. If your dog is still a puppy, they probably haven't learned their previous name yet anyway.
While older dogs will take longer to grow accustomed to the change, a new name can actually help them bond with you, especially if they came from an unhappy living situation.
Can you give dogs human names?
Some trainers recommend not giving dogs human names. This is because it contributes to our tendency to anthropomorphize dogs.
This can be bad, as we can assume that some behaviors, such as peeing in the house, are human-style "revenge" behaviors when in reality, dogs just don't think like that.
However, this is more a problem with owner attitudes than dog names, and there is no reason not to give your dog a human name as long as you raise them with the right outlook.
The Verdict
Choosing the perfect name for your dog is a big responsibility, and it can be hard to settle on one that suits your dog just right.
Hopefully, you have found some inspiration on this list. Even if you don't find exactly the name you were looking for, maybe it will have pointed you in the right direction.
While there are no particular rules for choosing a name, there are some principles of good practice to follow. In short, these principles are:
Choose a name that is short, distinct, and easily recognizable
Avoid names that are offensive or rude
Consider using a nickname if the name you've selected is longer than two syllables
In the end, the most important thing is to choose a name that everyone in the family will love and is comfortable with. If you do it with love, it's hard to get it wrong.
Do you have any suggestions for great yellow Lab names?
Share your thoughts with the community in the comments section below.
Save To Pinterest
Top Picks For Our Puppies
Check out more of our favorites on our New Puppy Checklist.