Do You Have A Puppy Vaccination Schedule?
This post may contain affiliate links. We may earn money or products from the companies mentioned in this post.
When I brought home my first puppy over 7 years ago I had no idea about his puppy vaccination schedule.
The animal shelter told me he had his initial puppy vaccinations, gave me some paperwork, and told me to bring him to my local veterinarian for his next round of puppy shots.
My next step was to get my new pup over to the veterinarian as soon as possible for his first check up and I really wasn't too sure what else to expect.
Those first few days were a whirlwind with my new shelter puppy as he ended up having a plethora of health problems including parasites (worms, mites, fleas, and ticks), stomach disease, and anemia.
If you're a regular here at the blog then you probably know all about my Australian Shepherd Mix puppy, Linus and the good news is that today he's 7 years old and a happy member of our family.
UPDATE: It's been a while since we originally wrote this article. Linus passed away on May 7, 2018. He was 13.5 years and my best friend.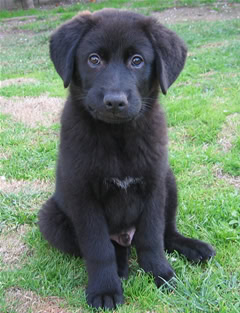 Back to his puppy vaccination schedule…as I mentioned I had no idea what vaccination he needed and lucky for me after my first visit to the vet I was handed a schedule and told to come back every few weeks for the next couple months to get Linus the proper vaccinations.
A long story short…when it comes time for your puppies vaccinations just visit your local veterinarian and they'll put him on a puppy vaccination schedule.
Many of you know that since then I've been raising guide dog puppies and as guide dog puppy raiser we are given a vaccination schedule that tells us exactly when we should vaccinate our pups.
Here's a list of the puppy shots required in our vaccination schedule:
Puppy Vaccination Schedule
VACCINATION SCHEDULE FOR PUPPY RAISERS
Congratulations on your new puppy!
Your puppy has been given his/her 6 week (Distemper/Parvo) vaccination.
This is the start of a series of vaccinations commonly known as "puppy shots".
Your puppy should receive vaccinations as follows:
6 weeks DHP-P
7 weeks Bordetella
9 weeks DHP-P
12 weeks DHP-P
16 weeks DHP-P & Rabies
20 weeks DHP-P & Bordetella
Please have a stool check done when your puppy receives its 12 or 16 week vaccination
A DHP-P and Bordetella booster will be due when your puppy is one year of age.
REMEMBER, THESE VACCINATIONS ARE VITAL TO YOUR PUPPY'S HEALTH AND WELL BEING!
This is the vaccine schedule for puppies I follow as a guide dog puppy raiser.
The first column in this puppy vaccination schedule is the age of your puppy.
The second column is the type of vaccination your puppy should receive.
The third column is for us as puppy raisers to fill out so we remember what day to get our puppy vaccinations.
I add a fourth column signifying the exact day of the vaccination.
I make sure to get within 1 or 2 days of the actual due date listed.
As mentioned at the beginning the first DHP-P (Distemper/Parvo) vaccination is given at the Guide Dogs of America before picking up your puppy.
The other vaccination in this schedule are up to the puppy raiser to complete.
Our Guide Dogs of America group leader administers all of the puppy vaccinations (except rabies) at no charge.
I usually get the rabies vaccination done by the guide dog school veterinarian also free of charge.
Puppy Vaccinations Cost
I still have to pay for vaccinations when I take my own pet dogs to my local veterinarian.
So you're probably wondering how much are puppy vaccinations?
I pulled Linus' old records from the archives and found the prices on some of his old puppy vaccinations.
Granted these prices may be different in your area or you might be able to find somewhere that does cheap puppy vaccinations or even free puppy vaccinations!
It's always a good idea to do a little research beforehand.
Anyhow here's the information from Linus' records on how much puppy vaccinations cost:
DHP-P – $16.00
Bordetella – $8.00
Rabies – $7.50
Not too expensive, but not too cheap. As I mentioned do your research to find the best prices.
A while back I highlighted the Affordable Spay and Neuter clinic that offered reasonable veterinary services in Laguna Hills, CA (not too far from where we live). Hopefully there's an affordable veterinarian in your area too.
How about you?
Do you have a puppy vaccination schedule?
Is the cost of puppy vaccinations reasonable in your area? Tell us what you do for puppy vaccinations in the comment section below.
UPDATE: This article was originally published February 8th, 2012. It has been updated with new information based on our experiences over the years.
Top Picks For Our Puppies
Check out more of our favorites on our New Puppy Checklist.