How To Make Bully Sticks Last Longer
This post may contain affiliate links. We may earn money or products from the companies mentioned in this post.
Bully sticks are long lasting but expensive.
Have you ever wondered how to make a bully stick last longer?
Today's article will covers how to extend the life of a bully stick.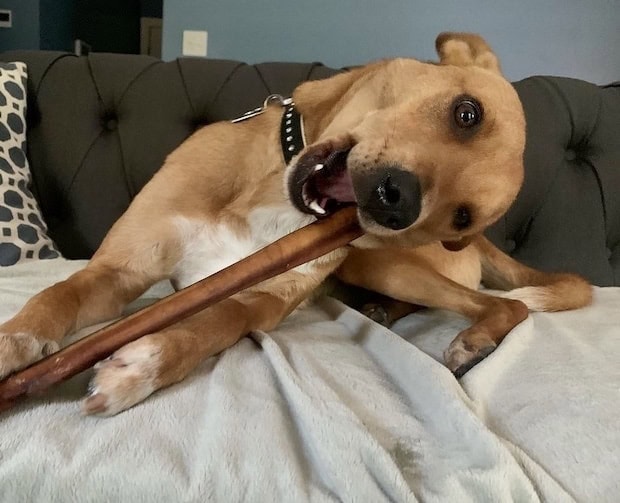 Wally with an extra long bully stick
You probably know that bully sticks are a popular and fairly long-lasting dog chew made from dried bull pizzle aka bull penis.
Yes, sorta gross when you think about it but hey, dogs love bully sticks and they're super nutritious and fully digestible, too.
Since my pup Wally has lots of food sensitivities and can't have anything with chicken, salmon or grains, I particularly love that bully sticks are single-ingredient dog chews.
That means they only consist of bull pizzle, and nothing else.
The only problem is that healthy dog chews such as these are more on the expensive side, so here are 5 strategies that have worked for me to make bully sticks last longer!
How To Make Bully Sticks Last Longer
1. Bully Sticks Size Matters
My first piece of advice is to choose bully sticks that are thick and long.
They tend to be more substantial and take longer for dogs to chew through than thin and short bully sticks.
You can also go for thick, braided bully sticks. In my experience, they'll last the absolute longest.
Another benefit of thicker bully sticks is that they are more challenging for dogs to break into smaller pieces, so that makes them less of a choking hazard.
That said, please monitor your dog while they chew their bully stick, even if it's an extra big, braided one.
If you notice that it's becoming small enough to be a choking hazard, take it away and replace it with a fresh one.
2. Use a Bully Stick Holder
If your dog devours bully sticks too quickly including the end nub, bully stick holders are a game-changer.
Since they grip the stick, the holders slow down the chewing process and extend the lifespan of the chew.
They also make it close to impossible for the dog to eat the end piece, which is great news as it can be a choking hazard if it gets stuck in their throat.
Now, one option is to get a specific bully stick holder like the:
Or you can also use a dog chew toy that can accommodate a bully stick.
I personally never bothered getting Wally a specific bully stick holder because his hollow Kong Extreme dog toy as well as his Zogoflex Qwizl dog toy do the job!
In case you're wondering, Wally's has the medium size Kong Extreme with a bottom opening of 1 inch in diameter.
I'm always surprised at the bully sticks I manage to fit all the way through because the small opening at the top of the Kong Extreme is a lot smaller than the big opening at the bottom.
Now don't get me wrong, you'll be doing some squeezing and pushing, but it's surprising how much the small Kong opening gives!
For the Zogoflex Qwizl, it comes in small (5.5" length) and large (6.5" length). Wally has the large one and it fits a large bully stick no problem.
Bonus: Both the Kong and the Qwizl toys are dishwasher safe, so clean up is easy too.
But regardless of the type of bully stick holder you end up going with, they all extend the life of a bully stick and help prevent your pup from swallowing the nub.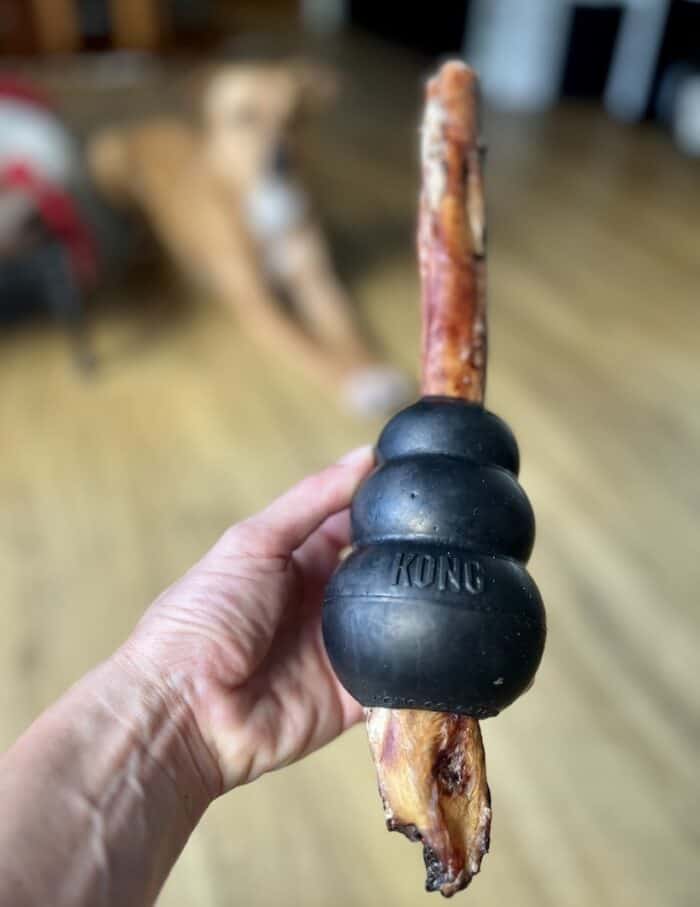 I squeezed a large bully stick into a medium size Kong Extreme
Wally's large Zogoflex Qwizl holds a large bully stick
3. Limit Your Dog's Bully Stick Chewing Sessions
Another way to make bully sticks last longer is to limit the time your dog spends chewing on a bully stick.
For example, you can give your dog the bully stick for 15-20 minutes, then take it away and give it back another day.
A client puppy chewing on a bully stick
This approach helps to prevent your dog from finishing the stick too quickly.
It's also a good idea to limit your dog's first time chewing on a bully stick, especially if they have a sensitive stomach.
As a general rule of thumb, it's safest to slowly introduce new dog chews like bully sticks to avoid an upset tummy.
Now obviously in order for this approach to work, your pup needs to respect you coming in and taking the stick away.
If they don't, here's how to teach the "leave it" command.
Pro tip: Using a bully stick holder makes it easier to take the chew back, plus you won't have to touch the chewed stick!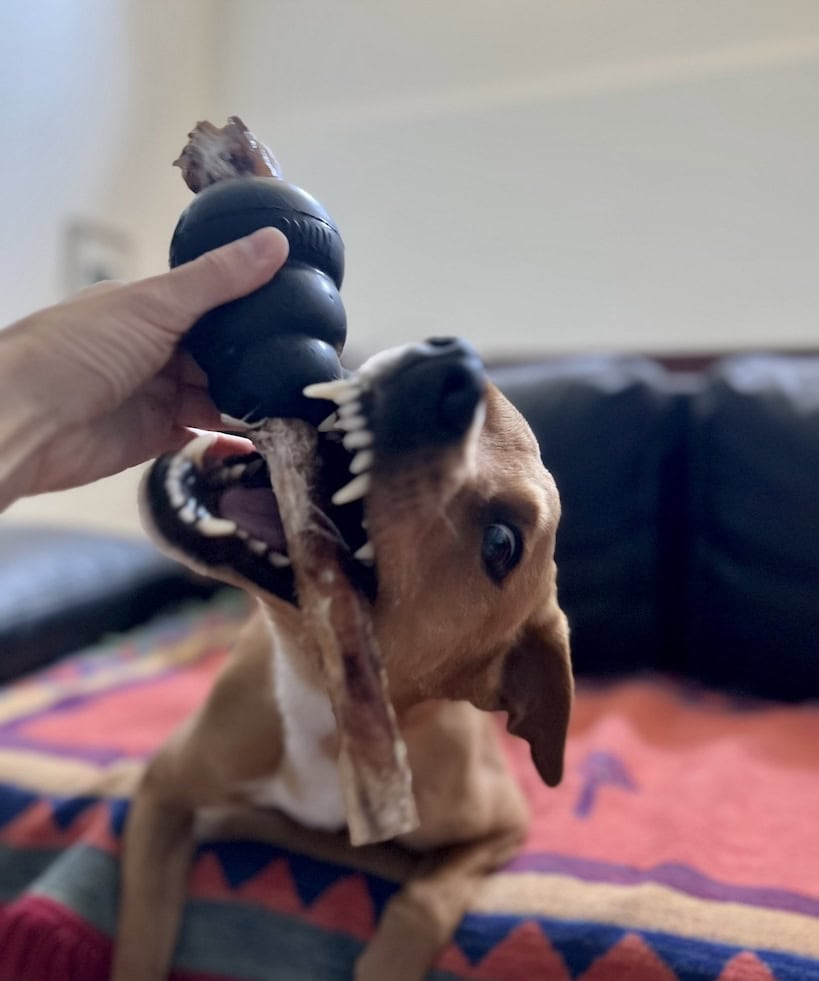 Ending a bully stick chewing session for Wally
4. Rotate Your Dog Chews
You don't need to rely on bully sticks alone to satisfy your dog's daily need to chew.
In addition to beef pizzles, you can also set your dog up with non-edible chew toys and then rotate between them regularly.
One positive side effect of that approach is that you're saving money as you're not constantly having to restock your bully stick supply.
For example, give them a:
Of course you can also include other edible dog chews into your rotation like single-ingredient split elk antlers and pig ears or limited-ingredient ones like Himalayan chews.
Some dog chew toys can also be filled with food and frozen to make them last longer.
For example, the Kong Extreme and the Westpaw Zogoflex Toppl.
Soft foods like plain yogurt, pumpkin purée and peanut butter work best, and you can also mix them with kibble. So technically speaking, you can serve your pup's breakfast or dinner in them!
Of course you can also fill and freeze them with wet dog food and ground raw dog food.
By offering different textures and (natural!) flavors, you can help keep your pup engaged and interested in all sorts of toys and chews without having to rely exclusively on bully sticks.
5. What Can I Do With The End Of A Bully Stick?
Bully sticks are expensive and since money doesn't grow on trees, I hate wasting anything, including the leftover ends of bully sticks.
So if you feel the same way, what you can do rather than tossing them into the trash is soaking them in water or bone broth overnight.
That makes them soft as well as easier and safer to cut up than if you attempted to cut up a dry bully stick.
They are pretty hard after all and there's a good chance you'll hurt yourself in the process. I may have done that before…
Once they're cut up, you can use them as a tasty dog meal topper, training treats or stuffing for interactive dog puzzles.
But first, you obviously have to get them back out of the bully stick holder or dog chew toy you used.
The easiest way to do that is with a pen(cil), a long screw or pliers.
What About Freezing Bully Sticks To Make Them Last Longer?
Some people freeze their bully sticks before giving them to their pups, but I personally don't love that approach.
While freezing makes the stick super hard and more challenging to chew, it also increases the risk of tooth fractures. Heck, you could even hit someone over the head with it!
I've been down the broken tooth road with my Boxer mix Buzz before and don't care to repeat the experience.
Back then, he had broken one of his upper molars by chewing on an extra hard, smoked beef bone you can buy at the grocery store.
A frozen bully stick comes pretty close to that consistency, so it's a hard pass for me, pun intended.
I shared a picture of what the beef bones looked like here.
As far as where to store half eaten bully sticks, it's also best to avoid the freezer as freezing bully sticks can make them more prone to splintering or breaking.
Instead, keep them in a dry, cool place away from direct sunlight and moisture.
Bottom Line
You can make bully sticks last longer with a few easy hacks.
The most obvious one is to buy the thickest bully sticks you can find followed by using a bully stick holder to extend their life.
If you're using one of those, you also won't have to worry about your pup choking on the end piece of a bully stick.
Additionally, monitor your dog's chewing sessions and take the bully stick away after they've chewed on it for 15-20 minutes at a time, then give it back another day.
Last but not least, you can offer your dog a variety of edible and non-edible dog chews, that way you're not solely relying on expensive bully sticks.
But regardless of the chew you offer, remember to always supervise your dog while they're chewing to ensure their safety and prevent any potential choking hazards.
Do you have any additional tips on how to make bully sticks last longer?
Let us know in the comment section below!
Save To Pinterest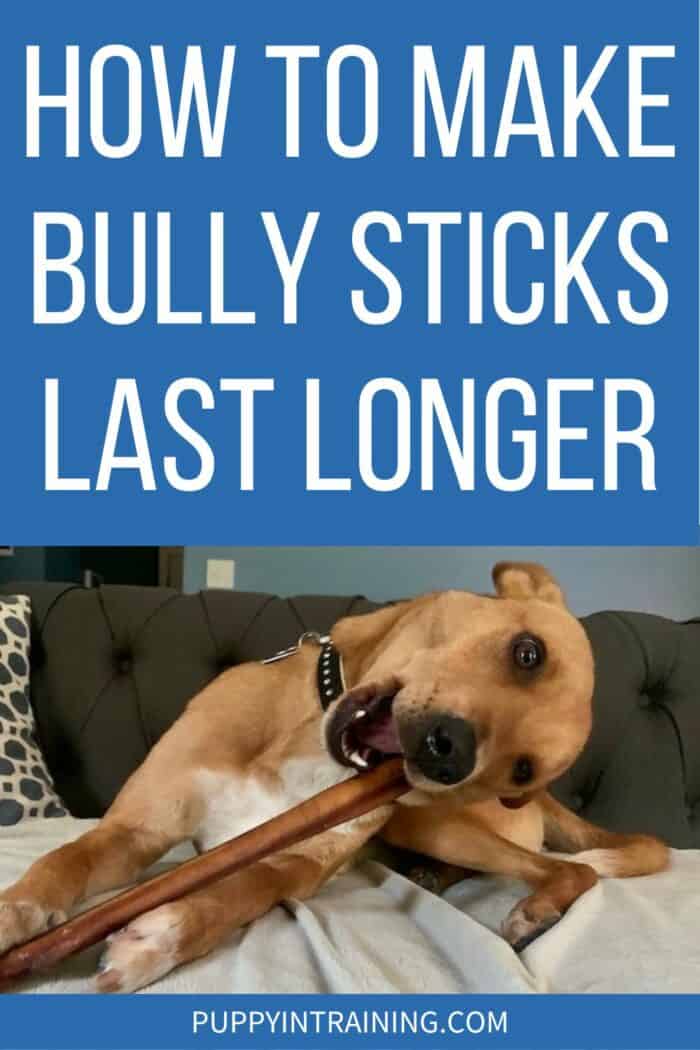 Top Picks For Our Puppies
Check out more of our favorites on our New Puppy Checklist.