This post may contain affiliate links. We may earn money or products from the companies mentioned in this post.
Guest Post by: Linda Ladaga
My whole life, I've been a dog lover. My parents never let me have one though; they said dogs were too much work. So, when I went away to college, I knew that I had to have a dog. I also knew that I had no clue how to take care one.
So, I joined a program called the Guide Dog Foundation for the Blind. They taught me how to raise puppies that would become seeing eye dogs for those with vision impairments.
Phyllis An 8 Week Old Golden Retriever-Yellow Lab Puppy
Shortly after my training had ended, I received my very first 8-week-old puppy, Phyllis. No, I did not get to pick the name (although I do love The Office). Phyllis is a golden retriever-yellow lab mix and could not be any cuter. I fell in love with her instantly.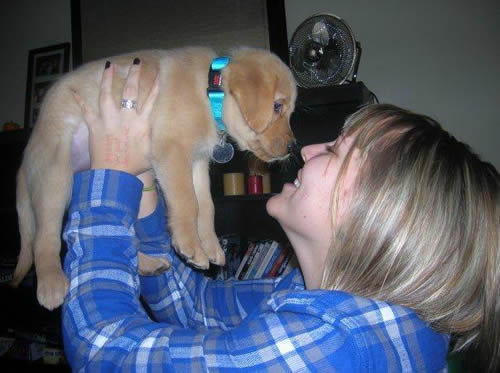 I quickly found out that my parents had been lying to me my entire life – puppies are a lot of work, but that is the fun in raising them! The best part about Phyllis was that she was a certified service dog. That meant she had to wear her cute yellow "dog in training" vest and follow me to class, restaurants, sporting events, movie theaters, and more.
We attended monthly training programs together so that the program could monitor her progress. She was so smart, independent and strong. She had a will of her own. 15 months passed quickly and it was time for Phyllis to head to New York for her professional training. If she passed, it was off to live with someone who has vision impairments.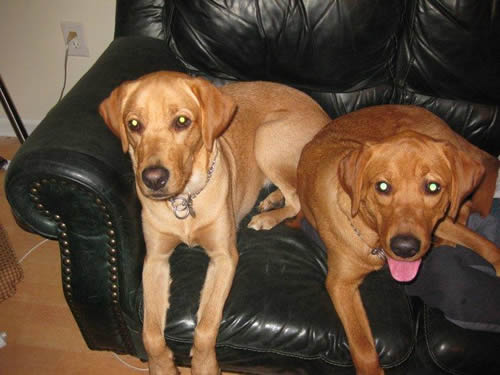 Saying goodbye to Phyllis was one of the hardest things that I've ever had to do. If you've ever had a dog, you know how it would feel to give up a pup you love so much after 15 months together. It was heart wrenching, but I knew she was on her way to do the job she was born to do.
Ace An 8 Week Old Black Lab Puppy
Luckily, upon her goodbye, I was handed Ace, my new 8-week-old black lab puppy. It was difficult starting again from square one with Ace's training, but I quickly fell madly in love with him. He was my buddy, my cuddler, my sweetheart.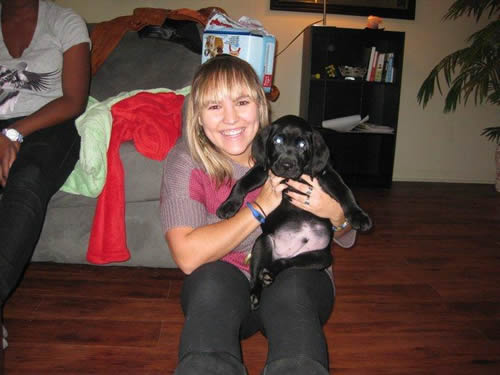 Eight months into my training with Ace, I received great news: Phyllis had graduated from her training and moved to Arizona with her new owner, an elderly woman who was blind. Before I knew it, it was time for Ace to head to New York as well. I waited months to hear about Ace's progress and finally the news came: he had graduated the program as well and was placed with a woman in Michigan.
I couldn't be more proud of my dogs for making it all the way through the guide dog program and leading the blind with their eyes and with their hearts. Today, I'm a still pen pal with Phyllis and Ace's owners. They send me updates and pictures each month. I also have two dogs that are my very own: Kibo (a goofy, Shepherd mix) and Kenya (an 8-week-old puppy mix). The three of us live in Denver now, where I attend graduate school.
Helping The Guide Dog Foundation
Many of my friends have rescued dogs for the animal assisted therapy program here, and I often lend a hand with training and dog sitting in exchange for donations to the Guide Dog Foundation. Each time I help someone out, I know that those donations are making their way back to dogs like Phyllis and Ace, and the people whose lives they have changed forever.
If you'd like to join me in supporting this great cause, pledge an hour of your time in my ProBueno community. I'm helping with dog-related things, but you are free to offer anything from baking cookies to offering career advice. Every time someone needs your help, they will make a donation to the Guide Dog Foundation for the Blind.
Top Picks For Our Puppies
Check out more of our favorites on our New Puppy Checklist.