Released Dog Program – Canine Partners For Life
This post may contain affiliate links. We may earn money or products from the companies mentioned in this post.
I know many of you are interested in owning a puppy and someday hope to bring home that perfect puppy to your family. There are many different ways to get a puppy as I mentioned in my article Dedicated To My Dog Linus. We've talked about adopting from Guide Dogs of America and Guiding Eyes For The Blind.
While scouring the web I came across an article on Adele The Life Saving Heart Alert Dog. Adele is a heart alert dog and her job is to alert her owner when there is a problem. Adele's owner, Marty Harris, suffer from a chronic fainting disorder caused by irregular heart beats.
After reading about Adele and her training I found the Canine Partners For Life website and read up on their program including their released dog program.
Canine Partners For Life
Straight from the CPL website:
Canine Partners For Life (CPL) is a non-profit 501(c)(3) organization dedicated to training service dogs, home companion dogs, and residential companion dogs to assist individuals who have a wide range of physical and cognitive disabilities. Based in Cochranville, Pennsylvania, CPL places service dogs nationwide. Home companion dogs are generally placed within a 250 mile radius of the campus (sometimes further) and residential companions are place within a 100 mile radius of the campus.

Each CPL dog receives a comprehensive and customized training program to meet the specific needs of their human partner. Depending on the assigned program, the dog will receive up to two years of training before being trained to work with its person. CPL has one of the strongest follow-up programs in the industry to ensure the success of each team throughout the lifetime of the partnership.
Labrador Retrievers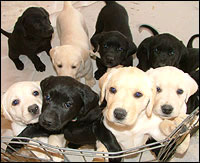 Where do Canine Partners for Life puppies come from? Often puppies are donated to the program and when suitable dogs are available the group tries to rescue dogs from shelters and rescue organizations. CPL also manages a breeding program.
CPL's breeding program consists of two female black Labrador Retrievers. They provide CPL with approximately two litters a year. Stud services are donated by carefully screened breeders.
Check out CPL's breeding program for more information.
Released Dog Program
Some CPL dogs are not suitable for life as a service dog. Reasons for not being suitable as a service dog include physical and/or behavioral issues. If you are interested in CPL's released dog program then please fill out the application at the CPL website.
If you are interested in this program I recommend you contact Canine Partners For Life through their website. CPL is located in Cochranville, PA which would be a bit of a drive for me out here in California, but hopefully works out well for some of my readers.
Tell me what you think. Have you ever worked or volunteered with Canine Partners For Life? Are you interested in the released dog program with CPL?
***Update 01/06/2008- I made some updates to this article as I received some additional information from Canine Partners for Life. I changed some of the verbage as CPL does not adopt out their puppies, but do have a released dog program. Please refer to the Canine Partners For Life website for additional information on their programs. Thank you Jennifer for helping clarify my article. You can see Jennifer's comments in the comment section of this article.
Top Picks For Our Puppies
Check out more of our favorites on our New Puppy Checklist.