Puppy In Training TV – Ep21 – Working Guide Dog
This post may contain affiliate links. We may earn money or products from the companies mentioned in this post.
WOWZERS!!! Can you believe it's been well over a year since Dublin graduated from Guide Dog College!? Last we saw Dublin just started his career as a working Guide Dog. If you missed Dublin's graduation episode head on over to this page and you can see him graduating from Guide Dogs of America(GDA).
Today, he's a veteran with over a years experience working together with his new partner, Liz in Arizona. We even heard he's an international traveler and has flown several times on airplanes (probably more than me over the past year). Lucky for us while we were on a little trip to Arizona we got to visit our pal Dublin and hang out with his wonderful family for the day.
So guess what…that means one final episode of Puppy In Training TV!
Episode 21 – Working Guide Dog
PRETTY DARN COOL! Dublin's family is awesome. It's incredible to see him working and seeing him and Liz as a guide dog team. As I said in the video when people ask how I can give up my puppy…just take a look at this video and see how Dublin and other guide dogs bring independence back to their partners. By the way, if you haven't already check out the entire Puppy In Training TV series.
Transcription of Ep21 – Working Guide Dog
PuppyInTraining.com Logo and Website Address
We recently got back from a trip to Arizona You guys know who lives in Arizona??? DUBLIN!!! Welcome to todays episode of puppy in training tv.
Guide Dog Puppy Training Starring DUBLIN
With Linus Aussie Shepherd Rescue
Also Colby The Human
And Stetson Career Changed Guide Dog
We hopped in the car and made the 6 hour trek to Arizona to play some hockey and meet up with some old friends 🙂
On our way to my hockey game we passed this sign…I sign of things to come…
Look who stopped by to see my game…Dublin!
We went to many hockey games together so I guess the sights, smells, and sounds were old news for him.
After the game Liz, Dublin, and the rest of the gang headed out to meet up with me…we worked hard teaching Dublin about stairs and different surfaces and it looks like it paid off.
I was so excited to see my pal again…I walked up and I was kind of wondering if Dublin would remember me…yep he remembered me. Look at that tail go!!! It kind of reminded me of graduation. I did my best not to encourage him and let Liz calm him down before I gave him any attention. Actually Dublin was so excited I decided to wait until he was out of harness and not working before giving him attention.
Liz, Lance, and the kids invited us over to their home and I got to play with Dublin. It's not all work for Guide Dogs. Dublin also gets a chance to run around and play when he's not working!
It's hot in Arizona so Dublin wears booties in the summer to keep the pads of his feet from burning. He sure is a good boy while Liz puts on those booties!
It was about 100 degrees in Arizona that day so Dublin was definitely making good use of his little booties. Liz and Lance took us out to lunch and we got a chance to see Dublin do a little bit of guide dog work. Dublin maneuvered Liz between the two parked cars and notice how he stops at the curb so Liz doesn't trip. He gives her a chance to find the curb with her foot before moving forward…Pretty Darn Cool!
After lunch I got a chance to go back to the house and play with Dublin a little more before heading out.
I sure can tell Dublin is enjoying his new family and his life as a working guide dog, but it's still always hard to say goodbye.
We started this journey over 3 years ago and we are so proud of all Dublin has accomplished. When people ask me how you can give up your puppy. I tell them about Dublin and other working guide dogs and how they are able to bring independence back to a person's life. Thanks everyone for joining us on Dublin's journey to become a guide dog. And guess what…look who joined our household…stay tuned for more videos about our latest Puppy In Training.
Don't forget to follow us on Facebook and our Blog, PuppyInTraining.com
Is This The End? Of Course Not, It's Only The Beginning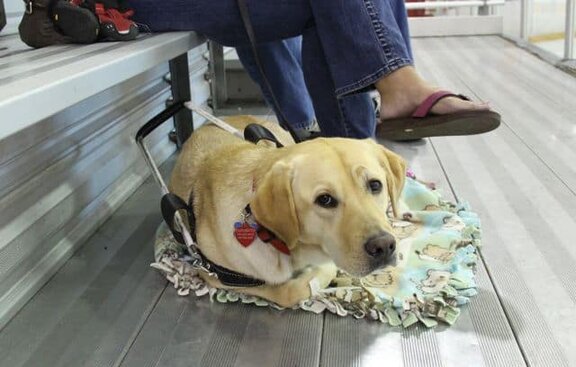 If you watched the entire video then you saw Adelle our latest Puppy In Training. We're training Adelle for a different school called Canine Support Teams (CST).
CST Service dogs are placed with people who use wheelchairs, walkers, crutches or canes, have Autism, Epilepsy, Seizures, Diabetes, Combat Veterans with PTSD and more. Raising and training a Canine Support Teams puppy is a little bit different then Guide Dogs of America (GDA).
However, our goal remains the same: We strive to best prepare our puppy to help others as a working assistance dog. Stay tuned for upcoming adventures of our latest Puppy In Training, Adelle and her journey to become a working Service Dog.
Top Picks For Our Puppies
Check out more of our favorites on our New Puppy Checklist.