Puppy Training Tip Of The Day – Give The Command Once
This post may contain affiliate links. We may earn money or products from the companies mentioned in this post.
Have you ever seen someone training a dog and giving the same command over and over again? Something along the lines of Stetson Sit….Sit…..Stetson Sit…Sit…. I see it happen almost everyday. I constantly have to mentally remind myself not to give the same command more than one time.
Make no mistake, this is a difficult lesson to learn. I've been working to retrain myself not to say the same command more than one time for over 3 years and still I will catch myself repeating the same command during training.
Tip of the Day – Give the Command Once
Today I want to teach you one thing…get one thing in your head (and my head). When you give your dog a command only give it one time. The image below to the right is Stetson and Linus in a "Sit, Stay" on their bed (of course the command was only given once).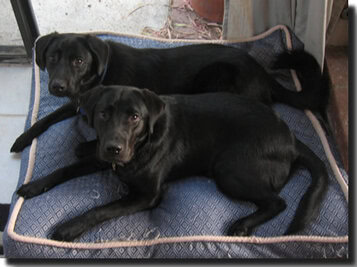 "Stetson…Sit" If your dog does not respond to the command then lead them into the position (the way you lead your dog into the "Sit" Position will vary depending on how you are training your dog). Don't repeat the command. Let me repeat myself DON'T REPEAT THE COMMAND!
If you constantly repeat commands then your dog may think he's supposed to respond to "Sit…Sit…Sit…Sit…" before he actually puts his butt to the ground. On the other hand, if you tell your dog "Sit" one time and then make sure he gets his butt to the ground then over time through repetition, consistency, and persistence your dog will learn as soon as he hears the word "Sit" his butt is to hit the ground.
When you train your dog do you only give the command once?
Top Picks For Our Puppies
Check out more of our favorites on our New Puppy Checklist.