Seeing Eye Cat – Cashew And Libby
This post may contain affiliate links. We may earn money or products from the companies mentioned in this post.
I came across the story of Cashew and Libby on our Orange County Guide Dogs of America website.
It's the story about Cashew a 14 year old yellow lab who is blind and deaf. You may be wondering how does Cashew get around?
Cashew's best friend is a cat named Libby who acts as Cashew's Seeing Eye Cat and helps Cashew avoid obstacles and leads her to her food.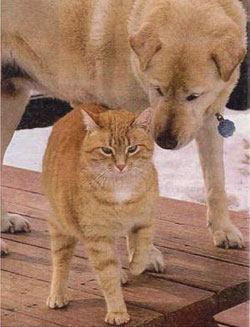 Here's the full article on Cashew and Libby:
Cashew, the 14-year-old lab is blind and deaf. Her best friend is 7-year-old Libby, her seeing-eye cat. Libby steers Cashew away from obstacles and leads her to food. Every night she sleeps next to her. The only time they are apart is when Cashew goes for a walk. Without this cat, Cashew would be lost and very, very lonely. Amazing but true: this is one animal that knows what needs to be done and does it day in and day out for her friend. – – Terry Burns
That's an absolutely amazing story. I'm currently raising Stetson to be a Seeing Eye Dog for Guide Dogs of America.
He will be trained and hopefully someday become a full fledged guide dog. However, this cat has taken it upon herself to step into the role of Seeing Eye Cat.
So, I guess it's true that some animals choose to and enjoy working as assistance animals. Libby proves it by helping her friend Cashew day in and day out.
What do you think?
Do you know of any other incredible stories like this one?
Do you know of another seeing eye cat?
If so let me know in the comments area…or send me an email and I'll post it in my blog.
Top Picks For Our Puppies
Check out more of our favorites on our New Puppy Checklist.