So You Want An Australian Shepherd
This post may contain affiliate links. We may earn money or products from the companies mentioned in this post.
So You Want An Australian Shepherd.
We're going to cover some of the good, the bad, and the ugly about the Aussie Shepherd.
After we cover everything, you can decide if an Australian Shepherd is right for you.
But first…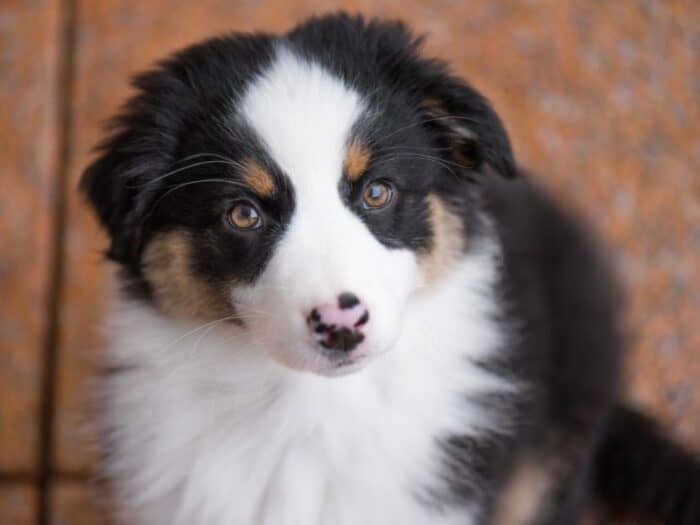 Let's turn back the clocks. It was the summer of 1996. The Olympics were held in Atlanta, Georgia that year.
There was the infamous bombing at Centennial Olympic Park.
Kerri Strug, the pride of Tucson vaulted with an injured ankle and landed on one foot, winning the first women's team gold medal for the US.
Did I mention I was living in Tucson, AZ at the time. 🙂
That was also the year my roommate brought home an adorable blue merle Australian Shepherd mix puppy named Pepper.
Little did I know that moment would be life changing for me down the road.
I loved that little Aussie mix and took care of her (my roommate wasn't much of a dog owner) for the next year.
Eventually, I moved back home to California and many years later I got a dog of my own.
Guess what? I rescued an Australian Shepherd mix puppy from the shelter, named him Linus, started this blog, and the rest is history.
So You Want An Australian Shepherd
Here are a few factoids about the Australian Shepherd.
Full Disclosure – we loved our two Aussie mix pups and might be a little biased towards the breed.
1. Australian Shepherds Have Been Known to Change Color
As Australian Shepherd puppies grow older, it isn't uncommon for them to change color as they age!
Similar to how some human babies can be born blonde and grow to have brown hair; Aussie pups can sometimes change their colors with age.
There are 4 standard colors and 3 standard markings on Australian Shepherds, according to the AKC.
Those colors are black, blue merle, red, and red merle, with blue merle being the most common.
In addition to these colors, there are the standard markings of tan points, white markings, and tan points with white markings.
And don't forget, these colors are just the standards. There are other color combinations that aren't even officially recognized by the AKC!
This rainbow of color makes for a wide variety of beautiful dogs.
In addition to the many color variations of an Australian Shepherd's coat, their eyes come in a fantastic array of hues as well.
The Australian Shepherd Health and Genetic Institute identifies several different variations in color, including blues, browns, and even marbled eyes!
In fact, it's not uncommon to see an Aussie with two different colored eyes.
With so many variations in the genetics of Australian Shepherds, it can be quite daunting when trying to determine what the puppies will look like.
Imagine the surprise when an owner's dog changes its color tones!
Speaking of colors. As we mentioned we've only had Aussie mix dogs.
Pepper was a blue merle Aussie.
Linus was all black with a white patch on his chest. We also met his sister who was tricolor, that is she was black, white, and tan.
Yep, I was thinking about bringing home sibling puppies. They could have been Luke and Leia (I'm a Star Wars nerd). Or more aptly, Linus and Lucy!
FYI, our second dog was a guide dog puppy and his name had to start with the letter "S". His name was almost Snoopy. We're happy we went with Stetson.
2. Australian Shepherds are a Distinctly American Breed
Though their name may tell you otherwise, the Australian Shepherd is a breed that is about as American as it comes.
These dogs got their start in one of the most quintessentially American time periods: the Wild West.
The earliest Australian Shepherds trace their ancestry to the western part of the United States, in the 1800s and 1900s.
It was there that shepherds and ranchers were using "little blue dogs with bob tails" to herd their sheep and other livestock.
These livestock were being imported from many other countries, including Australia. Hence the name!
The Australian Shepherd Club of America states that although other breeds may exhibit similar characteristics to Aussies, there is no doubt they got their start in the old west.
Ranchers loved how great they were at herding cattle, and the breed continued to evolve as the cattle ranchers did.
These dogs were very loyal to their families, and made great homestead guardians and pets, in addition to working as herding dogs.
And as the AKC says, their popularity in American culture only continued to soar as years passed:
"The Aussie's popularity boomed with Western culture and horse-riding after WWII, and was often featured in rodeos, horse shows, movies, and TV."
With these distinctions, the "Australian" Shepherd is indeed an American breed.
3. But They Have Only Been An AKC Breed Since 1991!
Awww…1991…
The first year of Michael Jordan's dominance as an NBA Champion.
My first year of college. Coincidence? Maybe…
That's also the first year Australian Shepherds were recognized as an AKC breed.
It may seem incredible, but even though the Australian Shepherd can trace its roots back to the 1800s, they have only been an officially recognized AKC breed since 1991.
This is not unusual since the Australian Shepherd has been a working breed for so long.
When dogs are bred to work, factors such as lineage, coloring, specific body shape, and other AKC standards are not taken into consideration.
When breeding a good working dog, ranchers would take into account personality, trainability, and work ethic before appearance and bloodlines.
Because of this, it could be difficult for the AKC to pin down exactly what the standard for an Australian Shepherd should be.
And even now there is still so much variety!
As we mentioned before, Aussies come in a wide range of colors. So with so much variety, it's no wonder it took so long!
An interesting thing to note, when we were looking for an Aussie back in 2004 the breed was the 34th most popular on the AKC list. In 2021 they are 12th on the list. Australian Shepherd's popularity is on the rise!
4. Aussies Have a Shy Streak
Though Australian Shepherds are known for being devoted and wonderful family pets, they are often shy around people they first meet.
Though friendly, they tend to be cautious when they interact with a new person.
This isn't necessarily a detriment, but there are steps a responsible Aussie owner should take to ensure their pup grows to be well-socialized.
The ASCA cautions that a poorly socialized Aussie can become overly protective of the family they care about.
While a guard dog may be beneficial in some situations, in others it can be downright harmful. It is important to have your dog meet many new people.
Introduce them with patience and enthusiasm. But don't force anything. Calmly show your dog they do not need to fear strangers.
To ensure that your Aussie is well socialized, be certain to begin training from day one.
Your Australian Shepherd is alert and smart and will respond well to stimulation and direction.
A solid training foundation will remind your Aussie that they are safe with you, their master.
And though they may be a bit shy around strangers, they will have nothing to fear knowing you are in control.
5. You Can Exercise You Aussie With Herding – On Someone Else's Farm!
The Australian Shepherd has deep roots in the cattle herding history of the United States.
And though that was several hundred years ago, their herding instinct has not gone away.
Many Aussie owners state that their pup will attempt to herd birds, house cats, and even the household children!
Our Aussie mix, Linus grew up with us in the suburbs and didn't have cattle to herd. Instead he resorted to herding my nieces and nephews when they visited.
But there is a solution that benefits both of you.
Some farms and ranches such as Fido's Farm provide an opportunity for dogs with a strong herding instinct to play and burn energy in the best way they know how – herding!
Many city dwellers who own Australian Shepherds and other herding dogs are paying farmers to give their pet dog an opportunity to herd sheep and other livestock.
Australian Shepherds do well when they have a job to do, so providing that outlet for an Aussie can be extremely beneficial.
If their intelligence is left unchecked, the Australian Shepherd can certainly out-think their owners.
This can be frustrating for a first time Aussie owner, so it is important to begin training early.
Tapping into their natural herding instinct can be a great way to let your Aussie constructively use their talents and energy.
Many farms offer a full day experience herding sheep as an alternative to daycare.
They also feature herding classes if you and your Australian Shepherd are interested in getting serious.
Unfortunately, Fido's Farm is in Olympia, WA. If I ever get another herding dog I'd love to find a facility that can indulge my dogs herding instincts.
6. Australian Shepherds Excel at Agility Challenges Too
With their high level of intelligence, herding isn't the only thing they can be great at.
Many Australian shepherds are fantastic at a variety of agility courses and stunts. Some even compete!
Several years ago at the Westminster Dog Show, an Australian shepherd took home first prize for agility.
With their intense focus and devotion to their handler, Aussie's truly excel at agility trials.
At ASCA official competitions, there are six required obstacles on every course.
Competing dogs should be able to conquer an a-frame ramp, a teeter-totter, a dog walk, weave poles, an open tunnel, and a minimum of 16 jumps.
Luckily for anyone interested in competing, there are different tiers of experience you can compete in: Junior Handlers, Standard Handlers, and Veterans.
The ASCA even welcomes other dog breeds to their competitions!
7. Aussies Shed. No, Aussies Shed A Lot. No Joke!
Australian Shepherds have a beautiful coat that as we mentioned earlier comes in a number of colors. However, that coat sheds and it sheds a lot!
Just like our two favorite breeds, the Golden and Labrador Retrievers, the Australian Shepherds has a double coat. The bottom coat is thick and dense and the top coat is moderately long, wavy, stiffer and coarser.
As guide dog puppy raisers we regularly have Golden Retrievers, Labrador Retrievers, Golden Lab crosses, and German Shepherd at our house.
No dog has shed more than our Aussie mix, Linus! In fact, after brushing Linus we called the excess fur baby Linus.
At one point in time we had 5 dogs, two Labs, two Goldens, and Linus our Aussie mix. We figured Linus shed more than the other 4 dogs combined.
Yes, Aussies shed and they shed a lot. If dog fur is not a part of your diet then once you get an Aussie it will be.
8. Aussies Are Susceptible To Health Problems
All dogs are susceptible to health problems but there are some issues that every Australian Shepherd owner should be aware of.
Here's a list of tests the Australian Shepherd Association recommends for breeders:
OFA Evaluation for Dysplasia of Hips
OFA Evaluation for Dysplasia of Elbows
Annual eye evaluation (CERF) by a Board Certified Canine Ophthalmologist and that the exam is
registered with OFA
Check out the official breed health club statement for more information.
Linus was a mixed breed dog and we were hoping that hybrid vigor would work in his favor.
Linus was a relatively healthy dog for most of his life and ultimately passed from Congestive Heart Failure which is not on the above list of health tests.
FAQ's For Aussies
Is An Australian Shepherd A Good House Dog?
We've had an easy going Aussie mix and a higher energy Aussie mix. Both of our Aussies had the herding instinct.
That being said they were both wonderful house dogs. So to answer your question yes, an Australian Shepherd can definitely be a good house dog.
However, you should know that Aussies are active, love the outdoors, and they are an intelligent breed. You need to be sure that you get them plenty of exercise both physical an mental.
If there was one thing we sometimes missed out on it was exercising our Aussies brain. When we didn't exercise their mind we'd sometimes come home to destructive behavior.
For instance, our favorite shoes chewed up, thick wood posts chewed to a toothpick, destroyed cell phones, and even chewed up several hundred dollar bills to bits. Yep, those were real world examples.
Do Australian Shepherd Bark A Lot?
Yes, Australian Shepherds can be a vocal dog. They will often bark to communicate with their owners.
Our Aussie's liked to bark when they heard the people at the front door but were friendly once they saw it was a friendly person.
The good news is there are ways to control barking in your Aussie. Check out this article about how to stop barking in your dog.
Are Australian Shepherd Okay To Be Left Alone?
We love our Aussies but we've also found that they are a highly sensitive breed.
Our rule with guide dogs is not to leave them at home alone for more than 4 hours. I'd recommend you do the same with your Aussie.
As I mentioned earlier, if your Australian Shepherd is not getting mental exercise she could become destructive.
Of course if you are leaving your dog at home for hours on end she will get bored which equals destructive behavior.
What Say You?
Australian Shepherds are a fun, high energy breed that is great for anyone with an active lifestyle and devotion to training.
We loved our two Aussie mix dogs.
My first dog as an adult, Linus was an Aussie mix and will forever be my heart dog.
Someday we'll get another Australian Shepherd. The next question will be what color should we get…so many choices. 🙂
So, do you still want an Australian Shepherd?
Or do you already have one of these special dogs?
Tell us about an Australian Shepherd you know in the comment section below.
Related Article
Save To Pinterest
Top Picks For Our Puppies
Check out more of our favorites on our New Puppy Checklist.