How does a blind person pick up after a dogs poop?  Who picks up guide dog poop?  I've seen this question many, many times in my twitter feed and in comment threads.
Guide Dog Poop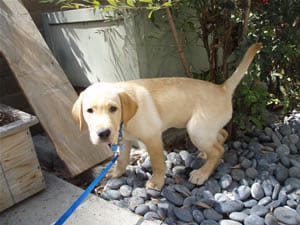 This is a totally legitimate question:  How does a blind person pick up guide dog poop?  I asked this question a while back.  While raising Stetson I remember Ramona, our instructor, reminding us to pet our dogs while they were "getting busy" – "Get Busy" is the command we give to let our dog know it's time for them to go pee or poo. I always thought this was a strange thing (petting the dogs while they do their business) to do, but figured that it was another way for a blind handler to know exactly where their dog was squatting.
Finally one day I asked "Why do we pet our dogs while they're getting busy?" As usual there was a very logical response:
As a guide dog puppy raiser we tell our dogs to "get busy" letting them know it's time to eliminate. At this time we get the dogs used to having their back rubbed by petting as they pee or poop. When the dog is older and working as a guide dog, the dogs blind handler can say "get busy" and rub the dogs back (the back arches differently whether the dog pees or poops) and then within an inch there's the dog poop.
I actually learned two things that day. The first being "Why do we pet our dogs while they pee or poo?" and "Who picks up guide dog poo?"