8 Best Interactive Dog Toys For Your Puppy
This post may contain affiliate links. We may earn money or products from the companies mentioned in this post.
Finally, here's our independent review of what I found to be the best interactive dog toys on the market​ to help challenge your dog's mind.
​Just like children, dogs need mental and physical stimulation in order to thrive.
When advising clients we ​often remind them that 10 minutes of mental exercise can tire your dog out just as much as a 30-minute run.
Research has shown that dogs that engage in interactive play are easier to train and are less likely to engage in negative behaviors (such as eating my favorite shoes!) than other dogs.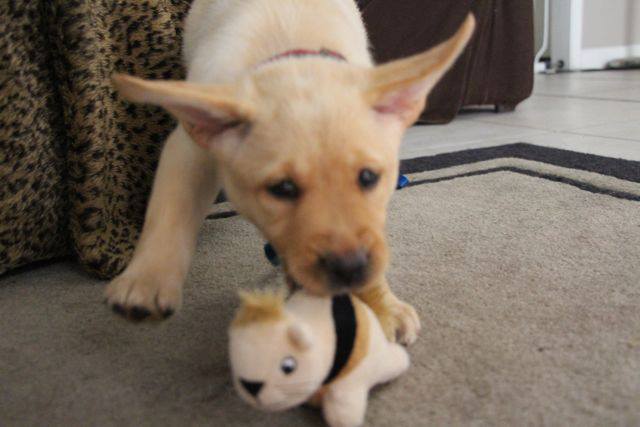 An action shot of Adelle playing with her favorite interactive dog toy – the squirrel puzzle toy. She's already extracted this one from the stuffed tree stump. Sorry for the blur Adelle moves fast when she's having fun.
While ideally, I would love to have the time to personally engage my ​Lab in enough interactive play to keep him healthy and happy, there simply aren't enough hours in the day.
To fill this gap, I look for the best interactive dog toys.
What Are Interactive Dog Toys?
Interactive dog toys differ from other dog toys in that they pick up some of the work of engaging your dog.
When it comes to playing fetch or tug, you are the one providing your dog with mental stimulation. But these toys won't keep your pooch stimulated for long when you aren't on the other end.
Interactive dog toys are designed to provide that mental stimulation themselves.
This is usually achieved through toys that move on their own, either automatically or in response to your dog's behavior, or involve puzzles that your dog needs to solve in order to gain some kind of reward.
Whereas in the past it was hard to find a good interactive dog toy, in recent years, the market has been flooded. This makes the real challenge of knowing which of the many toys available is right for your dog.
And it is certainly not a case of one size fits all. Toys with small, swallowable parts can be a health hazard for large dogs, while big toys that are too heavy for your small dog to push won't keep them stimulated for long.
Smart dogs can quickly solve and become bored with certain puzzle games, and for some dogs, the sound of a squeak is just too enticing and they will not stop until they have ripped the toy open and gotten to the source of the sound.
In order to help you navigate the complicated market of interactive dog toys, we have come up with a list of the eight best overall based on testing with our own dogs. We have reviewed them and suggested what type of dogs will love these toys.
Our top pick is the Outward Hound Hide a Squirrel Puzzle Dog Toy because it's available in different sizes and is durable. Although, when it comes to a Lab most plush toys can be shredded in minutes.
We have also put together a comprehensive buying guide that covers all the dos and do not's when it comes to interactive toys to help you assess the value and safety of any interactive toy.
Best Interactive Dog Toys – Reviews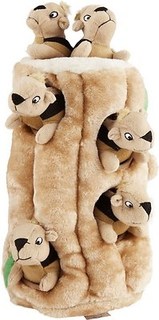 Dogs love a good game of hide and seek. It is in their nature to seek things out in a burrow and dig them out.
Ever been to the park and all of a sudden your pooch pulls away from the leash into the bushes, only to emerge after an ensuing scuffle inside the thicket with a prized squirrel in her mouth?
Such is the nature of most pooches. So, you can imagine the pleasure your furry buddy will have from figuring out how to remove cute squeaky squirrels from a tree trunk. That is how this toy is fashioned.
While searching for squirrels, a dog is bound to paw, scratch, and chew on the toy. This is expected as part of the play and the tree trunk is tough enough to withstand your pooch's rough play but soft enough not to hurt her as she takes a bite or scratches it.
Pros
Squeaky squirrels encourage your dog to go after them.
The trunk is deep enough to provide a decent level of difficulty for your pooch to figure out how to get out the squirrels stuffed inside.
You can always put the animals back into the trunk after your pooch retrieves them to keep the game going.
Tough and durable enough to last for the long term.
Easy to carry around.
Cons
Some dog owners suggest that the toy would be even better if the small, medium and large sizes would come with six squirrels instead of three.
Generally, what's great to note about this puzzle toy is that it comes in four sizes that range from small to extra large.
Dogs of all sizes can, therefore, enjoy a good dose of hide-and-seek, whether in the backyard or in the comfort of the living room. Also, it's incredibly interactive, portable, and durable. All these factors combined make it the best overall.
​OUR EXPERIENCE: Has your Lab ever de-stuffed one of his plush toys? I think that's the idea behind ​the hide-a-squirrel and other hide-a-toys. Instead of pulling out the white fluffy stuffing, they yank the little squirrels out of their burrows. That's exactly what Stetson used to do with our Hide-A-Squirrel Puzzle Toy.
QUICK TIP: If you have a destructive Lab like ours then while it's more durable than your average plush toy ​the squirrels still will likely meet their demise ​in short order.
It should not come as any surprise if this toy quickly becomes your pooch's favorite. Not only does it make squishy noises that grab your dog's attention, but it also has a fine texture that is cuddly for her nap time.
All you have to do is stuff the cute dinosaurs into the volcano. The built-in squeaker is enough to get your dog's attention and he can stick his muzzle in the volcano to fish them out one by one.
To keep the game in play, you can always stuff them back in as fast as he gets them out. How energetic and persistent your pooch can be will astonish even you as he tirelessly goes after the poor dinosaurs.
You will be in stitches as you watch him get the dinos. For aggressive chewers, you might want to get the dinos as soon as your pooch has them out of the volcano, lest he chews them to bits.
Pros
Six dinosaurs are enough to keep your buddy busy.
The volcano is soft and plush but tough enough to endure your doggy's rough play Dinosaurs are cuddly and great for nap time when the doggy is exhausted.
Mentally stimulating thus boosting their mental health.
Cons
Although the dinos are fairly well made, they cannot withstand aggressive chewers who will chew them to bits in seconds.
Boredom is a major cause of aggressive behavior and anxiety. An interactive toy such as this one provides mental stimulation as your dog tries to figure out how to get at the squeaky toys inside.
If you are present, it's a great way to bond with your pooch as you urge him on.

Put your feet up and let the games begin. If you have both a feline and canine buddy, they will be happy to chase their prey all over the place.
This laser exerciser toy is pretty easy to use and incredibly cheap. You simply point the laser at the floor or wall and let your pet chase down this very elusive prey.
From reading interactive dog toy reviews, pet owners with pit bulls seem to love this toy the most.
As soon as they see the owner pick up the device, they start looking in anticipation of where the laser light will land so they can start chasing. You can use it both indoors and outdoors.
Pros
Very easy to use as it only requires pointing the LED light to a wall or surface.
Both dogs and cats love chasing down the elusive prey, making it diverse.
Very affordable compared to normal toys.
The batteries can always be replaced when they run out.
Cons
Although durable, the gadget is delicate and may stop working if accidentally dropped.
What you will find quite amazing about this toy is the fact that you can bond and have a ball with your pets without breaking a sweat (or your bank!) as they chase the elusive laser to exhaustion. Who wouldn't love that?
OUR EXPERIENCE: We've had some Labs go bonkers over these "Lasers" (in my best Dr. Evil voice). While others could care less to chase the dot.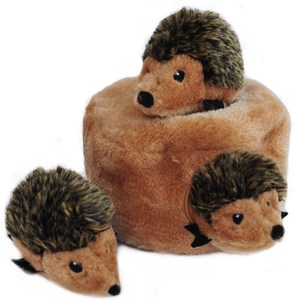 Your pooch probably goes bananas when it's playtime because he just can't resist a good game of hide and seek.
Dogs are intelligent animals and they do love the mental stimulation that triggers their innate hunting abilities. You can bet that your pooch will love the idea of burrowing into the den and scooping out the hedgehogs with relish.
This toy is ideal for medium-sized dogs. The squeaks from the hedgehogs hiding in the den are all the prompting your pooch will need to go berserk with play. The challenge of getting the hedgies out of the den offers some good intelligent play.
Pros
Retrieving the hedgehogs from the den offers mentally stimulating play.
Prevents your pooch from getting bored.
Plush fabric that is safe to bite but resilient enough for mild chewers.
You can keep stuffing back the hedges into the den to prolong play.
Cons
Not recommended for aggressive chewers.
Requires close monitoring.
If your pup is one of those mild chewers, he will have a ball digging out the hedgehogs hidden in this toy. The challenge is if you are not near, they might tear them apart. Nonetheless, it offers great interactive and intelligent play and may be worth its cost.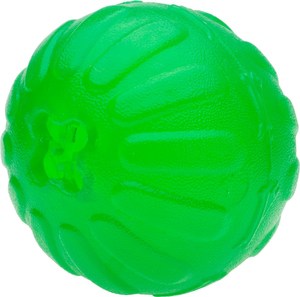 The Starmark Dispensing Chew Ball appeals to the nature of your pooch to forage and hunt. It is made from durable plastic that is safe to chew for dogs. Plus, it does not contain latex, phthalates, or vinyl.
If your pooch is a natural destroyer of toys, then she may meet her match with this toy. I liked the versatility of the toy. You can play fetch indoors, outdoors, and even in the water as the toy can float.
Pros
Bright colors help you spot the toy easily during play.
You can opt to incorporate a snack in the toy and let your dog figure out how to get it out.
Tough toy yet soft enough not harm your pooch.
Easy to wash making it convenient for regular use.
Cons
Some pet owners claim their aggressive chewers ripped the toy apart in minutes.
Since all dogs have different temperaments, you should monitor your pooch when you give her this toy for the first time just to see how she interacts with it.
What may not last a minute with other dogs may be absolutely indestructible to yours. Besides, it boasts of exciting features, like a good bounce and treat-dispensing qualities, both of which are really loved by dogs.
​OUR EXPERIENCE: We let ​Dublin play with one of these balls and he loved trying to find the treat. However, when left to his own devices he did take to the destructive route and did his best to chew through Starmark Ball. Ours survived, but not without a few battle wounds. Keep an eye on your pup if they have a destructive nature.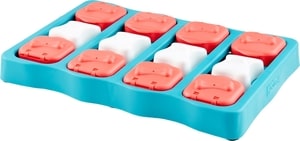 If you feel like it's time to take it to the next level, this is the perfect doggy puzzle for your pooch, especially when he has proven himself too smart for other puzzles. This one will definitely have your buddy putting on his best thinking cap to get it done.
Even better, the treats that he gets out of it will be the fitting reward he needs to keep him going back for more.
You can start your dog on easy with the first difficulty level. As his hunting skills improve, you can increase the difficulty level accordingly.
This game not only offers mental stimulation for your pooch but also an opportunity to have that bonding time with your buddy that is both entertaining and fun.
Pros
Several difficulty levels ensure that it will be a while before your pet outgrows this toy.
The toy can take a good gnawing as it is made of plastic.
Great interaction for dog and owner as you monitor his progress.
Rewards your pooch with a treat for a job well done.
Cons
The difficulty level may be too much for some dogs.
In between intense thoughts, your pooch might decide to gnaw on the edge of the toy just to relieve mental pressure as he figures out this puzzle.
And because it is built from tough plastic, it can withstand his bites. Overall, this toy is a must-have for intelligent dogs and owners who love solving a good puzzle.
​OUR EXPERIENCE: We love the Nina Ottosson line of dog toys and the dog brick toy may be one of the best interactive dog toys we've come across. In fact, we use it daily at doggy daycare when training our pups.
The concept of a honeycomb comes to mind when you see this toy. It's great for playing a game of fetch in the park or in the backyard.
This bouncy ball also serves as a chew toy. For delicious alone time, you can stash a few snacks inside the combs and let your pooch enjoy.
The toy comes in different bright colors that are easy to spot when playing fetch in the park or backyard. The many holes in the toy allow you to incorporate a snack when you choose.
Pros
Machine washable making it convenient for regular use.
Constructed from durable yet soft plastic.
Serves as a chew toy.
Has a decent bounce and rolls easily.
Cons
Some consumers complained that the toy is great but not tough enough for aggressive chewers.
Not all chewy toys are interactive, but the JW Pet Hol-ee Roller Dog Toy stands out by boasting both qualities. It's a great choice for daily use and active pups.
​OUR EXPERIENCE: We brought one of these home many years ago when we attended the BlogPaws Conference in Salt Lake City. When Adelle was training to be a service dog she had the large red Hol-ee Roller. Probably one of her favorite toys when she was a wee pup.
This takes gaming to the next level for all pooches.
What will surprise you the most is the intelligent side of your dog that will come out with a little stimulation. If mental stimulation and intelligent fun are what you have in mind for your dog, then this puzzle will work great for you and your pooch.
To begin with, put treats in the beaker but do not put the lid on top of the beaker. This will allow your pooch to associate flipping the beakers with a treat reward.
Once they get the hang of it, put treats in the beakers and place a lid on top and let the games begin.
Your pooch will learn how to flip the beaker and balance it for a treat to drop out. You can increase the level of difficulty using different lids with varying degrees of difficulty.
Pros
Easy to learn, making it a great toy for almost all types of dogs.
Various difficulty levels make it mentally stimulating.
Durable enough to last for the long term.
Cons
Dogs with shorter legs, such as Australian kelpies, may struggle to reach the beaker.
Trixie Mad Scientist Turn Around Interactive Dog Toy is a great puzzle toy to have in the house because of its level of interaction. Remember, every dog loves a treat and they love it, even more, when they have worked for it.
OUR EXPERIENCE: This is one interactive dog toy we plan to add to our collection. I think this would be a great brain teaser for our current dog, Raven. We'll report back to let you know Raven's thoughts on the Trixie Mad Scientist.
Who Should Buy Interactive Dog Toys?
Any dog owner who understands just a bit of dog psychology will not hesitate to buy a dog toy for their furry buddy. That aside, spending interactive time with your pooch is what majorly contributes to her feeling secure and loved.
A simple game of fetch in the evening after picking up the kids from school might be all your dog needs to finish her day on a high.
Nowadays, there are numerous types of toys. Some are for chewing, tagging, fetching, and swimming, while others have some of these functions all packaged into a single toy.
A simple low-cost fetch toy will kill two birds with one stone, which is all in your favor as well as your pooch's. You get to unwind from a long day while your pooch gets in some exercise while bonding with you.
Walks in the evening can be augmented by incorporating a toy in the mix.
For instance, while walking through the park where there is plenty of space and safety, you can throw a fetch toy for your buddy to retrieve a couple of times before you head on home.
If your pooch is accustomed to being left home alone for the better part of the day, an interactive toy may be the best thing for her. The idea is to prevent your pooch from getting bored out of her wits.
An interactive toy can go a long way in keeping your dog's temperament calm, even if you are away for most of the day. It also decreases the chances of anxiety developing in your pooch.
Did you know the simple act of chewing is self-soothing for a dog and can help keep anxiety at bay? So, a toy that she can gnaw and chew on is healthy for her.
It also keeps them engaged and mentally stimulated, which is good for their overall health. In short, toys encourage a healthy balance in keeping your dog happy.
That way, she does not use her boredom to create her own destructive fun such as chewing on your couch, shoes, and everything else in sight.
Benefits Of An Interactive Toy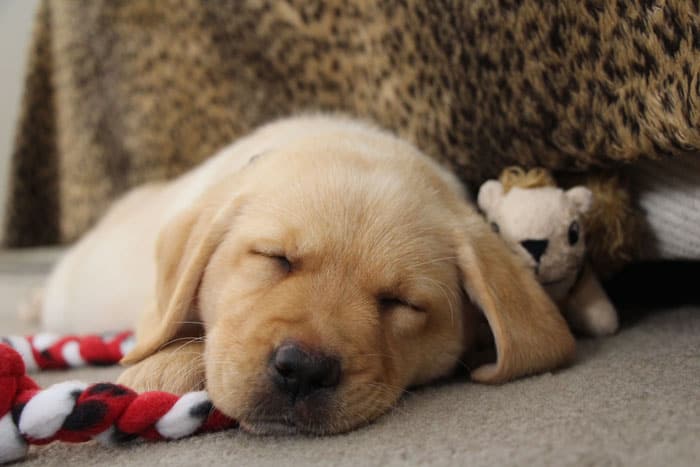 Our favorite interactive dog toy – the squirrel puzzle toy wins! As you can see the little squirrel outlasted our yellow lab puppy, Adelle.
Not all toys are made equal. You can only do so much with a tennis ball. Although you may need to get creative in selecting an interactive toy, it does not mean that you have to spend a fortune.
There are plenty of interactive dog toys that are low-cost yet very effective in interacting with your pooch.
As a doggy parent, you want to have one or a few interactive dog toys that help stimulate your buddy mentally even when you are not around.
Such toys usually involve a puzzle that rewards your pooch when they figure it out by dispensing a snack for a job well done.
You can learn more about the benefits of food puzzles in the video below:
The interactive dog toy reviews that I have rounded up for you above should make choosing one much easier.
With so many dog toys out there, I took the time to make sure that you can choose from among the eight best interactive dog toys popular in the market today.
Interactive toys have several benefits, all wrapped into one package. Most importantly, they stimulate your pooch mentally by engaging them in an activity that appeals to their natural instincts.
This includes sniffing, pawing, biting, tagging, chewing, burrowing, digging, and generally using their natural intelligence to figure things out.
Ordinary toys may capture your buddy's attention for only a few minutes, but an interactive toy may have your pooch engaged for hours on end.
Features Of An Interactive Dog Toy
For a toy to qualify as interactive, it needs to have the ability to engage with your pooch and hopefully keep him engaged and mentally stimulated for a while.
Some of the best interactive toys, such as the ones I have reviewed above, will have some puzzle elements and a tasty reward system, which is usually your dog's favorite snack.
It works better if the toy allows you a way to get your pooch used to it before increasing the difficulty level. A good example is the
Trixie Mad Scientist Turn Around Interactive Dog Toy.
I use this example because this interactive toy will allow you to start by putting some snacks into the flippable beaker but without a lid. What this means is that your pooch will quickly associate flipping the beakers with a snack reward.
The next step will be to put some snacks in the beaker but to close the beaker with a patterned lid. This will prove a little trickier for your pooch, but in no time will he master the art of getting those snacks out despite the difficulty.
The next step involves switching the patterned lid for a more complicated pattern that will offer your pooch an even bigger challenge.
It's such features as dispensing treats that make interactive toys so engaging for dogs. Some toys are captivating enough because of their shape and the fact that they are chewy.
Throw in some squeaky sounds and flashing lights, a snack dispenser, or a chicken-flavored exterior, and your pooch just found a new buddy for life.
What To Consider Before You Purchase
Another one of our interactive dog toys wins. Adelle is worn out by the JW Hol-ee Roller Dog Toy.
With so many toys available for dogs, you can be at a loss at which options to choose. As a rule of thumb, there are several things to look out for before making a purchase. Below, I will examine some of the factors to consider.
1. Your Dog's Temperament
Choosing a toy should in some ways agree with your dog's temperament. It makes little sense to buy your boisterous dog a cuddly toy, right? Especially if they just get a kick out of ripping things apart.
Perhaps a tough tug toy that an aggressive chewer cannot destroy will be more in line with his temperament and he is likely to enjoy it more.
Squeaky and loud toys may not be the best option for a timid or nervous doggy; perhaps a cuddly toy may be more suitable.
Although there really is no right or wrong way of choosing a toy, some thoughts about your dog's temperament may help in making a good buy that your doggy will enjoy. Most interactive toys are suitable across all temperaments.
2. Your Dog's Strength
When choosing a dog toy, you may want to consider the strength of your pooch. If he is a monster destroyer of toys or an aggressive chewer, it's best to choose toys that are tough and can handle his strength without getting wrecked on the first day.
3. Safety
Your pooch's safety is paramount when choosing a toy. As a rule of thumb, only buy toys that fit your dog's size. Buying a small-sized toy ball for an extra-large dog can be a choking hazard.
It is advisable to examine toys closely to ensure they are not made from a material that easily chips away or has smaller parts that can come loose. These can cause choking and are best avoided.
4. Adjustability
When choosing an interactive dog toy for a really smart dog, you might want to consider if it has several difficulty levels. This will allow you to adjust the difficulty level as need be and use the same toy longer.
5. Durability
If you are not keen on buying a new toy every week, it is worth considering how durable the toy is. The construction should be well done but with a material that allows durability without breaking off your dog's teeth when they bite on it.
6. Features
The difficulty level is a feature worth considering. Depending on the temperament of your pooch, you may consider other features such as squeaking, glowing, floating, chewable, or dispensing treats.
Hygiene can be an issue with doggy toys that are hard to wash. Therefore, being machine washable is another important feature to consider.
Conclusion
There is no doubt as to the importance of dog toys in our homes. Other than bringing out the best in them intellectually, toys could help to exercise your dog's hunting skills such as chewing, scratching, and burrowing.
That aside, boredom has been shown to be a leading cause of destructive behavior in dogs. With the help of toys, you can keep him engaged, mentally healthy, and balanced.
Interactive toys, in particular, are amazing for the mental stimulation that keeps your dog entertained for hours.
So, if you do not have some doggy toys around for your buddy, it's about time you got him some.
I would suggest you start off with the best overall on this list, the
Outward Hound Hide A Squirrel Puzzle Dog Toy.
In addition to being accommodating to dogs of all sizes, the toy is super interactive, can last longer than its counterparts, and you and your pup can play with it just about anywhere.
But don't stop there. You can give the rest of the toys on my list a try to make sure all your pet's crucial needs are catered for in the best way possible.
What about you guys?
What are your favorite interactive dog toys?
Tell us about your experiences with these brain-busting type toys in the comment section below.
Save To Pinterest
Top Picks For Our Puppies
Check out more of our favorites on our New Puppy Checklist.