Collapsible Travel Dog Food Bowl Review
This post may contain affiliate links. We may earn money or products from the companies mentioned in this post.
It's Tuesday and we're going to push forward with our series on travel dog bowls. This week we have a dog bowl with a very descriptive name: the Collapsible Travel Dog Food Bowl
. This is the first dog travel bowl we got years ago for Linus and our first camping trip to the Sequoia's. It's already been four years since that trip and the Collapsible Travel Dog Food Bowl has definitely been put to the test. As usual we have a great video for you and our in-depth review of the bowl.
So, without further ado here's the Collapsible Travel Dog Food Bowl:
Collapsible Travel Dog Food Bowl Review
This dog bowl can be used with both food and water and we've had the opportunity to both feed and give water to Stetson, Linus, and Derby with this bowl. Check out the product details:
Product: Collapsible Travel Dog Food Bowl
List Price: $4.99
Product Features:
Easy to just crumple up and pack away
Waterproof inner nylon lining
Great for traveling
Product Description
Made with a durable, light weight Kodra exterior and a waterproof inner nylon lining. Just crumple and pack away, or flip open and fill. Excellent as a food dish / water bowl for your pet. Great for Hiking, Camping, Boating, Road Trips, Indoors and Outdoor use. Cleans easily and stores compactly. Assorted colors: Blue, red, green.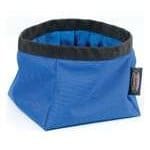 Collapsible Travel Dog Food Bowl Video Review
Stetson, Linus, Derby, and I have used this dog bowl extensively throughout our travels. Today we filmed a quick video Stetson eating some food out of the bowl and we also show how the bowl can hold water as well.
My Thoughts On The Collapsible Travel Dog Food Bowl
As I mentioned earlier this was the first travel dog bowl we used and we absolutely loved it. It packs away easily in any pocket of your backpack, is very durable, and the price is right. However, it is not without it's shortfalls. As I mentioned in the video one of the major issues we had with this bowl is the fact that if you left water in the bowl for a period of time it would penetrate the "Waterproof" nylon. I guess it's more of a water resistant nylon. The second problem we encountered was when we stored the bowl in our backpack for a couple days we did notice the smell of mildew. While not really a problem of the bowl it is a good idea to remove the bowl from your backpack and turn it inside out to make sure the water fully evaporates.
Overall we've enjoyed using this dog bowl in our travels and would highly recommend it. If not for some of the newer bowls we tested this one would most likely still be at the top of our list. By the way, at the end of all of these dog bowl reviews we will reveal our favorites.
Pros:
This dog food bowl is great for crumpling up and tossing in your backpack.
Easy to clean and durable
Cons:
Advertised as waterproof, but when I leave the water in for a period of time it does start to penetrate the nylon interior
It's very lightweight which could be a pro – easy to transport and a con. In this case I don't like the lightweight bowl because as you can see in the video it can easily tip over and spill if not filled adequately with food or water.
Even though it's easy to clean if not allowed to air out and properly clean then you run the risk of mold/mildew.
If you're looking for an inexpensive travel dog bowl then the Collapsible Travel Dog Food Bowl might be the bowl for you. It's much cheaper then many of the dog bowls we tested and it can store away nicely in the pockets of your cargo pants.
Have any of you experienced the Collapsible Travel Dog Food Bowl? If so, we'd love to hear about your experience.
Top Picks For Our Puppies
Check out more of our favorites on our New Puppy Checklist.