Dachshund Mother Takes Care of Baby Goat
This post may contain affiliate links. We may earn money or products from the companies mentioned in this post.
Do you remember last years story about the Dachshund Acts As Mom To Baby Piglet? We ran that article almost this same time last year. If you've been following along then you know that Tink the Dachshund mom was not feeling to well last time we spoke to Momma Johanna. Here's the last update we had on Tink and Pink:
The Latest News On "The Pink Puppy"
Pink was doing well, but Tink was having a little bit of a medical problem. We went ahead and contacted Johanna to see if we could get an update on Tink and Pink and we were happy to hear that she's doing much better and there was a little surprise to go with it.
I'll go ahead and let the pictures do the talking and add Momma Johanna's email update at the end:
Dachshund Mother Takes Care of Baby Goat
Spencer Gets A Kiss
Tink and Spencer
Spencer Getting Warmed Up
She's Telling Him She Loves Him and Everything Will Be All Right
Tink and Her Baby Goat "Spencer"
Tink and Spencer (I think he was looking for a meal)
Colby,

I actually do have an update. Tink is doing great..so far no more tumors! She seems very healthy, so keep your fingers crossed. Pink is going to turn one year old next week. We are going to have a little birthday party for him and Tink and I'll try to get you some photos of that. I'm going to make him a marshmallow cake! He will love it.

Tink had another wonderful experience last weekend with a baby pygmy goat born on our farm. The mother had triplets and one of the babies was stillborn, one healthy and one was nearly frozen. My husband brought the little guy to the house and we worked on getting him warmed up and to get some milk in him to see if we could take him back to his mommy. Tink was excited and thought she had another new baby. If Tink had milk, she would have tried to nurse him. She laid with him while we were warming him up and licked him all over. Later that day he could walk and she followed him everywhere he went and mothered him. Unfortunately, the mommy goat died and the little billy goat and his sister were given to a family that had a few other bottle fed babies. So for those two days, she got to be a mommy again. Here is a few pictures of her with "Spencer", the baby billy goat. There is always something going on our little farm..never a dull moment!

Be looking for another book in the near future from a major publishing company. I will let you know more about it when I can.

Take care,

Johanna
Lots of exciting news! We'll be sure to keep everyone posted on Tink, Pink, Spencer, and Johanna's new book. Thanks Johanna for the update!
If you'd like to read Johanna's children's book about Tink the Dachshund and Pink the Piglet click the image below: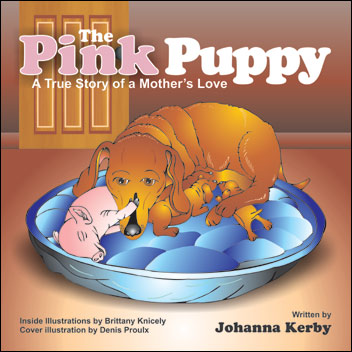 Top Picks For Our Puppies
Check out more of our favorites on our New Puppy Checklist.