The Latest News on Piglet Adopted by Dachshund
This post may contain affiliate links. We may earn money or products from the companies mentioned in this post.
If you've been following this blog then you've probably read my articles on the piglet, Pink adopted by the Dachshund, Tink. If you've missed out on this adorable story then take a look back at our last article to bring yourself up to speed:
UPDATED Pics and Story: Dachshund Acts As Mom To Baby Piglet
Pink is up for adoption! Check out the entire story below. If you are interested in adopting Pink you can contact MommaJ at her ad on usfreeads.com. The number of the ad is 1148556. Or if you want, you can email her at tinkandpink@msn.com.
Update: Pink and Tink's handler, Johanna has written a wonderful children's book about Pink the Piglet and Tink the Mommy Dachshund click the image below to see more information:
Here he (Pink) is scratching on the side of the crate.
Here's the latest news straight from their caretaker Mommaj: I just wanted to give you an update on Tink and Pink. Tink weaned Pink from her last week along with the puppies. Pink had a really hard time with it, but the puppies did great. For a few days he was really upset and I couldn't get him to hardly eat. Then he started eating his formula really well. He also is eating the puppy food, but not very much pig food. He started nibbling on the puppy food a few weeks ago when the puppies started.
I separated the puppies into one crate and him in the other because he kept trying to nurse from the puppies. He is now doing really well and seems to be used to the daily routine. He sleeps good all night in his little doggy bed and as soon as someone gets up in the morning, he lets us know he is up too! I took him and the puppies to the vet for their 6 wk checkup and they are all doing great. They weigh between 2 and 3lbs. Pink weighed in at 2 1/2 lbs. His pig siblings now weigh about 20 to 30+lbs and are weaned from their mommy too.
Pink loves to roam around the house and explore every nook and cranny. He is very neat and only goes potty in his crate. He gets to play with the puppies every day and it is funny to see. They chase him and gang up on him. He loves it as much as they do! He does not like to be held or cuddled , but he is very sweet and smart. I am sending some cute pictures of him to show everyone. I know several people wanted to be updated on his progress.
We have made a hard decision as far as his future We are going to try to find him a great home with someone who has the time to work with him and train him. I placed an ad on usfreeads.com. The number of the ad is 1148556. Or if they want, they can email me at tinkandpink@msn.com. It makes me really sad to do so because we love him, but I think it is best for Pink. Everyone wants to know how big he will get. I really don't know and the vet didn't have any idea either. Here are the latest pictures:
Pink at 4 weeks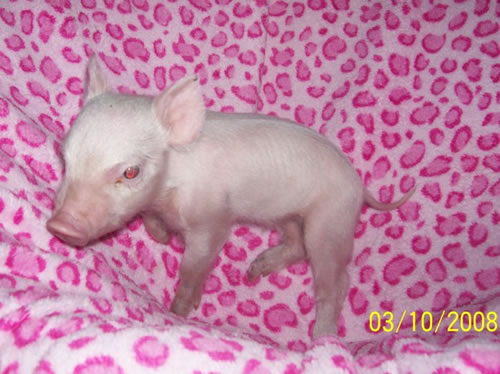 Pink at 5 weeks. He does not like baths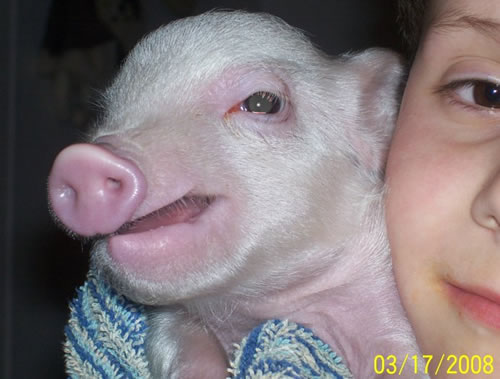 He is sleepy after his bath…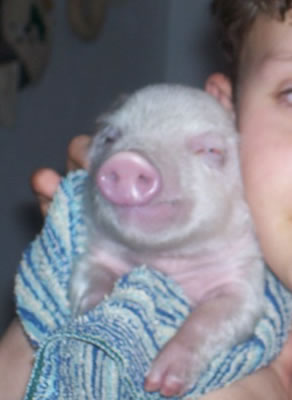 Pink sniffing someone's hand.
He likes to be scratched…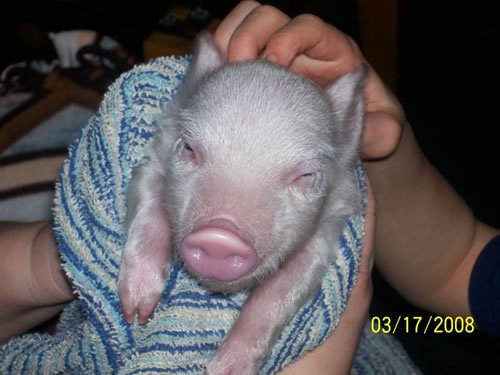 What a Face!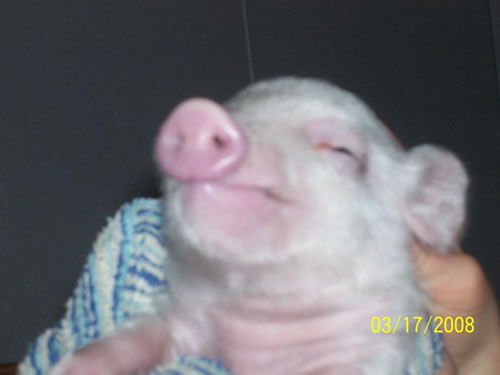 Getting a lick from his sis.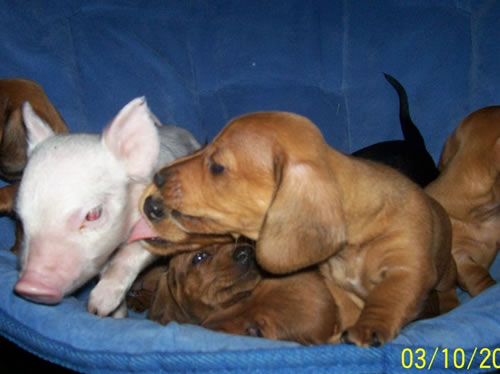 I don't know why, but these pics make me think of Wilbur from Charlotte's Web 🙂
Thank you Momma J for sharing the latest news on Pink and Tink.
Top Picks For Our Puppies
Check out more of our favorites on our New Puppy Checklist.