This post may contain affiliate links. We may earn money or products from the companies mentioned in this post.
Here we are on the weekend with Part III of the Cutest Puppy Ever! Did you see Contestant I and II? Linus, the Australian Shepherd mix was featured in Part I of the Cutest Puppy Ever. Part II showed our first female contestant, Princess Buttercup a German Shepherd mix from the Riverside Shelter. If you missed those posts take a look at these links:
The Cutest Puppy Ever Part I
The Cutest Puppy Ever Part II
Contestant number III is also from the Riverside shelter and her name is Blondie. Check out her biography below.
The Cutest Puppy Ever – Blondie
Straight from the litter of German Shepherd puppies was an all blonde puppy that looked nothing like a German Shepherd. We eventually assumed that this litter of puppies must have had two (or more) fathers and wrote this short article: Can A Litter Of Puppies Have More Than One Father? Blondie is from the same litter as Princess Buttercup…they sure don't look like sisters.

Blondie was a little feisty girl and always seemed to get her way among all the other puppies. As far as I could tell she seemed to be one of the more dominant puppies in the litter. We assume that the mother was a German Shepherd, but Blondie's father may have been a yellow Labrador Retriever…What do you think? Here's her portfolio of photos:
Blondie Eying That Ring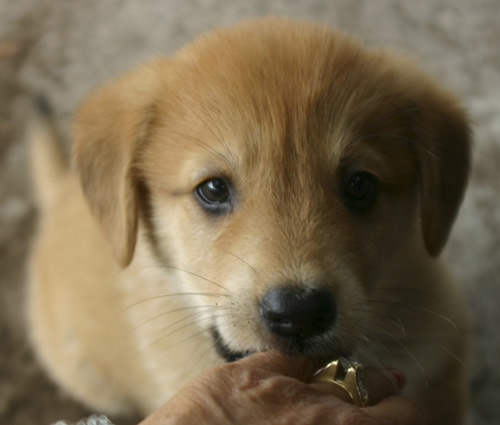 Blondie Posing By The Wall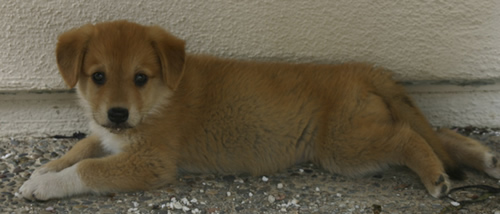 Blondie Hanging Out By The Tennis Ball and Chair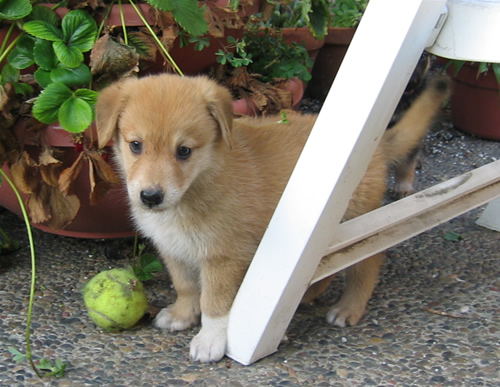 Subscribe NOW To Receive The Entire Cutest Puppy Ever Article Series
Did you like this article and pictures? If so, then fill out the form below and receive the entire Cutest Puppy Ever series daily via email. The final article of the series will allow you to vote on your favorite puppy! Be sure not to miss one puppy picture by filling out your email address in the form below.
One final note. If you use social media or even if you don't we'd love to get this series of stories a little more exposure by getting them up on StumbleUpon, Digg, and Reddit. If you are a member of any of these website then can you please stumble, digg, and reddit this post. I added some links to the bottom of the page that will allow you to quickly stumble, digg, or reddit us.
Did you read the other articles from this series? I'll add the links to the bottom of each post as they are published.
The Cutest Puppy Ever Part I – Linus the Australian Shepherd Mix
The Cutest Puppy Ever Part II – Buttercup the German Shepherd Mix
The Cutest Puppy Ever Part III – Blondie the Labrador Retriever Mix
The Cutest Puppy Ever Part IV – Sally the German Shepherd Mix
The Cutest Puppy Ever Part V – Derby the Yellow Labrador Retriever
The Cutest Puppy Ever Part VI – George the German Shepherd Mix
The Cutest Puppy Ever Part VII – Brisby the German Shepherd Mix
The Cutest Puppy Ever Part VIII – Boots the Labrador German Shepherd Mix
The Cutest Puppy Ever Part IX – Cocoa the German Shepherd Mix
The Cutest Puppy Ever Part X – Stetson the Black Labrador Retriever