Dog, Cat, and Mouse…Can't We All Just Get Along?
This post may contain affiliate links. We may earn money or products from the companies mentioned in this post.
Friday marks the end of the work week for me and once again this week I wanted to end it with something light. While surfing the internet I came across a few great pictures showing how dogs, cats, and mice truly can get along. If you're an avid animal blog reader than you may have come across this picture before. Even if you have seen these images I'm sure you can appreciate them once again.
Dog, Cat, and Mouse History
So where do I get my history lessons from? TV of course! and in this case the classic cartoon Tom and Jerry.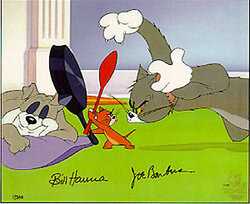 We've been taught from an early age that cats do not get along with dogs and mice do not get along with cats. My example here are the cartoon characters Tom the cat, Jerry the mouse, and Spike the dog. If you haven't seen this cartoon then maybe you've been living in a cave (just kidding)…seriously this cartoon is basically about how cats, dogs, and mice do not get along. Take a look at the image to the right to see what I mean. By the way, Spike is a Bulldog who if you recall from my article Top 10 Dogs Good With Children Part I was the number 10 breed on my list.
Can't We Love One and Other?
Of course in reality I'm sure many of us have seen cats and dogs coexist peacefully together even as friends and playmate, but not much has been documented between mice and cats. While searching the internet I came across this information from a blog post from a couple years ago: Dog, cat and mice become friends. As you can see from the pictures we can all get along. Click the image to see a larger version of the photoQuoted directly from the blog:"Greg Pike's dog Booger, cat Kitty and white mouse Mousie, rest at the end of a day in Bisbee, Arizona, United States. Dog, cat and mice coexisting peacefully. Cool!"When my dog Linus was a puppy his best friend was my sister's cat Lulu.
They grew up together and would chase each other around the yard. Sometimes the dog would chase the cat and other times vice versa. I always thought it was funny watching this little 5 pound cat jump out of the bushes and chase my 50 pound dog.Do you have any experiences with your cat, mouse, and dog getting along together? Or maybe your pets don't get along at all? Either way tell me about your experiences with your pets?
Top Picks For Our Puppies
Check out more of our favorites on our New Puppy Checklist.