Black And Tan Labrador Retrievers
This post may contain affiliate links. We may earn money or products from the companies mentioned in this post.
I thought I new a decent bit about Labrador Retrievers, but I had never heard of purebred Black and Tan Labrador Retrievers until I began volunteering as a puppy raiser working with Stetson (my GDA puppy) and his guide dog training. I've seen many other dog breeds with similar markings like Dachshunds, Rottweilers, Doberman Pinschers, but never a Black and Tan Lab!?!  From the Guiding Eyes website:
"The black and tan coloring is due to a modifier gene normally present in Labrador Retrievers. It is recessive and therefore requires each parent to contribute the black and tan gene to an individual for the color to show up. It can modify a black or chocolate Lab to have lighter tan markings in the usual locations of a Gordon Setter, Doberman or Rottewieler. There is also a brindle coloring that Labs can have. We see it less often. Labs with brindling have tan speckling on their forelegs, muzzles and chest."
Black and Tan and Brindle Labs are not allowed to compete in the show ring because they are not considered desirable traits for the standard lab. However, they can be registered with the AKC (American Kennel Club) and these color choices are available on the registration slips.
Their coat color may be different then your standard black/yellow/chocolate lab, but they have the same temperament as their solid colored littermates. Take a look at these pictures of Billy one of our readers Black and Tan Labrador Retriever:
Another trait I noticed was a small white spot on some of the black labs in our group. After doing a little bit of research I found that this trait is also permissible in the AKC Labrador Retriever Standard. If you know of any other unusual traits found in purebred labs please leave a comment or let me know. I'd love to see any images you have of black and tan Labrador Retrievers or Brindle Labs. If you have some great pictures please send them over and I'll try to post them to the website.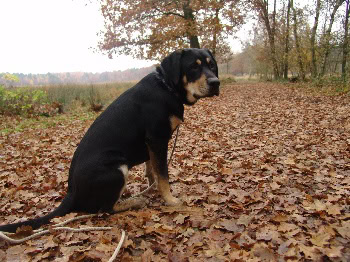 I have received many images from others who own purebred black and tan labs and brindle labs.  Moving forward I plan on appending the new images to this post.  If you're interested in sending me your images of purebred black and tan labrador retrievers and brindle labs then please email me at ckmorita [at] puppyintraining [dot] com.  Also, be sure and include a short summary/description of your puppy.
Benny the Brown and Tan Lab

This is our brown and tan labrador Benny. It was only one brown and tan Labrador in a "draft" from 12 Labrador babys. He is a kindly dog. He loves child and he learn fast. He grow up with two child. We looked for a dog for our son, who suffers from selective mutism. And we find the right dog. He is tomorrow 19 weeks old.
Brindle Lab Puppies

I saw the pics of the brindle lab dogs on your site. We didn't know what to think when our female had 3 out of 9 that came out with the brindle color. One has just a bit on the paws, another has it on his paws and a little on his chest, the other one has it on his paws, chest face and neck. They are so pretty.
Black, Yellow, and Black And Tan Lab Puppies
The Puppies
Mom and Dad
I am sending you Pictures of the Black and tan pups and Mom and Dad I was very surprised to see this color of pups come from my Chocolate Female and my Yellow Male The pups were born on Jan 15th 2010 here are some Pictures of the Black and Tan and the rest of the Litter and Mom and Dad.
Have any of you heard of or seen a black and tan Labrador Retriever.  If so tell us a little bit about your experiences in the comment section below.
Top Picks For Our Puppies
Check out more of our favorites on our New Puppy Checklist.