This post may contain affiliate links. We may earn money or products from the companies mentioned in this post.
As I mentioned the other day we attended the Guide Dogs of America Graduation and had the opportunity to see Derby's (our second guide dog puppy in training) brother Dexter graduate and become a working Guide Dog.
Guide Dog Graduation
I enjoy going to the GDA graduations even though it's a bit of a hike to get out to the GDA campus.  I usually takes a little over and hour from my place in Irvine, but traffic is unpredictable and it's taken me as long as 2+ hours to get to Sylmar.
Unfortunately, I didn't have a puppy to take with me, but we did hitch a ride with Pat, Chuck, and Puppy In Training – Winter…as well as Setsu and Puppy In Training – Biwa.
There are always lots of happy tears at graduation and this year was no exception.
Proud Puppy Raisers seeing their puppies all grown up and taking the final step to becoming a working Guide Dog…
Guide dog handlers with their new guide dogs…
Friends and family many of whom helped along the way…
I was emotional and very proud to see another dog from our Orange County group graduate and move on to become a Guide Dog.
Dexter The Guide Dog
It was great to see Dexter again who looked very handsome in his shiny new harness.  We were lucky enough to take Dexter on several outings over the past year+ including a tour of Downtown Disney, a Movie, the Rainforest Cafe, and the Harvest Festival in Laguna Beach.  I remember Dexter did a great job on all the outings.  In fact, Dexter was so relaxed at the movies (I believe it was Public Enemies with Johnny Depp) he fell asleep and started snoring.  I had to give him a couple nudges to make sure he wasn't making too much noise.
Another highlight was riding on the trolley.  Dexter curled up right under my feet and had no worries while we sped down the street from the parking lot to the Harvest Festival.
Here are a few pictures I have of Dexter while he was a Puppy In Training.
Dexter at Puppy Training Class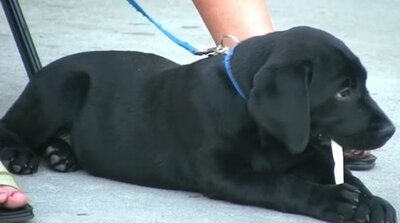 Dexter and I exiting the trolley
Dexter and Dutch getting some rest at the Harvest Festival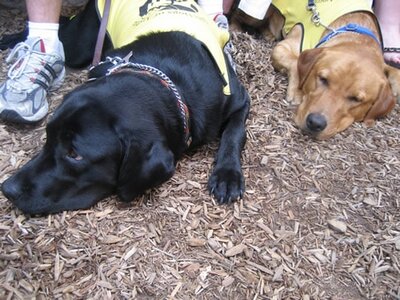 Dexter at graduation in his new harness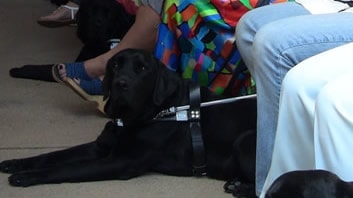 Congratulations to Dexter on becoming a working guide dog and best of luck to him and his new partner.  Also congratulations to Janet and Joe for doing a great job as Dexter's puppy raisers.
Top Picks For Our Puppies
Check out more of our favorites on our New Puppy Checklist.