What Color Dog Should I Get?
This post may contain affiliate links. We may earn money or products from the companies mentioned in this post.
What Color Dog Should I Get is a fairly common question.  Everyone has their preferences.  When I had the chance to choose my first puppy I did my best not to be biased by color.  I instead tried to choose my first puppy based on his personality and how well it matched my own.
What Color Dog Should I Get?
Several years ago we dropped by the Carson Shelter to take a look at a litter of Australian Shepherd mix puppies.  When we arrived there were only two puppies left.  The first puppy was an all black male with a small white spot on his chest.  The second one was a female with beautiful black, tan, and white markings very similar to a purebred tri-color Australian Shepherd.
I was drawn to the beauty of the female tri-color puppy, but none the less  I still put both dogs through a puppy temperament test.  Both puppies did very well on their puppy temperament test however, I felt like the male puppy with the little white spot on his chest was a better fit for my personality and lifestyle.  After much inner debate I still felt very drawn to the tri-color and even considered bringing both puppies home (that would have been a mistake).
Ultimately, I pushed any bias I had for color and beauty and chose the puppy who's temperament best matched my own.  In the end I have no regrets and my black Aussie mix with a white spot on his chest turned out to be a great puppy and now a wonderful dog.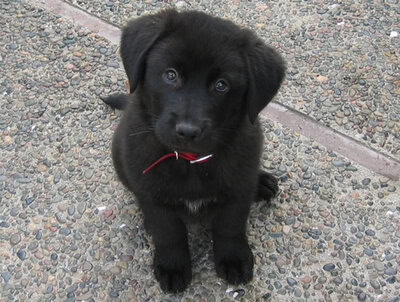 What Color Dog Should You Get?
It's been over five years since I decided to choose Linus over the tri-color Aussie.  Today, if I were to be making the choice between color and personality I would again go with the puppy that best matched my personality and lifestyle.
However, I do have a preference for color just like most everyone else out there.  I was volunteering at the Orange County Pet Expo a few weeks ago and talking to a potential puppy raiser when our conversation turned to color preferences and specifically: What color dog should you get?
My thoughts turned not to my actual preference for a specific color, but instead something I learned after having a yellow and black Labrador Retriever in my home for over a year.  Here are my thoughts:
When trying to decide what color dog to get, consider the color of your home.  Do you have mostly light colors or dark colors?  If you have light colors get a light colored dog.
Do you normally like to wear light or dark colored clothes?  If you prefer wearing dark colors then get a dark colored dog.
What color is the interior of your car? – If you have black interior in your car then get a black dog.
Do you have another dog or pet? and what color is that pet? – this is where I went wrong.  If you have a black dog you will have a much easier time with keeping things clean if you get another black dog.
One final consideration that doesn't have to do with cleanliness is how photogenic is your dog?  If you get a black dog you will have a much more difficult time getting that perfect picture (you just can't see his features as well).
Why would I ask these questions?  Well, I found out that when I wear dark clothes I can see every single piece of fur from my yellow Labrador's coat.  When I wear white I look like I'm covered with black fur from my black Labrador Retriever.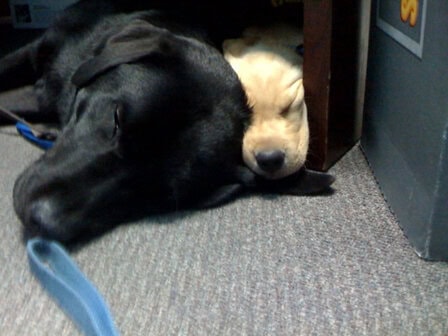 The day I brought Derby home I almost immediately realized that the interior of my car, my furniture, and my clothes were mostly dark in color.  For the most part I never really noticed how much fur collected from my two black dogs.  However, the day Derby arrived I noticed fur all over the floor mats in my car, fur all over my clothes, and fur all over the carpets and furniture in my house.
I quickly realized that having a black and a yellow dog would make it much more difficult to keep things clean.
"What Color Dog Should I Get" is a personal choice.  However, as you can see there are also practical implications that you may want to consider.
How about you?  Have you ever thought about what color dog to get and how it would effect the cleanliness of your possessions or your family pictures?
Top Picks For Our Puppies
Check out more of our favorites on our New Puppy Checklist.