Guide Dogs Of America Graduation
This post may contain affiliate links. We may earn money or products from the companies mentioned in this post.
This Sunday, July 27th we will be attending the Guide Dogs Of America Graduation at their campus in Sylmar, CA. Lucky for us our good friend Dustin is graduating. We are so proud of Dustin and his parents Anne and Jim. We can't wait to see him in harness with his new companion.
If you're in the area we'd love to see you in attendance. There will most definitely be several other dogs graduating, plenty of tears of joy and sadness, and inspiration for me and others to do our best to raise our current and future guide dog puppies in training. Derby and I will be there!
Dustin is Graduating!
Here's the information Dustin wrote on his blog:
Hello Everyone,
Well, the waiting is over, I have been in training with my new partner for some time now. We are doing extremely well working together. We will be graduating on July 27th. All of you have been wonderful to me supporting me and my family. We have had many adventures together, trains, airports, training classes, churches, schools, movies, parks, museums, festivals, malls, the beach the surf, conversations on our blogs, becoming a Canine Good Citizen, and so on. Its been so much fun, I will miss you all but you know this is what I have been dreaming about since I became a puppy in training. I hope you will come to see me and my partner graduate. I will be looking for you.
Love, Dustin
Dustin And Stetson
Here are a few pictures of Dustin showing Stetson how to be a surf dog at the beach a few weeks before he went In For Training.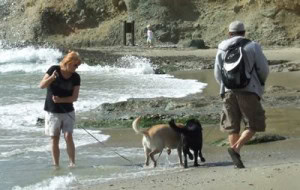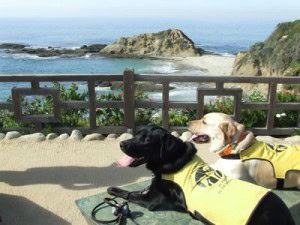 I can't wait for Guide Dogs of America Graduation. Here are the details:
Guide Dogs Of America Graduation
WHAT: Guide Dogs Of America Graduating Class #358
WHEN: Sunday, July 27th, 2008 at 10:00am
WHERE: Guide Dogs of America Campus, 13445 Glenoaks Blvd. Sylmar, CA 91342
Here's information from the GDA website:
At the end of each class Guide Dogs of America holds a Graduation and Awards Ceremony to honor the guide dog recipients of the current class, the Sponsors and Puppy Raisers, and all who have contributed to the success of the class.
The Graduation Ceremony starts at 10am and is held in an outdoor setting under an awning. Each class has 8-10 students who may talk about their training experiences, along with the puppy raisers who fostered their dog. Puppies-in-training are in attendance along with some working guide dogs. GDA merchandise is available. A reception and tours are held immediately following the ceremony. Attendance is free and all are welcome.
I hope to see you all there!
Top Picks For Our Puppies
Check out more of our favorites on our New Puppy Checklist.