This post may contain affiliate links. We may earn money or products from the companies mentioned in this post.
The question, What Are Good Dog Names? pops up quite frequently when you raise puppies.  For instance as a Guide Dog puppy raiser we choose a new puppy name every year or so.  When fostering a litter of puppies we often times have to come up with several puppy names in a short period of time.
When I first picked up Linus from the animal shelter in Carson I never really thought about the question: "What Are Good Dog Names?" or even "What should I name my dog?"…
I remember driving home with my girlfriend brainstorming good dog names including front runners like Max which by the way is the most popular dog name according to some polls.  Another name I really liked was Fiver (I just finished reading Watership Down
and Fiver was the one of the rabbits in the book).  It actually took us a couple days before we settled in on Linus.
On the other hand sometimes a good name will just pop in your head the moment you see a new puppy.  For instance, when we brought home and fostered litter of 7 puppies one stood out and I immediately said he looks like a George (this name breaks one of my rules for naming puppies).  However for some reason I did not have a name pop into my head for the other six puppies, but the one was definitely a George (my brother and his wife ended up adopting George and he still goes by that name today).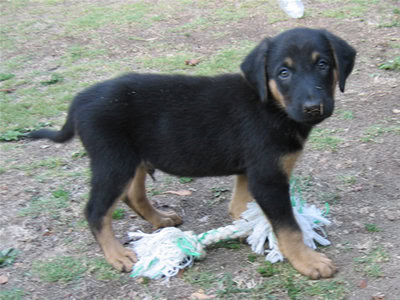 What Are Good Dog Names?
A while back we wrote a short article on how to name a puppy and received some excellent feedback from our readers.  I wanted to point out one comment that stood out in particular from one of our fellow puppy raisers:
We were going over names one day while having lunch at Farmer's Market in L.A. and after our second glass of wine, we came up with DUDE…And after "Sit Dude" and "Dude, Come", and "BAD DUDE!!", we were laughing hysterically.

I don't think GDA would approve, but, ya never know….

Seriously, a strong 2 syllable name works best when you are issuing commands. That's why we've had Boomer, Buster, Trooper and now Dexter.
If your dog wanders away, what will bring him/her back? "Here Decartes!!"??"Come DAEDALUS!!"??? Don't think so. Not that those aren't great names. I wanted to name a dog Zampano, after a famous Italian Strongman, but Janet gave me the "Are you CRAZY??" look. These are WORKING dogs that need working names.
A strong two syllable name is a good rule to try and follow when choosing a good dog name.
Another thing you might consider is to avoid common human names.  My name, Colby is not too common, but anytime I hear someone say "Colby" or even "Kobe" I immediately turn my head.    If your dog has a common human name he may start hearing it all the time when out in public.  I can think of two things a dog might do when hearing his name constantly out in public.  First, he might at the minimum turn his head, but also may want to head towards the person calling his name.  On the other extreme, if he hears his name all the time he may just start ignoring his name in all situations.

How To Name A Guide Dog Puppy?
As I said before we discussed how to name a puppy in a previous post, but I still wanted to highlight a few main points from that article.
We (Puppy Raisers) are given the opportunity to name our puppies.
Guide Dogs of America assigns a letter to each litter.  Each puppy's name from that litter starts with that letter.  For instance Stetson was from the "S" litter and Derby was from the "D" litter.
The name can't be the same as a current Puppy In Training, current Guide Dog, or current Breeder.
It also can't be a funny type name. For instance, our puppy manual says please no guide dogs by the name of "Popcorn". Guide Dogs of America are usually pretty lenient. Before getting Stetson I submitted a list to Louise our puppy program manager, and she let me know what names were available/appropriate.
If you're still having trouble coming up with a list of  good dog names or puppy names then check out our page of puppy names sorted alphabetically.
It's been a couple years, but once again you may already have guessed why I'm talking about puppy names again…
That's right!  We've decided to raise another puppy for Guide Dogs of America!
What Should I Name My Guide Dog Puppy?
Do you want to help us name our next Guide Dog Puppy?  Here's  what you need to do:
Visit the Puppy In Training Fan Page
Click the "Like" button on our fan page.
We will announce the letter assigned to our litter in the next few days.
In the comments section in Facebook or in the comments section below let us know what you think we should name our new puppy.
That's it!  Be sure to visit our Fan Page and click the "Like" button so you can be the among the first to find out what letter is assigned to our litter.  Do you know of any good dog names that start with the letter "D"?
Top Picks For Our Puppies
Check out more of our favorites on our New Puppy Checklist.