Have You Seen Puppy In Training TV?
This post may contain affiliate links. We may earn money or products from the companies mentioned in this post.
Nine years ago I decided to document my first puppy in training, Stetson's journey to become a  guide dog by writing to this blog.  It was great and kept friends and family in the loop.
Five years ago I decided to take it one step further and document  my third puppy in training, Dublin's journey to become a guide dog through video.  At that moment Puppy In Training TV was born.  Twenty-one videos later you can watch as Dublin goes from a 7 week old puppy to a working guide dog.  Take a look at all or our Puppy In Training TV videos here.
Puppy In Training TV
Take a peek at our two favorite episodes from season 1:
First, picking up Dublin from the Guide Dogs of America campus:
I love puppy pickup days.  You get to meet your puppy for the first time, you meet the littermates, tons of cuteness, and puppy breath.  However, the first night home with your puppy is not always the most fun.  Be ready for some sleepless nights.
And #2, Dublin graduating as a working guide dog…sniff…
About two years after picking up Dublin we were at his graduation meeting his new partner, Liz.  That was one of my all time favorite days and the reason why I raise puppies.  Dublin's family is awesome!  He lives in Arizona and we visit him every Memorial Day weekend.
So, what's next?  The plan is to start posting new Puppy In Training TV videos starting this month!  So get ready for season 2 starring service dog puppy in training, Archer!  If you haven't seen Archer yet take a look at the cutest little guy you've ever seen (I'm probably biased)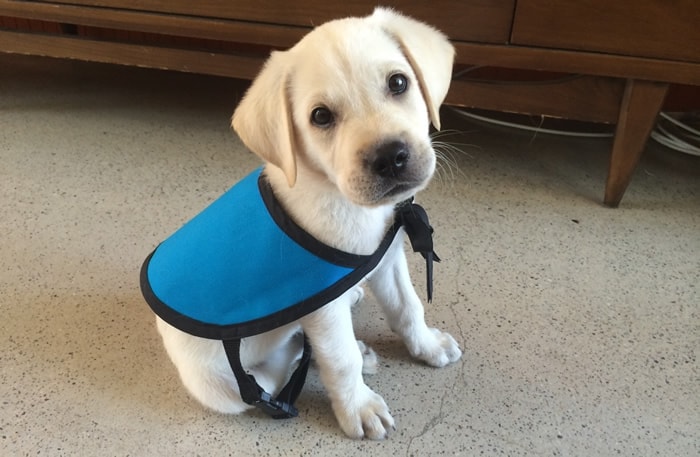 Is there anything you'd like to see on Puppy In Training TV?  If so, tell us about it in the comment section below.
Stay Tuned!
Top Picks For Our Puppies
Check out more of our favorites on our New Puppy Checklist.