New Puppy Training Tip – Get The Scent Of The Litter
This post may contain affiliate links. We may earn money or products from the companies mentioned in this post.
It's been a little over a year now since I picked up Stetson from the Guide Dogs of America facility in Sylmar, CA. He was only 7 weeks old and weighed around 12 pounds. He looked to be one of the bigger puppies in his litter. There were 5 total puppies in his group one yellow Labrador Retriever and the other 4 were black labs.
I can remember like it was yesterday. Louise, the puppy program manager was talking about our new puppies, going over the does and do nots of puppy raising, handing out our puppy starter kits, and finally walking down to the kennels for our first interaction with our new puppies!
New Puppy Training Tip
I was very excited to pickup Stetson, but was sensible enough to ask my fellow puppy raisers what hints they had for my first encounter with my new puppy. One tip that has stuck out in my mind was offered by our Orange County Guide Dog group leader, Tammy (she had already raised 5 Guide Dogs of America puppies). She told me to:
Bring a new toy and rub it on each puppy in the litter. This will get the scent of the litter on the toy. When you get home and it is time to "kennel" your puppy place the toy in the puppy's crate. The scent of the litter on the toy will help put your puppy more at ease when it is time for him to sleep in his crate. For most puppies this is their first time separated from their litter mates and they will often times feel very lonely.
You could also use a blanket instead of a toy or why not use a blanket and a toy. Below is a picture of Stetson with his first toy ducky (I got the scent of the rest of his litter on his toy ducky).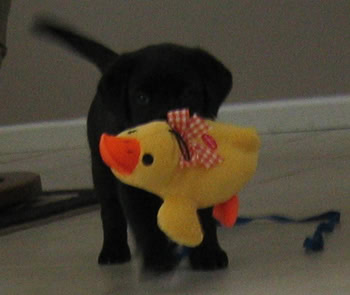 If you are preparing to get a new puppy getting the scent of the litter is a great tip if you have access to the entire litter. It may just help your puppy and you get better sleep during those first few nights.
What do you think of this training tip? Do you have any tips for new puppy owners?
Top Picks For Our Puppies
Check out more of our favorites on our New Puppy Checklist.