How To Choose A Name For Your New Puppy
This post may contain affiliate links. We may earn money or products from the companies mentioned in this post.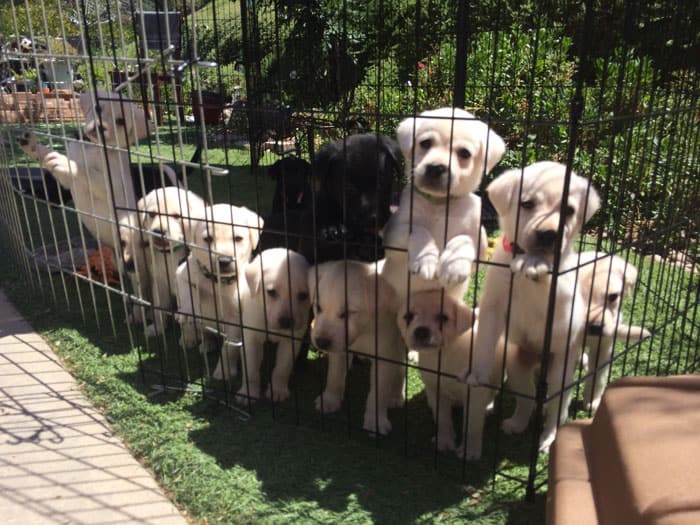 Actually I already talked about how to choose a name for your new puppy back on the puppy names page.  If you haven't had a chance, go back and take a look at the directory of puppy names and how to name a puppy.
Today's blog post is about how I decided to choose my most recent puppy's name.  If you've been following for a while then you probably already know the name origins for my last few pups, but just in case here's the cliff notes version of my pup's names.
Origins of our puppy names
Linus (2004) – the Peanuts character!  Our Linus even had his very own little blue blankie.
Stetson (2007) – my cousin's ex-boyfriend was the guy in the Stetson cologne commercials.  For some reason Stetson-man was stuck in my head when I was told I would have an "S" litter puppy.  By the way, Snoopy was on my list…I could have ended up with a house full of Peanuts!
Derby (2008) – I stuck with the hat theme for my second GDA pup.
Dublin (2010) – Back to back "D" litters!  When playing the name game Dublin was right up there as one of the favorites.  I had recently visited Dublin and one of my best friends was from Dublin.
Apache (2012) – I didn't get to name Apache, but I probably would have done so with the Apache Web Server in mind (I know…NERD!)
Adelle (2013) – I liked it because of the popular singer and considering her mother's name was Cher!  Adelle was part of the CST "A" litter, but we were given only a handful of names to choose from.  I actually gave Ali (fiance) the final word.
Camo-Green (2015) – This isn't his name, but the color of his collar to separate him from his littermates.
Of course I had to name many other pups when volunteering at Cuddly Canines, but that's for another article.  Let's talk about Mr. Camo-Green!
What shall we name this puppy?
I decided to follow some of the rules laid out by Guide and Service Dog schools by choosing a letter for each litter starting with the letter "A".  Step 2: get a list of potential "A" names for my next puppy in training.  A starter list can be found right here on the "A" puppy names page.  However, lucky for me I have the power of social media including the Puppy In Training communities on Facebook, Twitter, and Instagram.
I posed the question: "What would you name a male yellow Lab puppy that had to start with the letter "A"?"  Accompanied by the following pic of Mr. Camo-Green:
Over 400 responses later I narrowed my list of "A" puppy names down to two names.  By the way, thank you to everyone who participated and submitted names through social media.  I would not have had so many great ideas without your help.
The two finalists for our next puppy name:
Alpine
As one of my Facebook readers said: "He is all white, I would call him Alpine."  Another reader brought up the name Aspen with similar reasoning.  However, Alpine has significance beyond the correlation to the color white.  Alpine is the name of the city where Mr. Camo-Green was born!  Yep, in my books that's pretty cool and pushed Alpine towards the top of the list.
Archer
This name has a much more personal meaning.  If you guys are super nerds or Start Trek junkies like me then you may remember Jonathan Archer from the short lived series Enterprise.  Where the name Archer truly comes to light is from our first "D" litter pup, Derby.  You see, before guide dog pups get to go home with their puppy raisers they are given names during their stay in the nursery.  Some of the pups from Derby's litter where given Star Trek character names.  Derby's nursery name was Archer named after the first captain of the Starship Enterprise, Jonathan "Archer"!
Those are the two front runners!  So what do you think?  Archer or Alpine?  Alpine or Archer?  Which name do you prefer and why?  Or maybe you have another meaningful name?  One thing I failed to mention that may influence your decision… Mr. Camo-Green will be trained to be a service dog.
Tell us your thoughts in the comments section below.
Special thank you to Trident Manor Kennels and their pups featured in the pics in this blog post.
Top Picks For Our Puppies
Check out more of our favorites on our New Puppy Checklist.