Where Or How Do I Go About Getting A Service Dog?
This post may contain affiliate links. We may earn money or products from the companies mentioned in this post.
"Can someone please tell me how to get a service dog?!?"
I guess I should expect people to ask me questions about how to get a service or guide dog.  After all this is a blog about raising guide and service dog puppies!
As puppy raisers we raise and train our puppies from around 7 weeks old until they are about 18 months of age. Our puppies then head off to what we call guide or service dog college for another 6 months of advanced/formal training. After advanced training our pups are matched with their forever partners during a 2-4 week team training. However, as a guide/service dog puppy raiser we are not involved with matching puppies with their forever partners.
So the questions remain:
How can I get a service dog? Where can I get a service dog?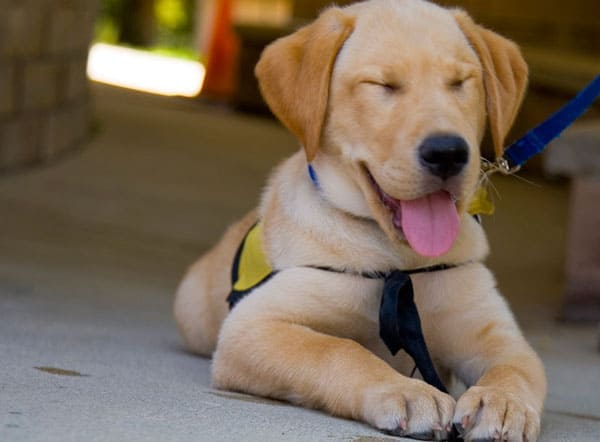 One of our readers recently sent me an email asking this very question:
Question:
Where or how do I go about getting a Service Dog? My grandson is only 2 years old and was diagnosed with Emanuel Syndrome (ES). It's hard to see what these kids endure. Usually they don't talk, walk with a walker at age 5, among many other difficulties. We live in Minnesota could you possibly point me in the right direction. It may be a year or so but would like to get all information I can.
Answer:
There are many assistance dog organizations providing working assistance dogs around the world.  Some charge a fee while others provide these working dogs at no charge to the end user (which is awesome as some of these dogs cost up to $42,000).
When I first started raising guide dog puppies for the blind I mainly looked at puppy raising programs in California.  While this isn't the same as getting a service dog, the process for finding an organization that provides service dogs is similar.  I applied as puppy raisers to several programs including:
These four organizations were the first I found through the OC Pet Expo, Super Pet Adoption, Home for the Holidays Adoption event, online search, friends, and family.  However, after many years of puppy raising I've found there are many wonderful assistance dog organizations located throughout California and the world.
So enough babbling…about my experience.
Where would I recommend you start if you want to get a service dog?
Get started at the Assistance Dogs International (ADI) website.  Why do I recommends starting here?
ADI has a comprehensive accreditation system and members have to be regularly assessed to ensure they meet the high standards expected of assistance dog programs.
Browse a list of accredited organizations on the ADI website when you visit their program page.  You can find ADI accredited programs are located across the world
At the time of this writing there are 101 accredited programs listed in the North America region alone.
What Is Assistance Dogs International (ADI)?
From the ADI website:
Assistance Dogs International (ADI) is a coalition of not for profit assistance dog organizations. The purpose of ADI is to improve the areas of training, placement, and utilization of assistance dogs, staff and volunteer education, as well as educating the public about assistance dogs, and advocating for the legal rights of people with disabilities partnered with assistance dogs.
While there are many assistance dog programs around the world ADI provides an accreditation that gives credibility to programs that have to meet their rigorous standards.  Regular assessments also ensures that these programs stick to a higher level of standard.
ADI is the place to start, but off the top of my head here are a few other tidbits when your looking to get a service dog and researching different programs:
Get started on your search for a service dog early.  It can take 2+ years to get a service dog from some of these organizations.
Not every state will have a assistance dog program however some programs will offer dogs to people from out of state (even out of country).  If you can't find an ADI accredited organization nearby try contacting some of the organizations to see if they offer their services outside their local area.
If you still are having problems finding an ADI accredited organization you might find a great and reputable non-accredited organization in your area by doing a local search in Google by searching something like "service dog programs minnesota".
Whether a school is accredited or not make sure and do your due diligence and find out as much information as possible about all of your prospective organizations.
While Golden Retrievers and Labrador Retrievers are most common in the Assistance dog world if you're looking for a dog that sheds less you might look for organizations that specialize in Poodles, Labradoodles, and Golden Doodles.
Maybe someday I'll evolve from puppy raiser into a full fledged service dog program, but until then if you ask me how to get a service dog the above description is the path I would take.  I'm sure some of our readers have different experiences getting service dogs.  If you've received a service or guide dog please tell us how you went about starting your search for a credible assistance dog program.  Leave us your questions…and answers 🙂 in the comment section below.
Top Picks For Our Puppies
Check out more of our favorites on our New Puppy Checklist.