How To House Train A Puppy – Eliminating On Command
This post may contain affiliate links. We may earn money or products from the companies mentioned in this post.
I knew next to nothing about how to house train a puppy right before I picked up my first puppy, Linus over 7 years ago.  However, shortly before finding Linus I made sure to read the Puppies For Dummies (affiliate link) book which gave me the basics of how to train a puppy.  I learned a ton of puppy training basics in that book including teaching your puppy to eliminate on command.  Until reading that book I had never even heard of teaching your puppy to potty on command and thought that would be an amazing trick to teach Linus not too mention extremely useful.
Fast forward a few years to the time when I started raising guide dog puppies for Guide Dogs of America (GDA).  Again, I read about how to teach your puppy to eliminate on command in the GDA Puppy Manual and again in our Puppy Pickup packet.  When training guide dog puppies it's very important for your pups to learn to potty on command because they are out in public quite often and cannot just potty anywhere they please.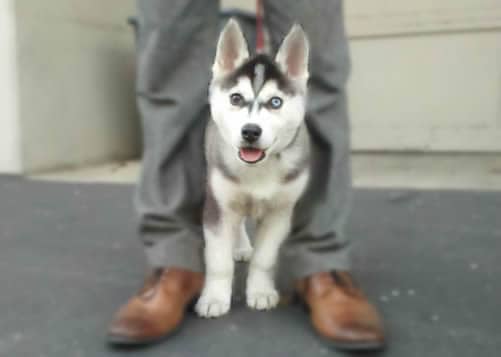 The good news for me is that I'm glad I learned these techniques early as all my dogs now now how to eliminate/potty on command.  When you have a puppy in training it's very useful to tell them to "get busy" (the command for going potty) before entering a public building like a shopping mall or grocery store.  This way you know their bladder has been emptied and the likelihood of an accident inside is very low.  It's much similar to asking your child if they have to go to the bathroom before going on a long car ride.  My last guide dog pup, Dublin would always try to potty when I asked him to "get busy" even when he didn't have to go (usually he'd squeeze a few drops out)
How To Train A Puppy To Potty On Command
Here's what my Puppy Pickup packet says about teaching your puppy to eliminate on command:
You can teach your puppy to eliminate on command by repeating a unique command each time he is in the act of eliminating.  Simply repeat "get busy" in an upbeat tone of voice while relieving him.  Be sure not to overly excite or play with your dog during his relieving time as this may distract him from the task at hand.  After a few weeks of training, your dog will understand that this word or phrase means to get to business.

Also, please be sure to remove your puppy's GDA bib or jacket before allowing him to relieve himself.  When the bib or jacket is on we want the dogs to think of this as "working" and to be under control in public.  Later in training the dogs will be expected not to relieve in harness either.
By the way, the second part does not pertain to regular dogs, but is only for our guide dog puppies.  I just thought it might be interesting to show a little insight into some of the little details of raising and training a guide dog puppy just in case you noticed us removing puppy jackets when our pups are relieving.
The Puppies For Dummies (affiliate link) book says almost the exact same thing: "…'Get Busy!" after a month of saying this phrase while he's in the process of pottying, your puppy should be able to go on cue…"
So that's all there is to it!  I've always used the command "get busy", but you can use any command you'd like as long as you're consistent in using the same command when it's time for your puppy to potty.
Teaching your puppy the "get busy" command is just one small part on how to house train a puppy, but if you've been reading this blog then you probably already came across many other puppy house training articles.  There's also a list of related articles at the bottom of this post to help with your puppy's potty training and I've also put together a resource page on how to potty train a puppy if you need additional information.
Do you have any favorite puppy training tips on how to house train a puppy?  If so tell us about it in the comment section below.
Top Picks For Our Puppies
Check out more of our favorites on our New Puppy Checklist.