I Got A New Puppy When Should I Start Training Him?
This post may contain affiliate links. We may earn money or products from the companies mentioned in this post.
People often ask me, "I just got a new puppy when shall I start working on his training?"  I quickly shoot back, "You should start working on puppy training the moment you bring home your new pup!"
Whether you like it or not puppy training starts on day 1.  Your puppy is constantly learning new things.  Since your pup is already learning you may as well teach him good behaviors rather than bad behaviors.
Teaching Your Puppy Obedience Training
We started working on Derby's training the moment we picked him up from Guide Dogs of America  We started by first allowing him to feel the texture of grass for the first time and by letting him "get busy" on the grass.  We also worked on simple things like teaching him to sit and wait before he ate his food.  He got so good at his sit-stays and down-stays he could do them with his eyes closed…literally…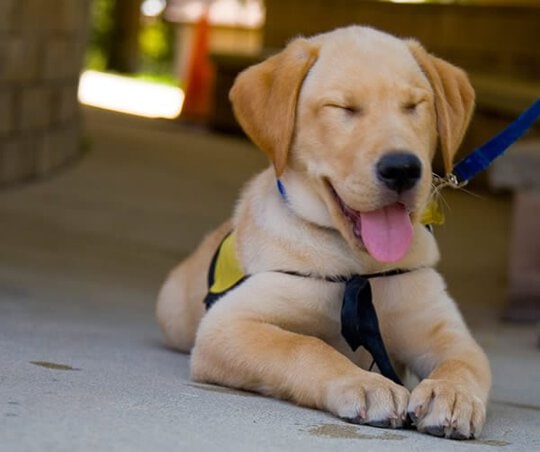 Derby actually isn't doing his down-stays with his eyes closed we just happened to catch him mid-blink 🙂
So what are a few things you should think about teaching your pup the moment you get home?
Leash and collar – most pups have never worn these two things
Sit and wait for meals
Cradling and being handled from head to toe
Puppy's are adorable!  We tend to let them get away with more than they should.  I often times see people let their pups do things that will bite them in the ass when their puppy is older.  Here are a few things you should think long and hard about before allowing your pup to form bad habits:
Jumping up on people – An adorable 7 week old 10 pound Labrador Retriever is pretty cute when jumping up on your leg for attention.  If you allow him to do this he's learning it's okay to jump up on people.  Now think how much you will enjoy this behavior when he's an 80 lb adult dog!?
Sitting on your lap – That same 10 pound Lab puppy fits nicely on your lap, but can you say the same when he wants to sit there as an 80 lb dog?
Barking for attention – It might be cute when they have a little voice, but when they get that big dog voice it might not be so fun.  I would avoid encouraging this behavior.
While your first day at home with your new puppy can be a lot of fun your puppy's first night home can often be very difficult as it's his first day away from his momma an litter mates.  Here are a few tips just in case you're having some issues with your pups first night at home.
If you're looking for some more ideas on things you might want to do and not want to do on your first day of puppy training then check out one of our favorite puppy starter books, Puppies For Dummies (aff link).
So when did you start working on your puppy's training?  Did you start working on basic obedience skills from day 1?  Tell us about your puppy training experiences in the comment section below.
Top Picks For Our Puppies
Check out more of our favorites on our New Puppy Checklist.