Puppy In Training Progress Report
This post may contain affiliate links. We may earn money or products from the companies mentioned in this post.
As you all know I'm raising a Pure-Bred Black Labrador Retriever named Stetson to be a Guide Dog for the non-profit organization Guide Dogs of America. One of my duties as a Guide Dog puppy raiser is to fill out a puppy raising monthly progress report. I've been wanting to share the information I send back to Guide Dogs of America every month ever since I started raising Stetson and finally…today….I'm going to share Stetson's March, 2008!
If you're interested in raising a guide dog puppy for Guide Dogs of America you can visit the GDA puppy raising section of their website by going to the following link: http://www.guidedogsofamerica.org/raising.html.
Here's a picture of Stetson when I first brought him home from Guide Dogs of America. I wrote Stetson's first monthly progress report shortly after this picture.
Guide Dogs Of America Puppy Monthly Progress Report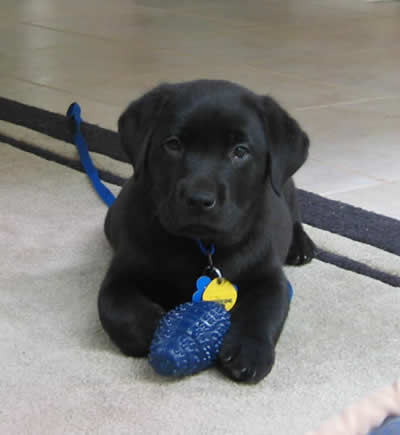 ---
Guide Dogs of America
Puppy Raising Program
Monthly Progress Report
Puppy Name: Stetson
Breed: BLR
Weight: 65 lbs
Feeding Amount/# of times per day: 3 cups/1 time a day
Sex: M F Intact/Neutered
DOB: 12/21/2006
Puppy Raiser: Colby Morita
For the month/year of: March, 2008
I. Health
Describe GDA puppy health concerns and or Medical Care the GDA puppy has received since the last progress report (indicate names of medications and treatment). Describe any health problems.
Stetson had a respiratory infection a couple weeks ago. He was sneezing and had a runny nose, but his energy level was the same. It didn't seem to affect him too much. The vet prescribed Doxycycline for 10 days.
Stetson just got back from the puppy sitter and I noticed a rash on his chin and also looks like he may have been nibbling on some of the fur on his foot. I'm going to check with the puppy sitter to see if he was having some anxiety issues.
II. House Manners
Please enter an N (never observed), S (sometimes observed), or A (always observed) next to the following areas. IS THE PUPPY………..
__N__Having trouble being quiet while you Are not near by
__S__Chewing inappropriately
__N__Protective/territorial barking
__N__Noisy when being crated
__N__Jumping/climbing on furniture
__S__Having trouble being able to
__S__Stealing food/garbage/on counters
__S__Urinate and defecate on leash on command
Please describe any areas of difficulty so we may offer support:
Good reports from Stetson's puppy sitter. They said his house manners were very good. Of course he does still get excited to see new people at the house. He does sniff around the house more than I'd like, but he's a good listener when I tell him "No Sniff!"
III. Social Manners
Please enter an N (never observed), S (sometimes observed), or A (always observed) next to the following areas. (It is understood that the age of a puppy would effect how they score on certain topics below).
IS THE PUPPY………………
_S__Gentle with interactions w/children
_N__Overly shy/fearful
_S__Accepting grooming
_A__Overly excitable with greetings
_S__Accepting nail trimming
_N__Protecting food or toys
_A__Accepting hands-on restraint
_S__Mouthing/snapping/biting
_S__Accepting tie down
_N__Having travel sickness
_N__Urinary marking
_S__Experiencing excessive energy
_N__Growling (circle; fearful, assertive play)
_N__Sexual mounting
Please describe any areas of difficulty so we may offer support:
Stetson's very excited to go to new places, but once he's been there for a few minutes he calms down.
IV. DOG INTERACTION
Please describe any concerning behavior while the puppy is in the presence of dogs, such as: high dog distraction, lunging, barking, growling, hackling or shying away submissively urninating
We work on Stetson's dog interaction every time we visit our friend's dogs. Stetson gets excited to see the other dogs, but will listen to my commands and remain in a sit-stay until I release him. He does hackle when he plays with other dogs, but he's not angry they just always go up when he plays.
V. OUTDOORS
Please describe any concerning behavior observed while the puppy is outdoors, such as: digging, barking, fence fighting, small animal/cat, bird distraction or chasing.
He still loves to sniff in the outdoors. He does observe other animals (non-dog) when we are out on a walk, but has never chased one. He does occasionally lunge when he see's other dogs.
VI. TRAINING
What training tools are you currently using?
_Y__flat collar _n/a__other, please describe ___________________________
_Y__chain/training collar
Please mark an I next to behaviors you have introduced/working on, M next to behaviors you have Mastered and P next to behaviors you are having problems with teaching.
_M__Dogs Name
_I__Come when called
_M__Sit
_M__Down
_I__Stand
_I__Stay
_I__Walking on a loose leash
_M__Kennel/Crate
_M__Not jumping up
_I__Grooming
_I__Calm greetings
_I__Laying calmly at feet or desk
_I__Toileting on leash
_I__Appropriate play
_M__Quiet
_M__Rolling on back(cradling)
Most of the commands I have an "I" next to Stetson is probably about 80-90%, but has not mastered. The behaviors I changed to mastered I'd say Stetson is 95% or better.
VII. SOCIAL EXPOSURES
Please mark if your puppy has experienced the following and how many times over the last month. It is understood that the age of the puppy would affect the score on the following.
_0__Elevators solid/glass (circle)
_20_Restaurant
_0__Bus travel
_20_Automatic Doors
_0__Airplane travel
_1__Shopping mall
_3__Supermarket
_0__Fair/Carnival or theme park
_2__Doctors office
Please share any special accomplishments/award you and the GDA puppy have received in the past:
Stetson finished his third basic obedience class this past month
VIII. TEMPERAMENT
Common temperament traits interfering with a dog's placement as a guide dog include but are not limited to: distractibility, fearfulness, anxiety, aggression and high chase/prey drive.
Please describe any concerns about the GDA puppy's temperament:
I notice he can be distracted by the scent in the air or sometimes by other animals (usually dogs) out on walks.
Common temperament traits positively influencing a dog's success as a guide dog include (but are not limited to):willingness, confidence, calmness, attentiveness and adaptability.
Please describe the GDA puppy's positive temperament traits:
We're still working on trying to keep Stetson calm. Stetson seems to be losing some of his puppy excitability and becoming a calmer dog.
What obedience classes have you completed?
Stetson completed his third basic obedience class this past month. We started another basic obedience class a couple weeks ago.
Would you like to speak with someone in the puppy department about any puppy issues? Yes No
Reviewed by _____________ Follow up needed yes no Date_____________
---
What Do You Think?
That's it! We fill these forms out once a month and send them back to the Guide Dogs of America Puppy Program Manager. If you want to see Stetson's 10 month evaluation take a look at this article I wrote several months back:Guide Dogs Of America Puppy Evaluation
What do you think? Are you involved with another guide dog program? Do you fill out a monthly progress report?
Top Picks For Our Puppies
Check out more of our favorites on our New Puppy Checklist.