The Cutest Puppy Ever Part VI
This post may contain affiliate links. We may earn money or products from the companies mentioned in this post.
Welcome back to the Cutest Puppy Ever! If you've been following along then you probably noticed that I'm adding links to all the articles at the bottom of the page. Here's the quick recap:
Linus – Australian Shepherd Mix
Buttercup – German Shepherd Mix
Blondie – Labrador Retriever Mix
Sally – German Shepherd Mix
Derby – Yellow Labrador Retriever
That brings us to puppy number six. We return to the German Shepherd litter of puppies and representing the only boy in the is George a beautiful black and tan German Shepherd puppy.
The Cutest Puppy Ever – George
George was by far the largest puppy in the German Shepherd mix litter. He was at least twice the size of Princess Buttercup.
When I picked him up from the shelter one of the attendants said he looked a little bit like a Coonhound because his ears were much longer and floppier then the other puppies in the litter.
I'd have to agree although his ears were no where near the length of a Coonhound.
Lucky for me George was adopted by my brother and his wife. I get to see him all the time and he's an absolutely adorable dog.
While I was fostering George I was told that German Shepherds are lap dogs…George definitely lives up to being a lap dog…he's 80 pounds and he loves sitting on your lap!
Check out these adorable pictures of George as a puppy:
George Posing For The Camera

George Chewing On His Rope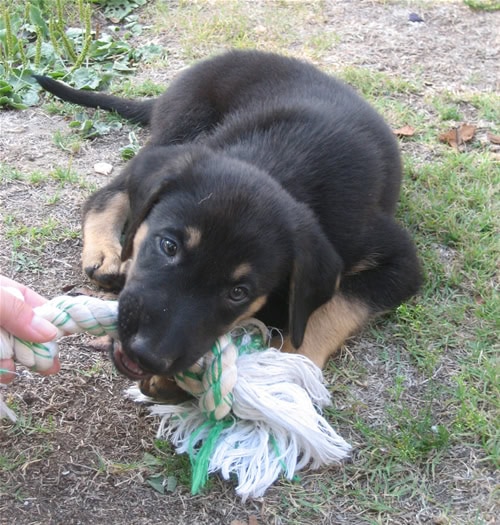 George…Loving His Toys In The Dirt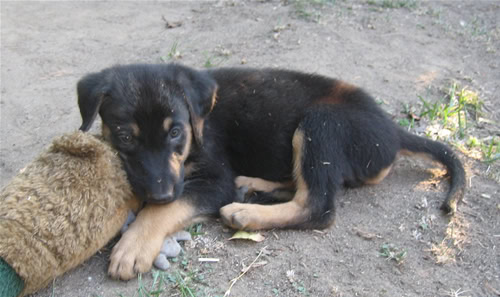 Georgie – Senior German Shepherd Mix
One of our readers asked if I had a picture of Georgie as an adult.
This is an old blog post and Georgie is 15 years old and still living with my brother, his wife, and their little daughter.
Here's a pic of Georgie when he was 13 years old:
Subscribe NOW To Receive The Entire Cutest Puppy Ever Article Series
Did you like this article and pictures?
If so, then fill out the form below and receive the entire Cutest Puppy Ever series daily via email.
The final article of the series will allow you to vote on your favorite puppy!
Be sure not to miss one puppy picture by filling out your email address in the form below.
One final note. If you use social media or even if you don't we'd love to get this series of stories a little more exposure by getting them up on StumbleUpon, Digg, and Reddit.
If you are a member of any of these website then can you please stumble, digg, and reddit this post.
I added some links to the bottom of the page that will allow you to quickly stumble, digg, or reddit us.
Did you read the other articles from this series? I'll add the links to the bottom of each post as they are published.
Top Picks For Our Puppies
Check out more of our favorites on our New Puppy Checklist.