This post may contain affiliate links. We may earn money or products from the companies mentioned in this post.
Over the years I've had many people ask me the question: "Are there specific breeds of dogs that are good with children?"
I have often heard that regardless of breed most dogs raised with children along with proper training can learn to be a wonderful childhood companion.
However, depending on your specific child(ren) some dog breeds may be betters suited then others.
QUICK RECOMMENDATION: After sifting through all these wonderful dog breeds (don't forget mixed breeds make wonderful pets too) if you happen to find the perfect puppy one book we recommend for new puppy parents is Puppies for Dummies.
Dog Scoring System
How did I compile my Top 10 Dogs Good With Children list. A good majority comes from the internet, but I wanted my list to be at least slightly different from everyone else's top 10 list so I'm going to grade each dog in 5 kid-friendly categories:
Energy Level (excitability) – You don't want a dog that is too excitable and knocks down your child.
Size – Small dogs may be too fragile while a large breed of dog may not know it's own strength/size and injure a child.
Temperament – You don't want your dog to be the dominant member of the family.
Intelligence (trainability) – Highly trainable is ideal.
Intangibles – Any special trait that either helps or hurts the dogs desirability.
Each dog will receive a subjective score between 1 and 10 in each category. The best overall score a dog can receive is a 50 and the lowest score is a 5.
Choosing The Breeds
You may be wondering how I chose this wonderful list of 10 dog breeds who are good with children. Well my first step was to research the many sites on the internet that already have lists of dogs who are good with children. Of course depending on which site you visit there is a lot of variation. I took all the breeds and narrowed it down to 50 by eliminating several hybrid breeds like Labradoodle and Goldendoodle. Next, I took out any dog that wasn't in the AKC's top 100 list (just a way to narrow the list so I wouldn't have as many dogs to evaluate – also it's more difficult to find information on the more rare breeds). That left me with 38 candidates and with those 38 remaining breeds I made my own subjective scores using the following information.
Dog Rating Categories
CATEGORY
1-3pts.
4-6pt.
7-10pts.
Energy Level
High
Medium-High
Low-Medium
Size
<10lbs or >100lbs
10-25lbs or 50-100lbs
25-50lbs
Temperament
Dominant
Balanced
Submissive
Intelligence
Low (<50)
Medium (25-50)
High (top 25)
Intangibles
Negative traits
Even
Positive traits
***The Disclaimer – This is my personal opinion. Please do your own due diligence when searching for a breed of dog. The personality of a dog is often influenced by several factors including line, breeder, and owner more so than the actual breed of the dog. This list does not imply that all other dog breeds are unsuitable for children. Individual dogs may not show all or any of the traits associated with the breed. Puppy training, socialization with children, education, line, breeder, and living conditions with the family will all heavily influence your dogs personality.
Now, what you've all been waiting for…the list or Top 10 Dogs Good With Children:
Top 10 Dogs Good With Children 6-10
Lets get this party started with the…
Number 10 – Bulldog

The Bulldog is the first dog on our list coming in at number 10. The positives I saw in the Bulldog were it's lower energy and sturdy size. Sturdy size is nice with kids who can often be a little rough when learning to interact with a dog. Some of the negatives with this dog were their trainability and common health issues with the breed. From Wikipedia:
The temperament of the Bulldog is generally docile, friendly and gregarious but are known to be fiercely loyal.
I've never personally known any Bulldogs
I have heard they are great dogs and tend not to leave the yard without their owners. The most exposure I've actually had to a Bulldog is on the MTV show Rob and Big and their dog Meaty.
UPDATE – one of my co-workers brought his Bulldog puppy to the office for the past couple years. He was docile and robust, but he did get skin irritation between the folds around his face. My co-worker often mentioned he frequently had to clean these areas to keep moisture out.
Energy Level: 9
Size: 9
Temperament: 8
Intelligence: 3
Intangibles: 5.1
TOTAL: 34.1
Number 9 – German Shepherd

The German Shepherd comes in at number 9. This is a very versatile dog and has been used as police, search and rescue, guide, and therapy dogs. From Wikipedia:
Direct, fearless, eager, alert, bold, cheerful, obedient, eager to learn, loyal, courageous, calmly confident, serious, protective
Of course I have a special place in my heart for the German Shepherd. I fostered GSD puppies and the GSD breed makes up 15% of the dogs bred at Guide Dogs of America.
UPDATE – I love German Shepherds, but after being around them for the past 5+ years I have noticed their fierce loyalty to their owners and often times suspicion towards strangers. Make sure you work hard on your training and socialization if you decide a GSD is for you.
Energy Level: 3
Size: 5
Temperament: 7
Intelligence: 10
Intangibles: 10
TOTAL: 35
Number 8 – Brittany Spaniel

At number 8 we have the Brittany Spaniel. The Brittany is a nice sized dog at 30-40lbs big enough to rough house with the kids, but still not too large to be overbearing. This dog is also said to be very good with strangers and other animals. From Wikipedia:
The breed is noted for being easy to train, sensitive, and sweet-natured
Another breed I've had recent contact with at puppy class. Red was a Brittany Spaniel in our dog obedience training and he was a wonderful dog. One thing I did notice was how alert the Brittany was to the birds flying overhead.
Energy Level: 2
Size: 10
Temperament: 9
Intelligence: 8
Intangibles: 6.1
TOTAL: 35.1
Number 7 – Miniature Schnauzer
At number 7 is the Miniature Schnauzer. This dog is said to recognize the need to be gentle with children, but does require a lot of attention. From Wikipedia:
Very perky, bright-eyed, loving, intelligent, energetic, affectionate, obedient, playful, happy, alert, feisty (Temperament can be quite variable)
A good friend of mine was taking care of a Miniature Schnauzer. The dog seemed very confident and easy going. He did like being dominant over my Aussie mix Linus. From what I could see the Miniature Schnauzer seemed like a great dog, but might be a little small and fragile for some children.
Energy Level: 8
Size: 4
Temperament: 7
Intelligence: 9
Intangibles: 7.2
TOTAL: 35.2
Number 6 – Cavalier King Charles Spaniel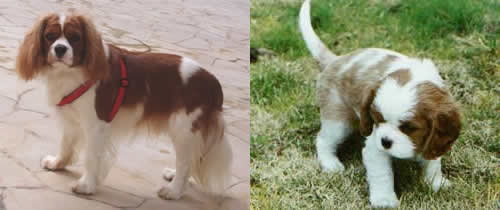 The Cavalier King Charles Spaniel…what a regal name…comes in at number 6. The two drawbacks I saw from online research is the small size and only average intelligence. From Wikipedia:
The breed is highly affectionate, and some have called them"the ultimate lap dog" Most dogs of the breed are playful, extremely patient and eager to please. As such, dogs of the breed are usually good with children and other dogs.
Another dog I've been in close contact with recently. Another friend did extensive research looking for a good family dog and came up with the Cavalier King Charles Spaniel. Their dog is very docile and easy going. The only time I saw him truly excited was when he got a chance to get on your lap. One funny thing I saw this dog do was try to catch the embers from a fire we were having in the backyard…probably not the best thing for the dogs mouth.
UPDATE – sad news on our friends Cavalier King Charles Spaniel. He passed away, but lived a wonderful life with his family and was well loved. I wish the life expectancy of dogs was longer, but unfortunately the average for this breed is about just over 10 years.
Energy Level: 10
Size: 4
Temperament: 9
Intelligence: 4
Intangibles: 8.3
TOTAL: 35.3
Here's a link to the second part of this series on Top 10 Dogs Good With Children Part II.
What do you think about the first five dogs on our list?
QUICK RECOMMENDATION: If you're looking to get a dog or puppy, but you aren't too sure what is right for you then a great book to get you started is Puppies for Dummies. There's tons of information not just about raising and training your pup, but also about dog breeds, choosing a puppy from a litter, socialization, and behavior. It was great starter book for us when we got our first puppy, Linus