Training Your Dog To Play Nice With Toys
This post may contain affiliate links. We may earn money or products from the companies mentioned in this post.
Train your dog to play with a toy?  I know that sounds absolutely absurd.  However, as I'm learning some toys do require training just as you might have to teach your dog to retrieve a tennis ball or sit on command it may sometimes be important to train your dog to play properly with his new toys.
For those of you who've been following along here on the blog you may remember my post about the Ginger Bread House Puzzle Dog Toy.  I thought these would make great Christmas gifts and ordered several Gingerbread House Puzzle Dog Toys
from Amazon.com.  I gave one to my parents dog, a 12 pound Cairn Terrier named Ralphie.  Check out the picture below: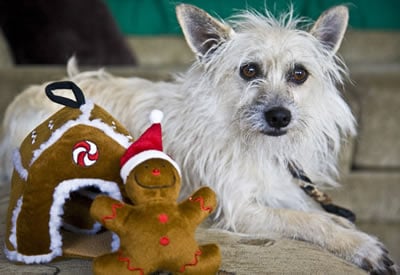 Doggies Reaction To The Gingerbread House Dog Toy
Ralphie is not the kind of dog who prefers to tear apart and gut his toys unlike some other dogs I know (Linus, Stetson, and Derby).  Ralphie carried the Gingerbread house around a little bit and I showed him how to remove the gingerbread man from the house, but overall I think he was unimpressed.  However, the Gingerbread house and man did make for a good picture with Ralphie 🙂
The real test was with my three boys.  All three of my dogs love to gut their toys when given the chance.  Linus is the most gentle with his toys, but he still has the tendency to pull the  stuffing from his favorites.
Although I haven't thoroughly exposed my boys to the Gingerbread house and it's residents they did get a brief glimpse and some initial training with Ralphie's Gingerbread house.
Linus pretty much ignored it as he often does when around other dogs
Stetson grabbed the house and it's occupants and carried it back and forth around the house, but couldn't quite get his nose and mouth through the doorway to extract the inner toys.
Derby had the most success and grabbed hold of the Gingerbread man and pulled him from his cozy home.
Play time with the Gingerbread house was entirely supervised and I did see Stetson creep towards his bed…Gingerbread house in tote and start gnawing on the ends of the little home.  I'm pretty certain that if left unattended this little Gingerbread home will end up in the pile of torn apart toys.  At this point I think I need to work more on showing Stetson, Linus, and Derby exactly how to extract the Gingerbread man through the front door rather than using the brute force attack and tearing off the roof.  Afterall, pulling the toys out the front door has to be like pulling the stuffing out of a plush dog toy…right?
We'll see how it goes and I'll keep you updated on the durability of the Gingerbread House Puzzle Dog Toy.
Did your puppy get a Gingerbread House Puzzle Dog Toy for Christmas?  How's it holding up?
Top Picks For Our Puppies
Check out more of our favorites on our New Puppy Checklist.