What's The Worst Thing You're Dog Chewed Up?
This post may contain affiliate links. We may earn money or products from the companies mentioned in this post.
Who are the number one mischief makers? PUPPIES!!! I think you'd have to agree that puppies get into more mischief than most and I've been fool enough to be a guide dog puppy raiser for the past 6 years training dozens upon dozens of puppies from 7 weeks to 18 months old.
After all of those puppies the title of Number One Mischief Maker still goes to my very first rescue pup: LINUS.
Why was Linus crowned Number One Mischief Maker? Well lets forget about the fact that he ate 3 remote controls (there were no more left in the house or it could have been more), 2 cell phones, and partridge in a pear tree…j/k
Nope all of those are inconsequential compared to what he did one late summer night…
Linus the Number One Mischief Maker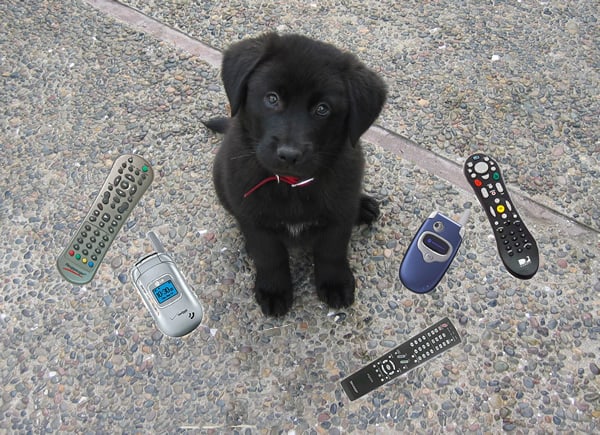 By the time Linus was 6 months old he was fairly reliable in the house. He was done with his puppy potty training and hadn't had an accident in months, but he did have a thing for electronics.  He wasn't like regular puppies who like to chew on pressed rawhides or KONGs.  Nope!  Linus preferred expensive electronic devices like brand new cell phones and TV remotes.  However, this isn't about his penchant for electronics.
My ex-girlfriend was living with my sister at the time and Linus was spending the night. My ex-gf and I went out to dinner and a movie and left Linus at home like we had many times before.  We walked in through the front door and everything seemed fine. No mess at the doorway just a happy puppy waiting to greet us.
We headed towards the kitchen and my ex-gf walked back to her bedroom when I heard a terrifying scream. I rushed back towards her room and saw…to see what happened next check out Mischief Master Class (affiliate link).  50% of the profits from Snoopy's book will go towards therapy dog support charities.
So how do you think this story ends?  What do you think I saw when I headed back to my ex-gf's room?  Tell us what you think in the comment section below.

Top Picks For Our Puppies
Check out more of our favorites on our New Puppy Checklist.