ComfortFlex Harness – In For Review
This post may contain affiliate links. We may earn money or products from the companies mentioned in this post.
I recently received an email asking me to review the ComfortFlex Harness.  Actually, the full name of this product is the ComfortFlex Sport Harness and rightfully so because it's definitely one of the best dog harnesses for those of your dogs who love to play sports.
At the time PetPDC contacted me I had already been using an Orange ComfortFlex Sport Harness
(affiliate link) with Stetson for his Nosework Training.  However, I requested a new harness so I could do a full review of the product from the time of unpacking, to fitting my dog Linus, all the way to using the product for several weeks.  In all fairness and for full disclosure PetPDC did send me 2 free ComfortFlex Sport Harnesses for review and has also agreed to send one more harness to a lucky winner.  I'm also only using one of the 2 blue ComfortFlex harnesses in my review so I will also have an extra Blue Medium sized ComfortFlex Sport Harness to give away.  Keep reading to find our how to win 1 of the 2 ComfortFlex Harnesses.
ComfortFlex Harness – In For Review
I'm not biased, but I did know beforehand that the ComfortFlex Sport Harness was a quality product.  Stetson had for several months loved using his during his Sniffer training.  If you look back at his sniffer training article you can see that he was wearing his orange harness.  Anyhow, here are the details on this harness for dogs.
Product: ComfortFlex Sport Harness
(affiliate link)
ComfortFlex Harness Features:
Made in the USA
Incredibly simple to put on and take off
Ergonomic design allowing full range of motion
Dual purpose "handle" leash connection drops back along the spine to keep pressure of your dogs throat
Ideal for dogs with respiratory or trachea issues
Adjustable front chest piece for small dogs (Petite – XS) offering an even more personalized fit
VELCRO and Safety Snap Closure with redundant Rock Lockster side release buckle for increased safety
Reflective nylon strapping trim on chestpiece
Available in 10 colors
Machine Washable (Line Dry)
ComfortFlex Harness Colors
Kelly Green
Saffron
Hunter Orange
Red
Bordeaux
Mariner
Blue Jay
Berry
Purple
Raven
You can get a better idea of the colors if you visit the ComfortFlex Sports Harness sales page on Amazon  (affiliate link).
ComfortFlex Harness Sizing
It's an ugly pictures, but take a look and measure the girth of your dog before ordering your ComfortFlex Sport Harness.  Follow the picture and table below for sizing.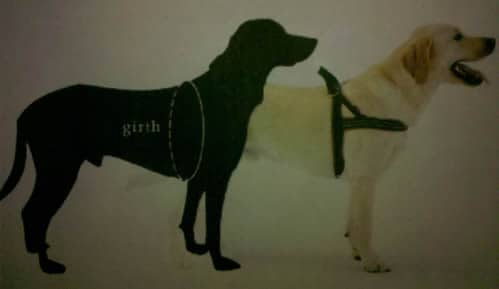 | | | |
| --- | --- | --- |
| Size | Girth | Breed* |
| P | 12 1/2″ – 15″ | Chihuahua, Miniatures, etc. |
| XXS | 15 1/2″ – 18 1/2″ | Chihuahua, Miniatures, etc. |
| XS | 18″ – 20 1/2″ | Terriers etc. |
| S | 20 1/2″ – 23 1/2″ | Shelties, Pugs, etc. |
| S/M | 21 1/2″ – 25″ | Shelties, Pugs |
| M | 24″ – 28″ | Aussies, Spaniels, etc. |
| M/L | 27 1/2″ – 32″ | Aussies, Spaniels, etc. |
| L | 28 1/2″ – 33 1/2″ | Labradors, Goldens, etc. |
| XL | 32″ – 36″ | Shepherds, Rotties, etc. |
| L | 37 1/2″ – 42″ | Giant Breeds |
*These breeds are just guidelines and true measurements of the customers dog should ideally be taken.
ComfortFlex Harness Description:
The ComfortFlex Sport Harness offers you and your dog only the highest standards of safety, simplicity and security.
Unlike many harnesses, the ComfortFlex Sport Harness is designed to protect sensitive areas, like the dogs throat and underarm, during any level of exercise.  The simple yet effective ergonomic design also lets the dog retain a full range of motion without having to worry about underarm irritation or chaffing.  We have even added an adjustable front chest strap on our smaller harnesses to accomodate the wide variety of body shapes among small breeds.
As you can see, the leash attachment is located on the strap between the shoulder-blades of the dog.  This strap acts as a useful handle for holding your dog close though it's actual purpose is to act as a fulcrum for the leash, allowing pressure to always be directed directly to the chest, never riding up on the dogs throat.
Getting dogs into this harness is incredibly easy.  Just drop it over the dogs head, secure the Velcro strap around his girth and connect the safety snap closure.  with very little practice, this can even be done with just one hand.  Due to the semi rigid construction, the harness holds its shape and is very easy to orient on the dog.  There is no struggling with figuring out if the harness is inside out or upside down.  This combination makes the ComfortFlex Sport Harness ideal for owners who may have a hard time controlling their dog to apply a harness.
When properly fit, the girth strap should sit approximately one to two fingerwidths behind the front leg.  This avoids chaffing.  You should also be able to fit two fingers (one finger for small dogs) vertically, comfortably between the harness and the area between the shoulder blades to ensure the fit isn't too snug.  Lastly, the front chest piece should sit just above the sternum bone on the dogs chest, but below the trachea.
So that's the description and information I received from PetPDC and pulled some of the information from the Amazon website.  Now here are some of my first thoughts on the ComfortFlex Harness.
 My Initial Thoughts On The ComfortFlex Harness
I received the ComfortFlex Sport Harness
(affiliate link) in a regular brown box with 2 sport harnesses and a short flyer with general information about the harnesses.  The first thing I notice is the sturdy construction of the harness, no packaging besides the brown box just a rubber band around each harness.  I also noticed that the harness is rigid and holds it's shape once released from it's confines of the rubber band.  This is nice because in the past I've owned harnesses that collapse and sometimes it's difficult to find up from down and left from right.
After reading through the flyer I can see that you can purchase either an extra-extra small dog harness or an extra-extra large dog harness and pretty much every size in between as well as a variety of colors.
So far so good with the ComfortFlex Sport Harness
(affiliate link).  My next step is to fit it to my dog Linus.  Linus is an Australian Shepherd mix and weighs in at about 55 pounds.  Of course it's best to measure your dogs girth and check against the chart above.  According to his breed and the chart he would fit into either a medium or a medium large.  Fortunately for us PetPDC sent us both a Medium and a Medium/Large.  The Medium/Large fits Linus perfectly the Medium is too small, and Stetson's Large Orange ComfortFlex Harness also fits Linus okay.  As you can see in the Sport Harness Sizing Chart there is overlap between the different size harnesses.  Make sure you find one that fits you best.
One thing I do recall when purchasing my initial ComfortFlex Harness for Stetson was that the shipping cost was extremely high.  I ordered from the Clean Run website and I just looked back and the total cost was $26.95 for the harness and $9.31 for shipping.  Ugh…I wasn't too happy with the shipping cost.  However, I did notice that PetPDC is offering the harness on Amazon  (affiliate link) now.  However, I'm not too sure what the shipping cost is without going through the checkout process.
Those are my initial thoughts.  Now I'm going to put it through the test and use this new dog harness to see what I, Linus, and Stetson think of it.  Is it sturdy enough for my dog's K9 Nosework, running, walking, and general activities?  We'll see…
Contest Time!!!
Are you interested in receiving a FREE ComfortFlex Sport Harness???  We're giving away 2 ComfortFlex Sport Harnesses
(affiliate link) in the coming weeks.  All you have to do to be eligible for the first harness giveaway is leave us a comment below (on the PuppyInTraining.com blog) telling us what activities you do with your dog that would require a ComfortFlex Harness.  In two weeks (March 2nd – update…pushing the drawing back to March 4th…sorry) I'll choose 1 random commenter from the comment section below.  Make sure you use a valid email address when leaving your comment so I can contact you if you're the winner.
Just wondering have you used a ComfortFlex Sport Harness?  What do you think about these dog harnesses?  Leave us a comment to become eligible for a free ComfortFlex Sport Harness!
Top Picks For Our Puppies
Check out more of our favorites on our New Puppy Checklist.