5 Helpful Tips When Socializing Your Puppy With Other Dogs
This post may contain affiliate links. We may earn money or products from the companies mentioned in this post.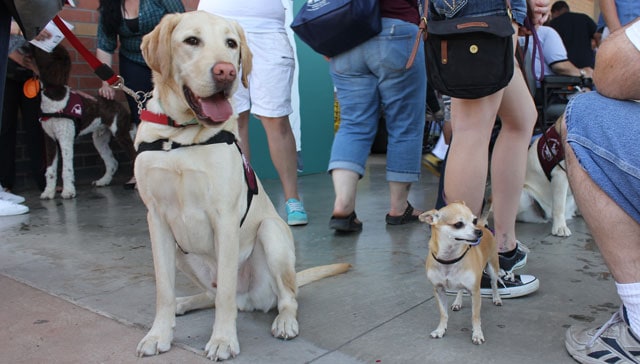 You work hard to perfect your puppy's training when you're at home, however one of the first things you probably notice when socializing your puppy away from the home is how different CRAZY he acts in a new environment.
One thing that always seems to compound that craziness is when there are other dogs around.  If your dog is like Adelle then any dog he see's for some reason he considers his long lost best friend.
Today, we went to Lake Elsinore Storm baseball game to let Adelle interact with the sights, sounds, and smells of a baseball game.  About a month ago we went to an Angel game so this wasn't Adelle's first baseball game, but there were a few wrinkles that gave us some new experiences:
We came across many different people in costume while at the game that we did not see at the Angels game.
It was take your dog to the ball game day so not only were there service dogs, but also regular dogs.
It was Princess Day so lots of little girls (and some of the older ones) were dressed up as Princesses.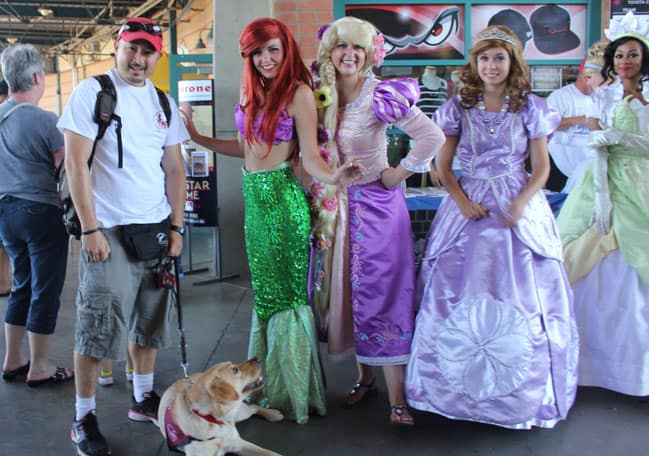 Socializing Your Puppy With Other Dogs
Socializing your puppy is one of the important jobs we do as puppy raisers.  Adelle did great with people in costume and we got a couple great photos as well.
One important point that stuck out in my mind was how to keep Adelle well-behaved with other dogs walking through the cramped areas of a baseball stadium.  We've been on similar outings with other unknown dogs including the America's Family Pet Expo, the Home for the Holidays Pet Adoption, and the Super Pet Adoption.  Before we go on any of these type of dog-heavy outings I like to think about the things I need to do to keep Adelle safe and well-behaved around the many dogs and distractions.
1. Keep A Short Leash
I always keep a short leash when out and about with Adelle.  I don't allow her to roam and sniff around.  When we're out and about we're working and she should be on task in a heel or by my side.  When there are other dogs around it's ultra-important to keep a short leash.  We can make our leash short (3 feet) or long (6 feet).  We keep our leash on the short setting when in an environment like a baseball game with lots of other unknown dogs.
Remember your dog may be perfect, but that doesn't mean everyone else's will be.  You'll see people with long leashes and Flexi leads allowing their dogs to walk 10-15 feet away from them.  Understand that with that much leash they will not have great control of their dog, but at least you will have control of yours.
2. Don't Keep A Tight Leash
No matter where you are it's a good idea to keep a loose leash.  I was always told your leash should look like a "J" when walking your dog.  There are a couple reasons why I think it's extra important to not keep a tight leash when there are many other dogs around:
A lot of times you may accidentally be keeping a tight leash because you are stressed by the other dogs.  This stress can be passed on to your puppy and cause him to be more reactive.
You cannot give a proper leash correction if you have a tight leash.
3. Always Be Aware Of Your Environment
When I go on any outing with my service dog puppy in training it's all about my puppy.  I'm always prepared to leave if my puppy is stressing out, having anxiety, or perhaps not feeling well for whatever reason.  I'm always aware of my environment so I can anticipate things that may happen an predict my puppy's behavior.
Being aware of your environment is even more critical when working your puppy around other dogs.  Some of the things I noticed about other dogs and their owners today were:
Owners not paying attention to their dog's behavior
Dogs allowed to do whatever they wanted on 10-15 feet of leash
Some dogs were off leash down in the grassy area
Some dogs were dog reactive
I noticed some dogs that were visibly stressed by the environment
On the other hand some dogs and their owners were doing great and keeping a close eye on their dog as well as keeping a short loose leash.
I didn't see anything more than a good dog barking match.  Anyone of these things could have led to something more severe like a dog fight.  Luckily everything went smoothly for us and we didn't have any issues besides a few butt sniffs, but it could have been an entirely different story if I didn't pay close attention to mine and Adelle's environment.
4. Your Dog May Be Well-Behaved, But Not All Dogs Are Well Behaved
This is the second time we're mentioning this so I guess that means it's important.  Even if you have the perfect dog not every dog is perfect especially in a dog heavy, stressful environment like a baseball game.  This will be the first time a lot of dogs will see the action at a baseball game.
At today's game there were several costumed characters, girls walking around in Princess dresses, food on the ground, loud speakers, people cheering, food smells, along with all the dogs.  This crazy environment could cause any dog to react.  So as I mentioned even if your dog is at ease with this type of environment just remember not all dogs will react the same as yours.  Keep an eye not only on your dog, but all the other dogs in your environment.
5. Don't Let Your Dogs Greet Face To Face
Our dogs are in jacket and working so they really shouldn't be greeting the other dogs anyways, but it's especially true that you shouldn't allow your dog to meet face to face with another dog.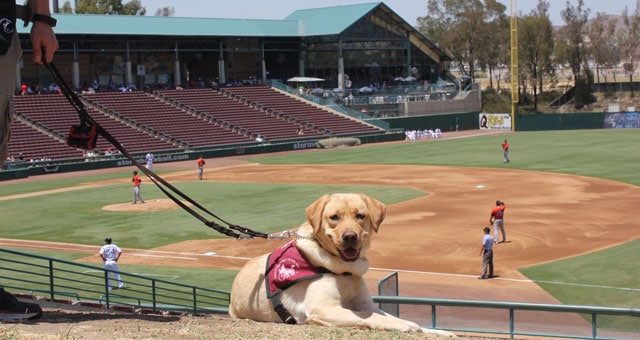 One of the things I learned when taking Service Dog trainer classes with Tender Loving Canine Assistance Dogs (TLCAD) was a little bit about dog's body language.  Dogs do not normally approach other dogs face to face with hard stares.  In the doggy world this hard stare means challenge.  Dog's normally approach other dogs in an arc and will usually display the side of their body and side of their face which is less threatening to other dogs.
A lot of times when you visit an environment with lots of dogs you need to pay special attention that your dog isn't confronting other dogs face to face.  This could result in an unwanted dog fight.  Again this goes back to always paying attention to your dog, other dogs, and the environment around you.
Those are 5 things we like to think about when out and about socializing our puppy to the world especially around other dogs.  What tips do you have for socializing your puppy with other dogs and environments?  Tells us about it in the comment section below.
Top Picks For Our Puppies
Check out more of our favorites on our New Puppy Checklist.