Do You Have A 24 Hour Emergency Vet?
This post may contain affiliate links. We may earn money or products from the companies mentioned in this post.
I started looking for a new puppy over 7 years ago and at the time I knew I'd have to visit the veterinarian for regular vaccinations, spay/neutering, and other miscellaneous puppy ailments, but I never really thought about what would happen if I had to contact a 24 hour emergency vet.
After owning my dogs for over 7 years I realized it's a good idea to keep emergency phone number nearby just in case anything ever happened to one of my puppies. In fact, Guide Dogs of America puts together a list of emergency phone numbers in our puppy raiser manual just in case.
24 Hour Emergency Vet & Other Important Numbers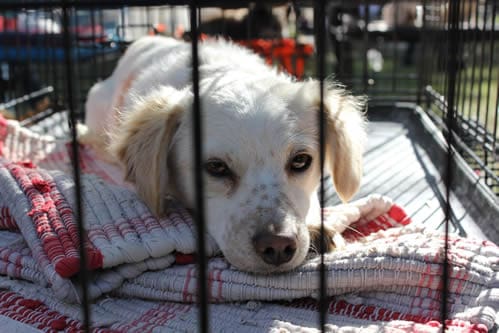 Here's a list of emergency numbers I have readily available for myself and anyone who may be watching my puppies.
24 Hour Vet– This is probably the most important phone number that you don't already have readily available. I found a great emergency veterinarian only about 5 minutes from our house.
Pet Poison Hotline – It's a good idea to have the pet poison hotline readily available in case your pet eats something he's not supposed to.  I also like to keep a list of common items that can be harmful to my dogs if ingested.
My Regular Veterinarian – I like having my regular vets number handy whenever my puppies have their regular bumps, bruises, and common illnesses during the regular part of the day.
Closest Relative/Family Friend – Of course I have all my close friends and family members in my phone, but it's a good idea to have these numbers available if you go out of town and have a friend or pet sitter watching your pups.
Along with these numbers I like to keep the important GDA phone numbers close by as well:
Main and 24 hour Emergency Number – I always call this phone number first if I have any kind of emergency issue with my GDA puppy.
Group Leader – The second number in case of emergency is my group leaders number to let her know what's going on with my puppy.
Puppy Department – I like having the puppy department number handy in case I have any puppy training related questions.
Veterinarian Department – This is the GDA veterinarian department. For all my GDA pups regularly scheduled vet appointments I try to take my pups to the GDA vet. Common visits in the past have been for ear infections, eye infections, dog skin allergies, loose stool, and other miscellaneous health problems.
Kennel Department – I like to take my puppy in training to stay at the GDA kennels at least once a month.
As I mentioned in my dog boarding article a few days ago, GDA pups stay at the GDA kennels or with GDA puppy sitters when I'm on vacation. All GDA puppy sitters will also have all of these phone numbers handy as well.
One of the most important numbers that you may not already have available to you is the 24 hour vet. Over the past few years I've unfortunately had to use this emergency number several times.
First time was after my puppy ate a piece of one of his toys. The result: The emergency vet induced vomiting.
Second time was after one of my puppies got a hold of and ate a couple chocolate cookies. The result: The emergency vet induced vomiting
Third time was after one of my dogs got attacked by another dog. The result: antibiotics and cleaning of the wound. Stitches were optional because the cut was in his tail.
I keep a close eye on my puppies and even after keeping a close eye, my pups still get into trouble requiring me to phone the emergency vet hospital. Hopefully you never have to use these emergency phone numbers, but just in case you do it's a very good idea to have these numbers in an easily accessible location like your refrigerator, right next to your home phone, or programmed into your cell phone.
How about you? Do you have emergency phone number for your puppy close by? If so, what situations have you had to use the 24 hour emergency vet? Tell us about it in the comment section below.
Top Picks For Our Puppies
Check out more of our favorites on our New Puppy Checklist.