9 Puppy Training Commands To Teach Your Guide Dog Puppy
This post may contain affiliate links. We may earn money or products from the companies mentioned in this post.
I sat down today and started reading over my guide dog puppy training manual.  It's something I like to do from time to time just to review all the basic things I should be teaching my puppy.  Another reason why I started reading again is because we recently received a new puppy raiser manual which I must say is awesome!  Not to slight the old puppy raiser manual, but the new one is much better organized and it makes it very easy to follow what we should be teaching our puppies at each stage of their development.
Today we're going to talk about the 9 puppy training commands to teach your guide dog puppy.
Puppy Raising Commands To Be Taught To Your Puppy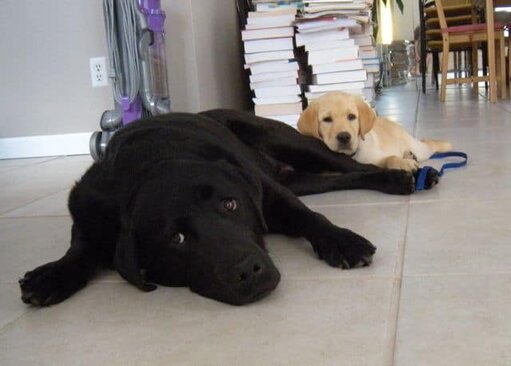 The commands we teach our puppies are very basic obedience commands.  In fact not only should a guide dog puppy know these commands, but so should your personal pet.  After all don't we all want to have a well behaved dog?
Here's what GDA has to say:
Below is a list of commands that all GDA puppies should be taught.  It is important to note that GDA does not expect puppies to learn all these in the first 4 weeks they are home with you.  By the time your puppy is 9 months of age, he should have a good understanding of these commands, and be able to demonstrate the behaviors for anyone, with mild to moderate distractions present…"
Sit – probably the most command.  Basically getting your puppy's butt to hit the ground.
Down – when your puppy is young it's easiest to get them into the "sit" position then teach "down".  Basically the whole body is flat to the ground.
Stay – when you teach a guide dog "stay" they need to stay in the exact position you left them.  That means if they were sitting they must remain sitting if they were standing then they must remain in a stand.
Come – we also use our dog's name the same as we use the command "come".  Basically it means that your dog no matter what he is doing should stop and come to the person who says "Come".
Heel – we work on loose leash heeling.  Basically your dog walks beside you on the left side and their front heel is aligned with your heel.
Leave It – a very important command.  Most pups like to pick stuff up off the table or floor.  The "leave it" command tells them not to touch it.
Get Busy – this is the command we teach our pups when it's time for them to go potty.
Stand – I always thought it would be tough to teach "stand", but it is not.  Basically when our pups are in a "sit" or "down" position "stand" tells them to get up and stand on all fours
Formal Come – this is probably the only command that most people would not teach their dogs.  It's a little difficult to explain, but when you tell your dog to "come" he should come towards you on your left side, walk past your left, make a u turn back towards you and sit next to your left side.  Much easier to watch then explain with words.
Those are the 9 commands your puppies should know.   Remember to be patient, persistent, and consistent when teaching these commands.  Just like it says in the GDA handbook don't expect your puppy to learn these things in the first 4 weeks.  It takes time before he will understand and execute these commands consistently.
What commands do you teach your puppies or dogs?  Do you go beyond these basic obedience commands?  Tell us about it in the comment section below.
Top Picks For Our Puppies
Check out more of our favorites on our New Puppy Checklist.