Guide Dogs of America Open House
This post may contain affiliate links. We may earn money or products from the companies mentioned in this post.
It's been four years since I attended my first Guide Dogs of America Open House with a little black Labrador Retriever named Stetson.  I remember like it was yesterday.  Stetson was still young at six months old, but no longer that adorable puppy from months earlier…in fact he was at that awkward clumsy stage (little did I know he would always be on the clumsy side).  Although it was a lot of work controlling a six month old puppy with all the other dogs and pups around we definitely enjoyed our first GDA open house.  If you're interested in raising a Guide Dog puppy this is definitely a great event to attend.
Here are some details on this event:
Guide Dogs of America Open House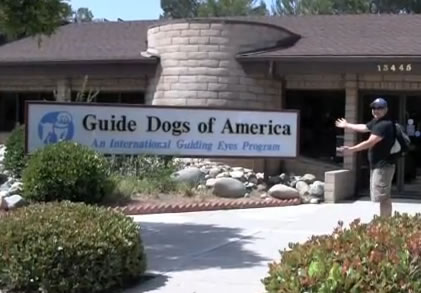 EVENT: 24th Annual Guide Dogs of America Open House
WHEN: June 11th, 2011
HOURS: 11am – 4pm
WHERE: 13445 Glenoaks Blvd.
Sylmar, CA 91342
What To Expect At Guide Dog Open House
Here are a few hints for those of you who plan on going to the guide dog open house:
Parking is free, but open house draws a lot of people so unless you don't mind walking I'd suggest getting there early for good parking.
If you're bringing a puppy in training keep a close eye on your pup as there are many different smells, noises, dogs, puppies, and other distractions.
Obstacle course for puppies in training – Puppies in Training get the opportunity to show off their stuff by maneuvering through an obstacle course past food, animals, and many other distractions.  If you plan on participating in these Puppy Trials I once again suggest your arrive early and try to get the energy and excitement out of your pup before  tackling the obstacle course.
Silent Auctions – there's tons of awesome stuff at the silent auction and it's not just dog stuff so bring your check book and be ready to donate some money!  Here's a list of items up for auction.
GDA serves up lunch so come hungry!
There's also a Guide Dog demonstration at mid-day.  Our pal Dustin was the demo dog a few years back and he was awesome!
There are guided tours of the campus throughout the day.
There are a number of booths with merchandise, raffles, and crafts.  There's even a puppy in training kissing booth!
By the way, there are always tons of puppies of all ages so bring your camera!
If you're interested in becoming a guide dog puppy raiser, love puppies, or just want to have some fun this weekend we highly recommend checking out the Guide Dogs of America Open House…Dublin and I plan on attending.  How about you?  Are you or have you attended a guide dog open house?
Top Picks For Our Puppies
Check out more of our favorites on our New Puppy Checklist.