Apache's Journey To Guide Dog College
This post may contain affiliate links. We may earn money or products from the companies mentioned in this post.
Apache here to talk about my journey to guide dog college.  I'm going to try and keep it short and sweet with some of the basic information.  If you want a more wordy description then just ask my Dad (he likes to talk) to shoot you an email or let him know about any guide dog puppy questions you might have.
My Journey To Guide Dog College
I think I'll start off with where did I come from?  I'm now a student at Guide Dogs of America (GDA) and this is actually where I started.  We are all born and bred at GDA and after spending about 7 weeks in the nursery we go home with our puppy raisers where we learn basic obedience, socialization, and good house manners from our puppy raisers.
Here's a picture of me the first day I went home with my puppy raiser: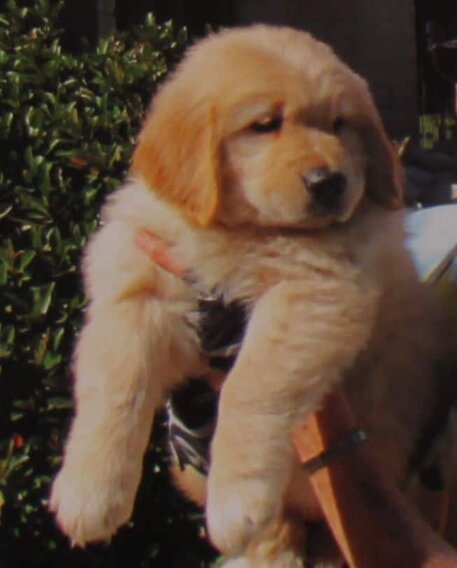 Normally we stay with the same puppy raiser until we are about 18 months old, but I just kept growing and growing and eventually I was too big for my original puppy raiser.
So a little bit before my first birthday I heard that a big, strong, burly, handsome (he made me say all those things) man named Colby would be my new puppy raiser.  That's us together working on our obedience: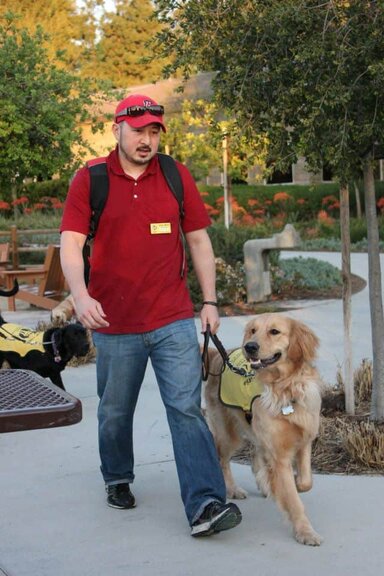 My Dad said that my original puppy raiser did an awesome job with my training.  However, he still took me to obedience classes, worked on our manners around the house, and visited many new and interesting places like the Bass Pro Shop:
After working with 2 puppy raisers (Mary and Colby) we got the call that it was almost time to start guide dog college.  So this past Saturday we got in the car and drove to the GDA campus in Sylmar, California to meet up with my first puppy raiser, Mary and to also get me started on the next leg in my journey to become a guide dog.
Guide Dogs of America had a nice luncheon for my puppy raisers and told us what we (the pups) would be doing in the coming months.  Training sounds rigorous, but also fun at the same time.  I can't wait to get started.  Here's a good picture of me with my puppy raisers: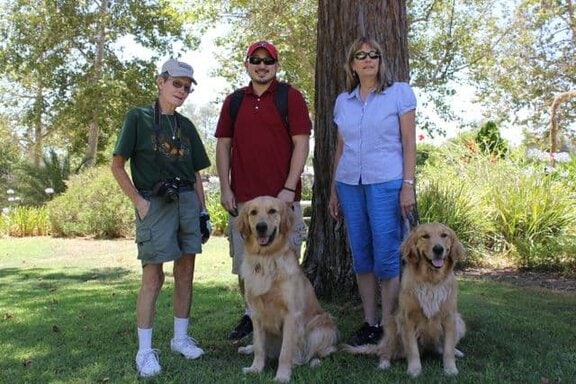 After our luncheon and taking a few pictures.  It was time for us to say our farewells.  We all walked down to the kennels.  Dad took me into the kennel, removed my leash and collar, and I got to meet my new roommate, a beautiful female black Labrador Retriever!  However, I still wanted to say goodbye to my puppy raisers and Dad gave me a big hug and told me to be a good boy while I'm at college.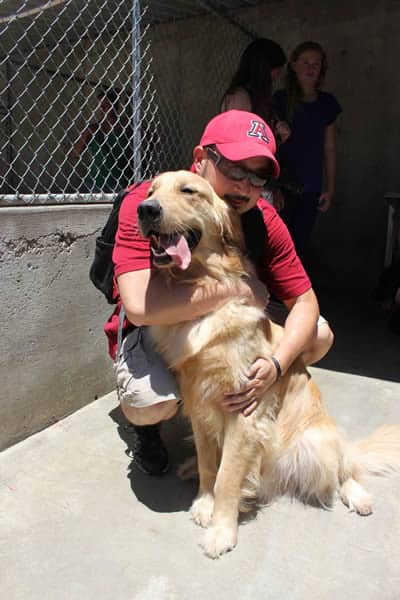 After Dad and everyone else left.  I played with my new pal Dahlia until we were both exhausted.  She's my new best friend!
I couldn't see him, but my Dad said he was going to try to catch a glimpse of some of the future guide dog puppies on his way out.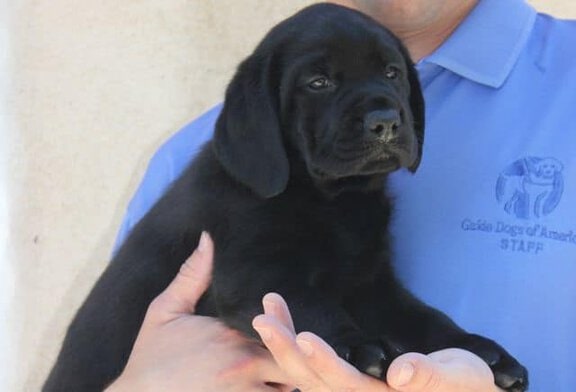 Now that I'm at guide dog college I will only be updating by postcard, but Dad says he'll make sure that you guys hear all about how I'm doing with my training by updating the blog, Facebook, and Twitter accounts so make sure you "like" and subscribe to our social media channels.
I'm going to do my best in college and hopefully with help from GDA's awesome instructors I'll be wearing my shiny new harness at graduation soon!
Guide Dogs of America currently has a ton of puppies almost ready to go home with their puppy raisers.  If you're interested in raising a guide dog puppy and live in Southern or Central California (we also have group in Washington) then please let us know.
I know a lot of you are puppy raisers out there.  Tell us about your experiences on puppy turn in day.
Top Picks For Our Puppies
Check out more of our favorites on our New Puppy Checklist.