How To Brush A Dog, When To Brush A Dog, & Dog Brushes
This post may contain affiliate links. We may earn money or products from the companies mentioned in this post.
Brushing your dog…it sounds so simple and in all honesty it's not a complex task at all.  However, there are some basics you should know if you want to learn the proper ways on How to brush a dog, when to brush a dog, and also a little bit about dog brushes.
I never thought too much about brushing my dog as a kid and also when I picked up my first puppy, Linus from the animal shelter.  It was merely an afterthought and I just grabbed a two sided brush off the shelf and threw it in my basket.
However, after I took puppy kindergarten I began to learn a little bit about dog grooming, brushing different fur coats, and brush dog's teeeth.
A couple years after those initial puppy kindergarten's with Linus I started volunteering as a puppy raiser for Guide Dogs of America and brought home my official puppy raiser manual which detailed some of the basics on brushing your dog.
How To Brush A Dog, When to Brush A Dog…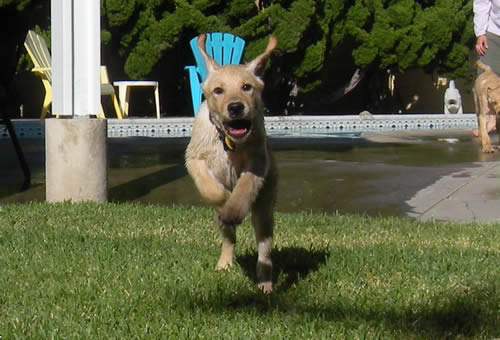 Here are some of the basics on how to brush your dogfrom my GDA handbook:
Daily brushing is not just for long-haired dogs to prevent mating.  All dogs should have their hair brushed to remove dirt and to stimulate necessary oil production.  First, brush against the direction of growth to remove dirt, flakes and dead fur, then again with the lay of the coat.  By removing loose particles you reduce the dogs need to scratch; too much scratching can cause skin lesions.  Stimulating the oil glands, to prevent dry skin, is especially important for Labradors and for any breed in cold weather.  Of course there's the sheer beauty of a well-groomed dog!  Be careful using a slicker brush.  You need only to apply as much pressure as you use on your own hair.
A few points that I've picked up along the way to go along with the above paragraph:
Be gentle when brushing against the direction of growth as you are more likely to catch a tangle.
You should brush your dog daily which also gives you a chance to see possible skin problems like sores, rashes, cuts, lumps, bumps, and possible parasites (fleas and ticks).
It's good bonding time and your puppy will learn to enjoy his brushing sessions.
Be careful around sensitive areas like groin, arm pits, stomach, etc.
Have this be a positive experience for your puppy and make sure you reinforce his good behavior with praise.
If your just starting your brushing routine with a new puppy then keep the sessions short (1-2 minutes).  Also, exercise him so he's tired before you start your brushing session.
Those are some of the things I learned along the way on when and how to brush a dog since getting my first puppy over 7 years ago.  Here are a few pointers I've learned about dog brushes:
Dog Brushes
As guide dog puppy raiser I've had 2 different breeds of dog.  When I first brought home my guide dog puppy he was 7 weeks old and GDA also sent me home with a nice little puppy go home kit.  My first puppy was Stetson, a black Labrador Retriever and inside his puppy kit I received a brand new Rubber Curry Brush For Dogs
 (affiliate link).  Nowadays GDA sends Labradors home with KONG Zoom Groom DOG Brush (affiliate link).  They are both nice rubber brushes, but much different then the standard brush I got for Linus many years ago.  Both of these dog brushes are great for dogs with a short coat.  Here's the description of the Zoom Groom from Amazon.com:
Zoom Groom is a natural rubber dog brush that helps promote healthy skin and coat. Flexible rubber fingers gently collect loose hair like a magnet on wet or dry coats.This unique rubber brush provides a massage for pets while conditioning the skin. Works great as a shampooer, improving the effectiveness of regular and medicated shampoos.
Apache is the first Golden Retriever I've raised and because Golden's have a long coat GDA sends you home with a different kind of brush.  The brush I use with Apache is very similar to this one: Shedding Slicker Brush (affiliate link).  This brush works much better with Apache's long coat.
One final dog brush I use with my dogs is the FURminator (affiliate link).  This is a great brush for removing your dogs undercoat.  However, be careful if you use the FURminator as it could does have some sharp edges inside the brush and you can also end up removing more fur then you'd like.  I use the FURminator sparingly.
That's about it.  My main point in this post is make sure you brush your dog daily not only because you'll find less fur flying around the house, but it's also beneficial to your dog's health.
How often do you brush your dog's coat?  What kind of dog brush do you use?  Tell us about it in the comment section below.
Top Picks For Our Puppies
Check out more of our favorites on our New Puppy Checklist.