Take Your Dog To Work Day
This post may contain affiliate links. We may earn money or products from the companies mentioned in this post.
It's not the biggest holiday (I'm pretty sure it's not even recognized as a holiday), but Take Your Dog To Work Day has to be one of my favorite holidays of the year.  Well…to be honest as a Guide Dog Puppy Raiser just about every day is Take Your Dog To Work Day.
As a Guide Dog Puppy Raiser it is our job to train our puppies in basic obedience and socialization.  When we're raising a guide dog puppy we take the puppy to work with us everyday as part of his socialization.  We also take our puppies to restaurants, shopping malls, grocery stores, movie theaters, etc to help socialize our puppies.
Why Do We Socialize Our Puppies?
Stetson's first day at work…under my file drawer, under the desk.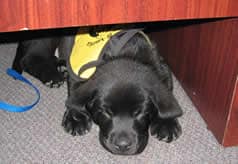 A working Guide Dog will encounter just about any situation a regular person wil
l come across.  This includes walking through a grocery store, shopping mall, riding a bus, going to a movie theater, and even flying on a plane.
One of the most important things we do as Guide Dog puppy raisers is expose our puppies to these same day to day situations.  We socialize our puppies so when they become guide dogs they will have already experienced visits to the shopping mall, grocery store, movie theater, etc. and won't find these situations stressful.
Take Your Dog To Work Day
The Details:
What: Take Your Dog To Work Day
When: June 25th, 2010 – All Day
Where: Celebrated in the United States and now also in Canada and Australia
More Information:
The annual event "celebrates the great companions dogs make, raises awareness about the benefits of pet ownership and promotes the need for pet adoption." (It also gives owners an excuse to hang out with their dog at work.) The organization says that the event boosts employee moral and promotes pet adoption.
I'm lucky enough to work at a company that not only allows me to bring a dog to work on "Take Your Dog To Work Day", but also allows me to raise guide dog puppies for a wonderful cause.
I therefore have the privilege of bringing my puppy to work with me everyday!
If you're interested in raising puppies for Guide Dogs of America then visit their website at http://www.guidedogsofamerica.org.
Top Picks For Our Puppies
Check out more of our favorites on our New Puppy Checklist.