How Much Should I Feed My Puppy
This post may contain affiliate links. We may earn money or products from the companies mentioned in this post.
How Much Should I Feed My Puppy? is a question I've heard many times before, but now it's my turn.
It's easy to follow the chart on the side of your dog food bag or follow the directions given to you by the Guide Dogs of America Training Department.
However, what happens when you follow the feeding schedules and your dog appears to be too skinny or too fat.
How much to feed a puppy will definitely vary depending on many different items including the size of your puppy, breed, amount of exercise, the type of food you give, the age, and many other factors.
Just like people every puppy is different.
I remember growing up I couldn't put on weight for the life of me.
I had friends who struggled to find the right balance between food and exercise and couldn't keep off the pounds. Ahhh…how the tables have turned now I'm fighting to keep the pounds off.
OCGDA Meeting – GDA Kennel Manager
Yesterday we were lucky enough to get a visit from the Kennel Manager at Guide Dogs of America.
She was kind enough to answer many of our questions regarding the kennels and other miscellaneous guide dog questions.
One thing that she talked about was the importance of letting the kennel know exactly how much and when your puppy is eating.
She also talked a little about overweight puppies and how their feeding schedules might need to be changed.
Of course, an overweight puppy may be the result of overfeeding, being given too many treats, or lack of exercise.
I was busy with Derby and had one eye and one ear on him and nearly forgot to ask our group about his feeding schedule.
Derby is on the skinny side (think more greyhound less labrador) and I wanted to find out if I should be feeding him more food.
Guidance From OCGDA
As I've always said one of the great things about being a part of the Guide Dog group is you have a resource of people who have many experiences with dogs.
I always feel confident in asking any question I have to any member of the group.
I received several opinions on increasing Derby's food intake. Everyone did agree that he looks a little thin.
I'm also lucky enough that I can make a comparison to his two siblings, Dutch and Dexter. Compared to Dutch and Dexter Derby is definitely a skinny dude.
How Much Should I Feed My Puppy
Derby sitting in his crate. Does he look a little thin to you? He's definitely long.
That's Stetson's crate he's sitting in. He's already the length of the crate!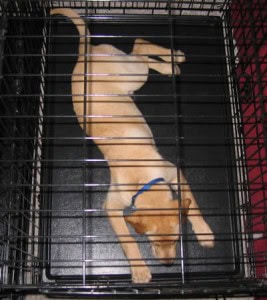 Derby's current feeding schedule is 3/4 of a cup 3 times a day.
As of this morning, I decided to increase his food to 1 cup in the morning, 3/4 cup in the afternoon, and 3/4 of a cup in the evening.
I was thinking about increasing a little more, but Derby always seems to get a mouthful of Linus's food a couple of times a day which probably contributes an extra 1/4 cup.
We'll see how it goes for the next week or two.
If Derby is still looking on the thin side then maybe we'll try increasing his evening meal to 1 full cup.
If you're interested in feeding schedules for your dog check out this article: Puppy Feeding Schedules.
Stetson is starting to get a little heavy…I'd say borderline obese.
Now I'm not just asking How Much Should I Feed My Puppy? but instead how much should I feed a dog?
QUICK RECOMMENDATION: Just in case you were wondering back in the Derby days we fed our pup's Natural Balance Dog Food. Today we are feeding all of our pup's Wellness Core Puppy Food.
QUICK TIP: Moving forward we plan on putting our pup's on a food rotation that will include dehydrated, wet, dry, and possibly raw dog food. Stay tuned for updates on our thoughts and practices for feeding your puppy.
Top Picks For Our Puppies
Check out more of our favorites on our New Puppy Checklist.