How To Stuff A KONG For Puppies
This post may contain affiliate links. We may earn money or products from the companies mentioned in this post.
Kong toys are among the most popular dog toys on the market. They're a great way to keep dogs of all ages mentally stimulated, and they can help soothe the gums of teething puppies and teach them positive chewing habits.
But one question many pet parents new to Kong toys have is how do you actually stuff Kong toys for puppies?
In this article, we'll take you through the ins and outs of Kong toys for puppies. First, we'll look at the Kong range for puppies and the special features they offer that make them excellent and healthy toys for growing dogs.
We will also recommend our top picks for the best stuffable Kong toys for puppies.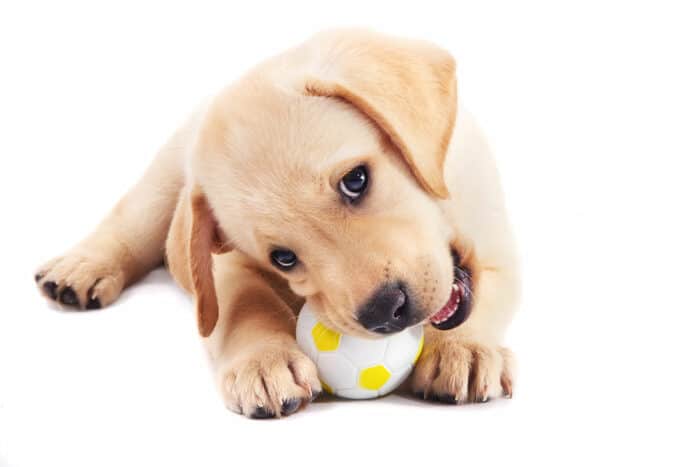 Next, we'll take you through, step by step, how to actually stuff a Kong toy. While it is not challenging, it is possible to get it wrong.
A few tips and tricks will make sure you achieve the right difficulty level for your dog to keep them stimulated and not frustrated.
Finally, we'll share a few DIY Kong stuffing treats if you don't want to buy their ready-made options, and answer some of the most common questions about Kongs for puppies.
Stuffable Kong Toys For Puppies
Kong makes a variety of stuffable toys specifically for puppies, and we've picked the best of the best for you below.
These toys are all made to certain principles for puppies up to about 9 months old, so it is worth noting some of their common characteristics before getting started.
All the toys are made of special rubber designed to sooth teething gums while your puppy plays.
You can also place Kongs in the freezer to offer your puppy extra relief if they need it. They are also all designed to teach your dog how to manipulate objects with their mouth and reinforce positive chewing habits at a young age.
They are dishwasher safe and can be placed in the top rack of the dishwasher, or you can wash them with warm water, dish soap, and a toothbrush for scrubbing.
It's worth noting that while the toys all come in a variety of colors (but usually pink and blue), you don't get to choose your colors. Colors are shipped randomly based on availability.
Kong makes a variety of treats specifically for stuffing in these toys. These include:
These are long, tubular treats that come in two sizes, small measuring 0.75 inches by 3 inches, and large measuring 1 inch by 3.75 inches.
This makes them a good size for most of the Kong puppy toys. As well as being tasty, they are designed to freshen your dog's breath and clean their teeth with rosemary extract, and they're easy to digest.
The treats are made mostly from chicken meal and poultry fat and contain 2.6 calories per gram with 12% protein and 6% fat.
These Kong-shaped puppy snacks are also ideal for inserting into Kong toys. They come in two sizes, large, which measure 1.75 inches by 1.25 inches, and small, measuring 1.25 by 0.9 inches.
They are chicken and salmon flavored, made with oat and rye flour, and deliver 41.8 calories per large snack and 24.2 calories for two small snacks.
This is a treat foam based on chicken liver that can be sprayed into your puppy's toy. It's good to use as a sealant when filling their toys with other treats.
It is made principally from milk, soybean oil, and dried chicken liver, and delivers 300 calories per 100 grams. Feed in moderation as it is quite high in fat at around 18%.
Of course, while Kong makes these specific snacks, you can stuff your puppy's Kong toys with any snacks of the right size and other tasty treats such as peanut butter.
Just make sure that you choose dog-safe foods, Never give your dog anything with chocolate, onions, grapes, raisins, or spices.
Best Stuffable Kong Toys For Puppies
This popular Kong toy for puppies comes in two sizes, small and medium/large so that all pups can enjoy playing with it.
Stuffing the ring with treats teaches your dog how to use their mouth to get into nooks and crannies to get the food they want and with good chewing habits.
The small size measures 3.5 by 3.5 by 1.25 inches, while the larger size is 4.5 by 4.5 by 1.5 inches.
This activity ball will appeal to intelligent pups who like to solve puzzles to get at what they want.
They need to switch and manipulate the shape of the toy rather than just chew to get at the reward. It comes in two sizes, the small for toy breeds, measuring 2.5 inches, and a medium-size measuring 3 inches, so still for medium to small breeds.
Of course, Kong also makes a classic toy specifically for puppies that they can batter and chew but will always bounce back, keeping them entertained for extended periods of time.
The toy is available in three sizes, 1.5 by 2.25 inches, 1.75 by 3 inches, and 2.75 by 1.25 inches, so there are options for most puppies.
This bone is designed for smaller breed dogs as a fun rubber toy that can be stuffed with their favorite treats.
It measures 4.75 by 5.25 by 1.25 inches, so it's suitable for a variety of breeds. It is quite challenging for them to get the treats out, which means they may stay entertained for longer.
This binkie-shaped chew toy is great for teaching proper chewing behavior as they learn both to hold their toy in place and chew at the same time.
This toy is 3 inches by 3 inches by 5.25 inches, making it appropriate for medium and large-breed puppies. The strong design is made to hold up under heavy chewing.
This is a classic ball toy for pups with the added fun of treats to be discovered inside.
There are two sizes available, 2.5 inches for small breeds and 3 inches for larger dogs. They need to learn how to manipulate the round object to achieve their objective.
This puppy toy combines a classic stuffable Kong bone with a sturdy rope attachment for games of tug for logs that love it. Remove the rope to stuff treats inside the bone.
It's one size, 6.75 by 3.5 by 0.75 inches (about the size of an index finger), making it more appropriate for small puppies larger sizes are not yet available.
How To Stuff Your Puppy's Kong
While, in theory, stuffing a Kong toy with treats is simple, it is not always straightforward.
You need to fill it with enough treats to make your dog work for it, but you don't want it to be so tightly stuffed that your puppy can't get anything out at all and becomes frustrated.
Let's go through the process step by step.
1. Measure Out Your Treats
The first step is to measure out the right amount of food or treats to put inside the Kong. You don't want to end up overfeeding your dog by giving them too many treats.
If this is a problem, you can actually deliver your dog their meal through the Kong toy, and this can be a great strategy for fast eaters who like to wolf down their food. This can help them learn to eat more slowly.
So, measure out your kibble, treats, or even canned dog food, making sure you consider your puppy's daily calorie needs and what else they are likely to eat that day.
2. Fill The Toy
How exactly you fill the toy depends on the toy you have, but you will basically have to do the opposite of your dog and push the food into the opening in the Kong toy.
But you have the benefit of a spoon and opposable thumbs, so it should be much quicker for you to put it in than for your dog to get it out.
How densely you fill the toy will depend on how good your dog is at getting the food out. You may need to start with trial and error.
You can start by going for about 50% full, and then adjust depending on how your dog does. As they get more experienced, you'll want to stuff the toy more densely.
3. Seal The Toy
Once you have put the food in, you will want to seal the opening so that it's not too easy for your pup to get it out the moment that you give the toy to them.
Kong's treat cream is a good tool for this, but you can use peanut butter and other sticky edible substances as well.
Just cover the hole with the sticky food, let it dry for a minute or so, and check that the food isn't coming out on its own.
Consider Freezing
If your dog is a particularly good chewer and manages to get to their food quickly, consider freezing the toy. They will have to chew away at the toy while the food thaws before they can get in. This could keep them occupied for 4-6 hours.
Kong Treat Recipes
You can stuff your Kong with pretty much anything of the right size that is nutritionally suitable for your dog. But below are some of the most popular recipes among pet parents in the Kong community.
Kong Candy Corn
Mash banana and measure it out into a silicone freezing tray for ice cubes. Add a little bit of mashed pumpkin and cinnamon on top and then fill the remainder of the tray with maple syrup and yogurt. Freeze for 1-2 hours.
Kong Sweet And Savory
Mix ½ cup of ground turkey, ½ a cup of diced apples, ½ a cup of diced sweet potato, one tablespoon of melted coconut oil, and either one tablespoon of Kong treat foam or peanut butter in a bowl.
Insert directly into your Kong, seal the toy, and freeze for an extra challenge.
Kong Thanksgiving Feast
Mix one cup of shredded turkey, ½ a cup of canned pumpkin, ¼ cup of dried cranberries, and one tablespoon of peanut butter in a bowl. Freeze in a silicone ice cube tray to make treats ideal for placing in your Kong toy.
Kong Birthday Carrot Cake
Mix together in a bowl 1⁄2 cup of oatmeal, ½ cup of shredded carrots, ½ cup of applesauce, 1 teaspoon of cinnamon, and one tablespoon of cream cheese. Insert directly into your Kong or make frozen treats in an ice cube tray.
You can find more great recipes on the Kong website.
FAQs
Are Kong toys good for puppies?
Yes, Kong toys are great for puppies learning how to engage with the world through their mouths.
The rubber used is safe for chewing and can even soothe teething gums, and your dog will learn positive chewing behaviors during play. Just be sure to choose the right size for your puppy!
At what age can puppies have Kong treats?
Puppies should not be fed Kong treats designed for adult dogs, as they should only graduate to these once their adult teeth have come through, at about nine months.
But Kong also makes treats specifically for puppies that can be used for up to nine months.
Can puppies choke on a Kong?
If you choose the right size Kong for your puppy, they shouldn't be able to get the whole thing in their mouths, so it should not be a choking risk.
But no toy is indestructible, and they can certainly break pieces off the toy that can then be a choking hazard. This is why puppies should be supervised when using toys.
Can I leave my dog alone with a Kong?
It's never a good idea to leave dogs alone with toys as the unexpected can happen and you may need to swoop in and sort out a problem.
However, durable Kong toys are relatively safe, and if you have already observed your dog with the toy and know they will not be able to break pieces off and choke, you may be able to leave them alone with the toy.
But puppies should not be left alone with the toy as they do not yet have the same self-knowledge to protect themselves.
Is peanut butter OK for puppies?
Yes, puppies can have peanut butter as long as it is fed to them in moderation (it's high in calories) and does not contain the sugar replacement xylitol, which is toxic to dogs.
How long should a dog chew on a Kong?
For healthy teeth and gums, dogs should chew for about 10 minutes a day. They will chew for hours if you let them. Take the toy away once they have gotten their treats so they don't chew excessively.
Why do Kongs have two holes?
Kings have two holes to prevent suction so that your dog's lips and tongue never get sucked inside the toy and become stuck there while they are playing.
The Verdict
Kong toys are popular with dogs of all ages, but they are especially good for puppies.
The line of toys made by Kong for puppies up to 9 months old not only keeps them mentally occupied by making them work for delicious treats, but they teach your dog how to chew and manipulate objects with their mouths, and also soothe teething gums.
But to use a Kong toy properly, you also need to stuff it properly. It needs to be enticing, and it needs to be hard enough for them to get the treats out to be stimulating, but not so difficult that they become frustrated.
Follow our stuffing guide with any of the Kong puppy toys recommended in this article, and both you and your pup are sure to be happy with the results.
Do you have any top recipes for stuffing Kong toys?
Share them with the community in the comments section below.
Save To Pinterest
Top Picks For Our Puppies
Check out more of our favorites on our New Puppy Checklist.