Is Linus An Example Of Inappropriate Dog Play – Inappropriate Dog Play Part 3 of 3
This post may contain affiliate links. We may earn money or products from the companies mentioned in this post.
Did you see yesterday's video of Linus playing with my parents dog Ralphie? Was this appropriate or inappropriate dog play? If you didn't see the video take a look at yesterdays post: How Linus Learned Dog Play – Inappropriate Dog Play Part 2 of 3.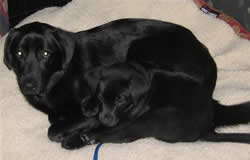 When I watched Linus as a puppy play with Ralphie it was sometimes borderline inappropriate dog play. However, what I saw in the video looked OK.
I don't think Linus was ever scared or fearful.
I don't think Ralphie was ever over aggressive.
In general it looked like perfectly fun dog play!
Linus vs. Stetson Inappropriate Dog Play?
When I brought Stetson home he always seemed to be a menace to Linus – grabbing his tail, biting his neck. grabbing his hind leg then running away. Here's some early footage:
I also remember one of Linus's favorite moves was to sit on Stetson for about 2-4 seconds jumping off then doing it again.
Is that reminiscent of how Ralphie used to man handle Linus?
Linus vs. Derby Inappropriate Dog Play?
Unfortunately, I'm having some trouble getting my Linus vs. Derby videos off the camcorder and on to my computer. It's very similar to what you see above except Stetson used to constantly harass Linus. Derby on the other hand is more of an athlete and really likes darting back and forth around the house jumping over obstacles including Stetson, Linus, furniture, etc.
From what I've witnessed Linus doesn't like it when Derby runs back in forth in the house and regulates play by trying to grab the scruff of his neck. That is how I think Linus may have caught Derby on the face and top of the head during perhaps "inappropriate dog play?" we mentioned in the first article from this series: What Is Inappropriate Dog Play – Part 1 of 3?
The Verdict On Inappropriate Dog Play
After writing three articles, reminiscing, and reviewing the video evidence (I actually have an entire archive of Stetson, Derby, Linus, and Ralphie video) I've come to the conclusion that while Linus's play can sometimes be constituted as inappropriate the majority of the video footage absolves him of inappropriate dog play. As to the best of my knowledge Linus seems to abide by the rules of appropriate dog play when playing with Stetson, Derby, and Ralphie.
What do you think? After watching the videos would you consider Linus's play inappropriate dog play?
If you haven't had the chance to read the first two articles from this series then here are the links:
What Is Inappropriate Dog Play – Part 1 of 3?
How Linus Learned Dog Play – Inappropriate Dog Play Part 2 of 3
Top Picks For Our Puppies
Check out more of our favorites on our New Puppy Checklist.