Secure Your Dog In The Car With A Safety Harness
This post may contain affiliate links. We may earn money or products from the companies mentioned in this post.
During my search to find a car suitable for my two dogs I began to think about some of the products I own that help keep my dogs safe in the car. Several years ago I purchased the Four Paws Safety Seat Vest Harness
for my dog Linus. Linus is a very calm dog and for the most part just sits in the back or front seat of the car while I drive. This makes it very easy for me to drive even if he doesn't have any sort of safety device on. However there are plenty of reasons you should consider a safety harness or some other device that keeps your dog in his seat.
The Dangers Of Driving With Your Dog
This information comes from a UK Pet Club website:
…RAC Foundation showed nearly 90% of all pet-owning motorists had been distracted by their animal when driving, and a further 11% had almost crashed into the car in front because they were too busy attending to their furry friends to look at the road… …Even pets that are normally well behaved could be frightened by something unusual and dive for the driver's feet or lap… So what's the best way to keep you and your pet safe in the car?

All pets should be safely secured in the back, either with a harness, cage, pet carrier or behind a dog guard in the boot.
Should you be unlucky enough to have a crash, make sure you don't let a dog out of its carrier until it has calmed down, or it could pose a risk to other road users.
To prevent your pet distracting you as you drive, get it used to the car by taking it on a series of short drives, gradually lengthening the time spent in the car to get them used to it.
There's nothing more distracting than an animal that's being sick all over your upholstery. Feed it a light meal four hours before departure and avoid giving it large amounts of food just before you leave.
Don't let your pet sit in the front if you have a passenger airbag or it could be injured in an accident.
As I said earlier Linus is a very calm dog, but he is easily startled and would jump up to the front seat or my lap when he's scared. Before I considered securing Linus in a harness he would usually stay in place riding in the front passenger seat. However, as a puppy he vomited on several occasions on my upholstery. Also, as mentioned you shouldn't let your dog ride in the front seat if you have passenger side airbags. Just like with children a dog can be seriously injured by the airbag.
Guide Dog Car Rides
Guide Dog Puppies in Training need to get very accustomed to riding in the car. Stetson alway rides on the passenger side floorboards when we are driving (if he's with a passenger he stays on the floorboards between the passengers legs). As a puppy I had to secure Stetson to the floorboards by trapping his leash inside the closed car door. I would do this by putting a knot in his leash then closing the passenger door on the knot. After about a month he became accustomed to the floorboards and would just stay down on his own during all of our car rides. The other option I have with Stetson is to let him ride in a crate while driving. I've only done this one time since I've had Stetson and that was because I had several dogs riding in my car.
Safety Devices
There are plenty of safety devices out there to secure your dog during car rides. Some I've used and some I have not.
Midwest 1636DD Life-Stages Folding Double-Door Metal Dog Crate – I bought this crate before I picked up Linus from the shelter. I continue to use the same crate with Stetson. It's been very durable and much easier to travel with than the plastic shell crates (you can collapse the crate making it easy for travel). It also has a divider allowing your puppy to grow into the crate (if a crate is too large for a puppy then he will often piddle on one side and sleep on the other). Be sure to get the correct size crate for your dog. Also make sure your crate is secure in your car.
Four Paws Safety Seat Vest Harness – This is the safety harness I use with Linus. The picture to the right is Linus in the back seat of the CRV. It's a little difficult to see the harness because the straps are the same color as Linus's fur. Hopefully you can see how the seatbelt runs through the back of the harness keeping Linus safe in the car.
LARGE – RED – Dog Car/Truck Safety Harness – Adjustable Nylon Web with Quick Release Buckles – I came across this harness, but have not purchased or used it. I thought it was interesting that it connected directly to the seatbelt.
Barriers – Barriers will keep your dog from coming to the front seat of your car, but still may not protect them from an accident or keep them secure and under control.
The Four Paws Safety Vest An Harness
I highly recommend the Four Paws Safety Seat Vest Harness.
Linus wears his harness in the backseat of my car. Just put on the harness, loop the seatbelt through the back of the harness, and snap the seatbelt into place. That's it! Now you have the peace of mind that your dog will not try to sit on your lap while your driving, jump out the window, or bounce of the windshield in an accident.
I've had three problems with my Four Paws Safety Seat Vest Harness.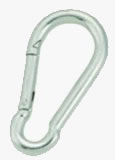 When I first purchased it from PetSmart the size was not quite right for Linus. I've read that other people have had trouble with the size of this product (I guess the sizing chart is not quite accurate). Linus is a medium sized dog and weighs about 55 pounds. His harness is a medium.
When Linus was younger he ate through the plastic snaps on the harness. Luckily he didn't chew through the straps. I was able to take a Climbers Safety Spring Hook and use that instead of the plastic snaps.
Recently after I snap on Linus's harness and seatbelt he tries to get comfortable. You've probably all seen your dog circle two or three times before they lay down. This is a problem when the harness and seatbelt are on because your dog will get tangled in the seatbelt. I haven't found a good solution for this issue yet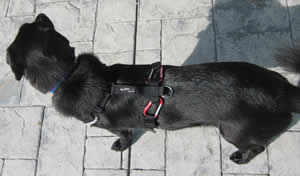 The picture on the left is Linus wearing the Four Paws Safety Seat Vest Harness. You can't see the harness very well because of Linus's black fur. You can see the red replacement Climbers Safety Spring Hooks I used in place of the regular clips.
Overall I think this is a great product and something you should consider using if you take your dog on car rides. It's very important to keep yourself and your dog safe whenever you go out for a drive.
Let me know what you think. What do you do with your dog? Do you secure him during car rides?
Top Picks For Our Puppies
Check out more of our favorites on our New Puppy Checklist.