Pet Top Portable Drinking Device Review
This post may contain affiliate links. We may earn money or products from the companies mentioned in this post.
Over the last few weeks we've been reviewing dog bowls specifically dog food bowls for fast eating dogs.  I had perfect test subjects: Stetson and Derby my two Labrador Retrievers.  If you know Labrador Retrievers then you know these guys love to eat.  If you're interested in checking out the bowls we reviewed then go to this page: Dog Bowl Reviews.
As a Guide Dog puppy raiser we are out in public all the time and we need dog food and water bowls for traveling.  Well, dog water bowls aren't always "dog water bowls."  In the case of today's review our "dog water bowl" is actually just a device used for dispensing water out of an ordinary plastic water bottle.  Confused?  Well let me enlighten you with this weeks Dog "Product" review…The Pet Top Portable Drinking Device.
Pet Top Portable Drinking Device Review
We first saw the Pet Top Portable Drinking Device at the OC Pet Expo a couple years ago and used it quite a bit with both Stetson and Derby.  Here are the specifications on the device:
Product: Pet Top Portable Drinking Device
List Price: $5.99
Product Features:
Designed to supply a neat and clean water supply to your pet when your on the go.
Fits most standard water bottles.
Unique ratchet-action keeps the Pet Top® portable drinking device open at your desired setting while in use, so your pet gets the right amount of water throughout!
Dishwasher safe
Product Description
Our unique patented Pet Top® portable drinking device for pets is designed to provide a neat and convenient water supply for your pet when you're on the go and can't be bothered with the mess, hassle and waste of pouring water into a bowl.
Take the Pet Top® portable drinking device with you to the park, in the car, on a walk, or anywhere your pet needs a drink. It's small enough to fit in a jogging pack, purse or pocket when not in use. And since it fits most standard water bottles, you'll always have a ready source of water nearby. You can even reuse a water bottle.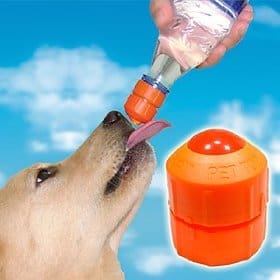 Puppy In Training Product Review
Pet Top Portable Drinking Device Video Review
Once again Stetson is our trusty test subject.  He was pretty thirsty on this day and did a great job licking away at the Pet Top Portable Drinking Device.  Take a look at the video:
What did you guys think of the video?  The Pet Top Portable Drinking Device worked as advertised and I can confirm that it does fit on pretty much every water bowl I've tried.
My Thoughts on the Pet Top Portable Drinking Device
What are my final thoughts on this product.  Well for starters it worked great and is very portable.  One of the main features I like about the Portable Drinking Device is the fact that I can grab this little orange cap, a couple water bottles, Stetson, Linus, and I can share the water very easy and conveniently.  It's easy to keep clean and my dogs required very little training to use the device (I just had to wait until they were thirsty).
The one thing I didn't like about this device and actually a bit of a deal breaker for taking with my Guide dogs was the fact that the water dripped outside Stetson's mouth.  This was really unavoidable even after adjusting the water flow by tightening up the cap.  If I'm in doors with one of my guide dog puppies I can't have water dripping all over the floor or carpet I need something better suited for indoors.  Also, another negative about loosening and tightening the cap: if the cap is too tight very little water comes out and it takes forever to quench your dogs thirst.  If you loosen the cap then you end up with a bigger mess of water on the floor which is not that big a deal as long as you're outside.
To sum up:
Pros:
I love how portable the device is.  It's fits easily in your pocket (in my cargo shorts)
It's great how it fits on most any water bottle
Easy to keep clean and interchange water bottles between people and dogs
Cons:
Water drips on the ground.  How much depends on how much you loosen or tighten the cap for water flow
Even when you have the Pet Top on very loose for maximum water flow Stetson sat there for minutes drinking water (I time lapsed the video to speed things up)
It's great that it fits on any water bottle, but we're trying to be more green and eco-friendly by avoiding the plastic water bottle – I originally had this as a con, but in reality I'm sure you can find a used water bottle just about anywhere from anyone of your friends which does promote recycling.
Overall we really enjoyed the Pet Top Portable Drinking Device and we would recommend it to people as long as they know that some of the water will drip to the ground.  Of course this is not a problem if your just taking your dog to the park, camping, or hiking.  However, if you need to give your dog water indoors you might need a device or dog water bowl that does not drip or cause a mess.

Top Picks For Our Puppies
Check out more of our favorites on our New Puppy Checklist.