This post may contain affiliate links. We may earn money or products from the companies mentioned in this post.
Some people are looking for a beautiful custom made ceramic dog bowl that matches the interior of their house like any other piece of art. Others however look for a functional dog bowl, one that gets a specific job done. A dog bowl for most people provides your dog's meal and a place to drink water.
Do you think I'm looking for a dog bowl as a piece of art or for it's functional purposes? That's right when I look for a dog bowl I try to find one with a purpose. Take a look at the bowls we've collected and reviewed below:
That's Linus, Derby, and Stetson trying to figure out which bowl will hold their next meal. Not all the dog bowls reviewed are in this picture.
Be sure to check our website every Tuesday for the latest in-depth dog bowl review. We will continue reviewing dog food and water bowls every Tuesday for the next few months.
Dog Bowls With A Purpose
As a Guide Dog Puppy Raiser and a Labrador Retriever owner we run into two problems quite often. First of all, as a puppy raiser I take my dog everywhere and often times need a nice traveling dog bowl for both feeding and giving my puppies water.
Second, I have Labrador Retrievers and if you know Labs you'll know they don't eat food they gulp down food. Early on I noticed this was a problem with Stetson. As a puppy he would eat so fast he'd either start choking on his food or he would vomit shortly after eating. This happened probably about every other meal.
We tried several different dog bowl options and received many suggestions from our friends and family which led to our very first dog bowl review. We picked up the Brake-Fast Dog Food Bowl from Linus's trainer and it helped slow down the eating frenzy.
However, shortly after using the Brake-Fast Dog Food Bowl Stetson began breaking out all over his chin. He had canine acne and our veterinarian told us the most likely cause was using a plastic bowl. According to our vet the plastic bowls harbor more bacteria and end up causing canine acne in some dogs. He suggested we switch back to a stainless steel dog bowl.
That's where our dog bowl journey begins. We didn't totally rule out plastic bowls, but we did keep in mind that a plastic dog bowl might cause acne in our dogs.
Dog Bowls For Fast Eaters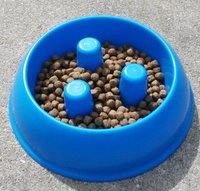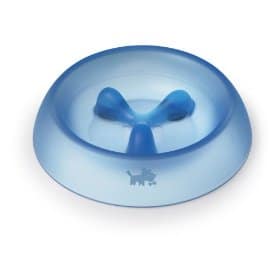 DogPause Dog Food Bowl – Another dog food bowl to help control the speed your dog eats his food.
Those are the contenders for dog bowls that will help slow down a fast eating dog. I'm sure not everyone runs into the problems associated with a speed eater like my Labrador Retrievers. We will continue our series on Dog Bowl Reviews over the next couple days. Tomorrow we'll cover Traveling Dog Bowls and Products and Friday we'll check out the ever so popular category of Not Quite A Dog Bowl (most of these products are good for traveling with your dog).
This list may grow over time as I've already seen some other products I'm interested in reviewing so check back often to see if your favorite dog bowl is under review.
Are there any dog bowls you think I should add to this list? What dog bowls have you used to slow down a fast eating dog?
Beginning next Tuesday (every Tuesday we will reveal a new dog bowl review) we will start releasing in-depth reviews of each dog bowl. Some reviews will include exclusive video footage and all reviews will have great images and detailed reviews from our staff and our dogs.
Top Picks For Our Puppies
Check out more of our favorites on our New Puppy Checklist.