Roomba…Pet Dog…And My Experience…The Roomba Review
This post may contain affiliate links. We may earn money or products from the companies mentioned in this post.
I have a Roomba, Pet Dog, and small condo.  The question is does it all work?  Does my condo get clean?  Does the Roomba work?  and Does the Roomba freak out my dog like all other vacuum cleaners? The answers are yes and no.  We'll cover all of this and more below in my Roomba Review!
Today we're going to take a break from dog bowl reviews and review a different kind of dog product: the Roomba for people with dogs.
Roomba Review For People With Dogs
First of all what is the Roomba?  The Roomba is a revolutionary new (well not that new anymore) vacuum cleaner that cleans your floors independently.  That is you don't have to push around the Roomba…it goes from room to room on it's own navigating using it's own little electronics and navigation.
There are different styles with varying amounts of technology, but the main purpose of the Roomba is that it can clean your house without you.  The Roomba I ended up getting was the iRobot 560 Roomba Vacuuming Robot.  It was definitely one of the higher end models and came with more bells and whistles then I knew what to do with.  Here's the Roomba 560 product information:
Product: iRobot 560 Roomba Vacuuming Robot
List Price: $349.99
Product Features
Vacuuming robot picks up dirt and debris with the touch of a button
Easy-to-empty bagless dustbin; fine-filtration system traps allergens
Anti-tangle technology; gentle-touch bumper system; built-in cliff sensors
Self-charging Home Base, 2 Virtual Wall Lighthouses, an extra filter, and more included
Measures 16-3/4 by 21 by 5 inches; 1-year limited warranty
Product Description
Cleans routinely, so you don't have to. 500 Series robots offer the latest innovations from iRobot with unprecedented efficiency, coverage, and cleaning performance.
Product Image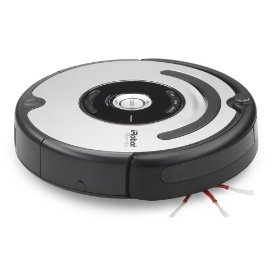 My Thoughts On The Roomba
I absolutely loved the Roomba for the three months it worked. I never did program it, but as far as I know you can program it to clean at specific times.  I would just push the button on the top, leave the house for work, and when I returned it cleaned up all the fur in dust in my house…EXCELLENT!  It even returned itself to its charging base so that it would be fully charged for the next days work.
Did it scare my dogs?  Linus was hesitant at first, but eventually got used to it and just watched or avoided it as it move around the house.  Stetson was still in puppy mode and thought it was a toy as he bounced around thinking it was something to play with.  It is slightly quieter then my regular vacuum cleaner and I think that is why Linus got used to it so quickly
Unfortunately, after about three months it broke down and was no longer usable.  So what was the probelm?
The Roomba worked absolutely great, but one day a stubborn piece of long dog fur got tangled in one of the gears.  The little plastic gear would no longer turn however the roller that  sweeps the floor continued to turn and stripped the gear rendering the Roomba unusable.  I tried several times to get it to clean the house and it still did circle each room, but no longer picked up the dust, dirt, and fur.
Another drawback I found with my dirty house was that the little dust bin could not collect much lint, dust, dog fur, etc. before it was full.  If you have a heavy shedding dog then you might have to run the iRobot 560 Roomba Vacuuming Robot several times a day.  Once a day worked fine for me, Linus, and Stetson.
Pros:
Cleaned the floors at the push of a button while I was away at work!
Returned to charging base ready for the next days work
Simple to use and easy to clean
Not long before both my dogs were used to the Roomba roaming the house
Cons:
Not very durable – broke down in 3 months
The dust bin is very small and might not work to well with heavy shedding dogs
The Roomba can't navigate it's way down stairs.  Lucky for me my one story condo is perfect and the Roomba easily cleaned all five rooms and two bathrooms.
The price – at $349 this thing is a bit pricey.
My parents have three cats and a dog and several years ago we bought them a Roomba.  They loved it and theirs lasted several years.  As I mentioned earlier I loved my Roomba too.  However, the one drawback that I had was it's durability.  My suggestion to you: If you want to purchase a Roomba then make sure you get the extended warranty.
What about you?  Do you own a Roomba? Pet Dog?  Give us your Roomba Review for people with dogs in the comments section below?
Top Picks For Our Puppies
Check out more of our favorites on our New Puppy Checklist.