Puppy Raisers Gather At OCTA Service Animal Training
This post may contain affiliate links. We may earn money or products from the companies mentioned in this post.
We've been organizing our Orange County Guide Dogs of America group outings for the past two years and one of our favorites is organized by the Orange County Transportation Authority (OCTA).
The OCTA Service Animal Training is held once a year on the first Saturday of October and offers service animals the opportunity to ride the OCTA bus and enter the Knott's Berry Farm theme park for free!  Training is held from 8am to noon at the Fullerton Park and Ride.
OCTA Service Animal Training
We've been raising and training guide dog puppies for over 6 years now.  Part of our job as guide dog puppy raisers is to make sure our puppies are well socialized with all different kinds of people, places, and things.  When our dogs graduate guide dog college many will start using public transportation on a regular basis.
A lot of us don't think to much about public transportation especially people like myself living in Southern California and driving a car from place to place.  Many people with disabilities don't have the luxury of driving their own cars and must use buses, trains, and trams to get around.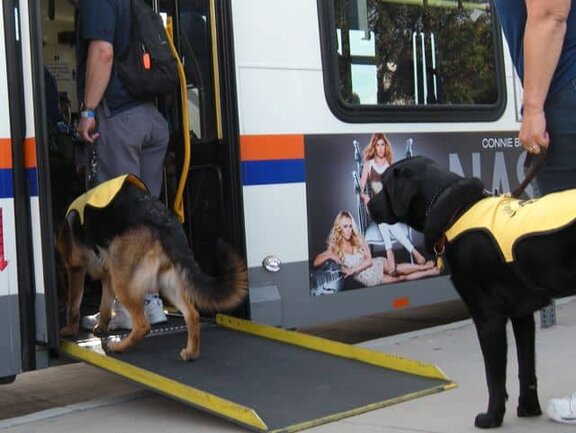 OCTA bus training is a great chance for our dogs to gain experience boarding, exiting, and riding on a bus.  Not only that, but OCTA and Knott's Berry Farm team up every year to also give us free passes into Knott's Berry Farm to experience the sights, sounds, and smells of a theme park.
It's an awesome experience for both puppy raisers and puppies in training and if you're a puppy raiser and live in the Southern California area I highly recommend you look into attending OCTA service animal training next year.
Some Tips When Working With Your Puppy On The Bus
We got a few last minute tips from our puppy department before our training day and we just wanted to share with you in case you ever have to take your dog on the bus.
When riding the bus, puppies need to be sitting in front of you facing out, and your toes should be tucked around your puppy's toes to protect them from being stepped on.  This will be the most common position for them in formal training and when riding with their blind person.
For longer rides, puppies can be laying down as long as no part of them is sticking out from under the seat.
Basically you want to make sure and protect your puppy from getting stepped on.  Be very aware of your puppies feet and tail as they tend to sometimes hang out and can possibly get run over by an unsuspecting person.
Many Different Service Animal Groups Gather At OCTA Bus Training
One of my favorite parts about the OCTA training day is seeing all of the different service animal groups gathering to work on training their puppies.  Some of the groups we remember seeing were Guide Dogs of America, Canine Companions for Independence, Guide Dogs of the Desert, Canine Support Teams, Guide Dog for the Blind, Delta Society, and a few others we can't remember off the tops of our head.
Of course the weekend was not without a little bit of mischief.  we saw this pup hop up on the passenger seat.  A definite no-no when riding the bus.  I guess he wanted to check out the college football scores.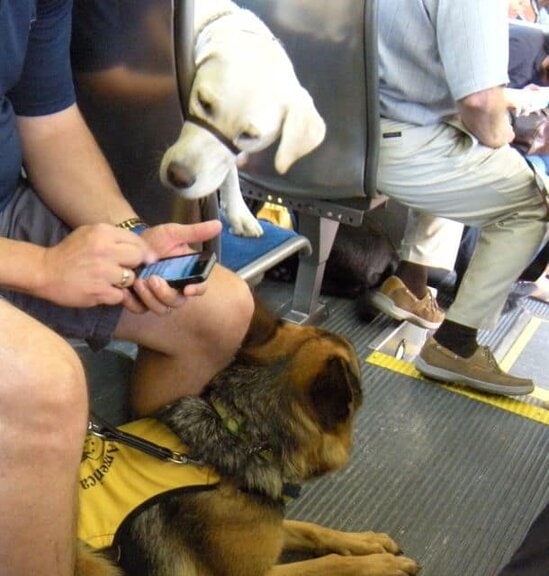 Thank you to Orange County Transportation Authority (OCTA) and Knott's Berry Farm for providing us with this wonderful training day.  It's an invaluable experience for all of us puppy raisers.
We'll see you next year!
Did you participate in this years OCTA Service Animal Training?  Have you taken you dog on public transportation?  Tell us about your experience in the comment section below.
Top Picks For Our Puppies
Check out more of our favorites on our New Puppy Checklist.