Service Animal Training Offered By OCTA
This post may contain affiliate links. We may earn money or products from the companies mentioned in this post.
Once a year the Orange County Transit Authority offers public transit orientation training to service animals and their handlers.  This is one of my favorite events of the year because it gives me and my guide dog puppy in training a chance to not only ride the bus, but also visit Knott's Berry Farm at no charge for a couple hours.  Both experiences are invaluable as many working Guide Dogs take public transportation on a daily basis and a visit to Knott's Berry Farm gives our puppies a chance to see and hear different sights and sounds they wouldn't normally encounter.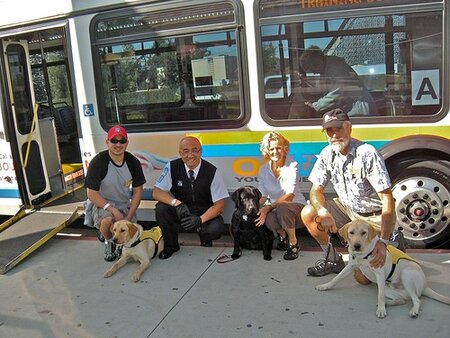 One other benefit is the opportunity to apply for a No Fare Identification Card.  It only costs 2 dollars, is good for one year, and identifies your Guide Dog Puppy as being in training which precludes the handler from paying a fare when boarding the bus.
We're going to do our best this year to not only snap a few photos, but also try and get some guide dog puppy training videos on the buses and in Knott's Berry Farm.
Service Animal Training
Here's the information I received on this years OCTA Service Animal Training:
Service Animal Trainers/Handlers:

The Orange County Transportation Authority will once again be providing public transit orientation training to service animals and their handlers/trainers on Saturday, October 2, 2010 at the Fullerton Park and Ride, 3000 West Orangethorpe, Fullerton, California.

Buses will be departing (approximately) every thirty minutes on the hour and half hour beginning at 8:00 am, with the last bus leaving at 12:00 pm.

All service animals and handlers/trainers are encouraged to attend.

In addition, Knott's Berry Farm will be allowing the service animals, handlers/trainers inside the park between 10:00 am to 12:00 pm, to experience the sights and sounds of a theme park.

During this event, you will have the opportunity to apply for a No Fare Identification Card (this is not a requirement). The No Fare Identification Card is good for one year and identifies the animal as being in training, which precludes the handler/trainer paying a fare when boarding the bus. The fee for this identification is $2.00.

Please contact event coordinator, Pam Peters at 714-265-4387 or ppeters@octa.net with any questions.

I look forward to seeing everyone at this event.
Will Guide Dog Puppy – Dublin Be In Attendance?
One thing we talk about when raising our puppies is whether or not an event is age appropriate.  Riding on a bus and visiting Knott's Berry Farm can be overwhelming for a young puppy and at the time of this event Dublin will only be 5 months old.  We don't want to overwhelm Dublin with too much too soon so he will most likely sit this one out (I'll check with our trainers).  However, I do plan on going to the event and if Dublin can't go then I'll do my best to bring another Guide Dog Puppy In Training to enjoy this experience.  Last year we borrowed Sydney, brought him on the bus, and walked him around Knott's Berry Farm.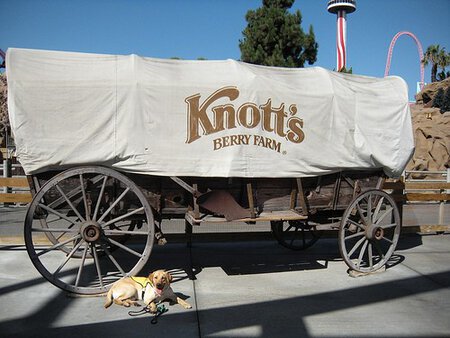 Another fun thing about this event is we get the chance to meet many different service animals from different groups.  Over the past few years we've met therapy dogs from Therapy Dogs International and Delta Society, Guide Dogs from Guide Dogs of the Desert and Guide Dogs for the Blind, Service Dogs from Canine Companions for Independence and Canine Support Teams, and a couple years ago we met a Vizsla who was a Cadaver Dog in training.
How about you?  Are you planning on joining us at the OCTA Service Animal Training?  Have you done this training in the past?
Top Picks For Our Puppies
Check out more of our favorites on our New Puppy Checklist.