Things To Remember When You Go To Pickup Your Puppy
This post may contain affiliate links. We may earn money or products from the companies mentioned in this post.
So, the day to pickup your puppy has arrived and you've forgotten everything you learned.  We're definitely guilty of forgetting a thing or two on puppy pickup days.  However, I like to keep a short list of Things To Remember When We Go To Pickup Our Puppy.
Things To Remember When You Go To Pickup Your Puppy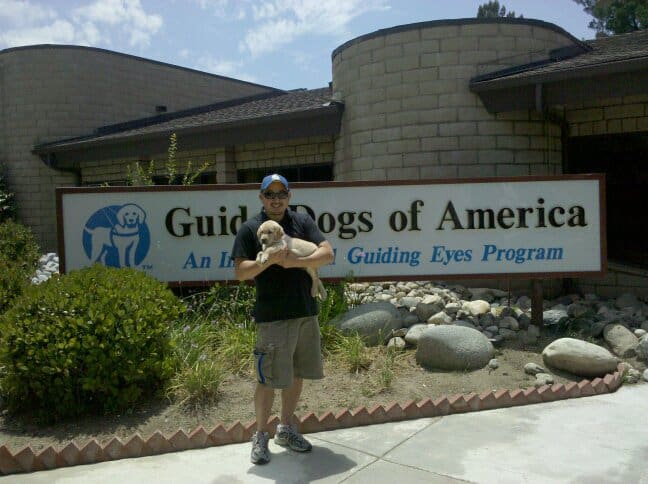 Bring A Friend – life is much easier if you have a friend or family member to help you on puppy pickup day.  It shouldn't be too hard to get someone to join you to pickup up an adorable fuzzy little puppy.  Plus this will help when you get to item #3.
Bring A Kennel – if you brought a friend you may not need a kennel (we get a head start and let our puppy ride at our feet on the passenger side floor boards).  However, if you're going solo like I did with Stetson then you definitely need a kennel during your drive home (you don't want your puppy squirming and trying to jump up on your lap while you're driving).
Take Lots of Pictures/Video – it's definitely a special day and you want to make sure you document as much as possible by having your friend take pictures and/or shoot video to capture the moment you'll be happy you did.  Once again, if you're going solo then bring along a camera and ask some of the other puppy raisers to take a few shots of you and your new pup.
Bring Rags and Paper Towels – I've raised three puppies for Guide Dogs of America and two out of three have had accidents during the car ride.  Stetson had a pee accident during his kennel ride and Derby vomited on the passenger floor.  Lucky for us we lined the kennel and the passenger floor with old rags and cleaned up with paper towels.
Bring Along A Stuffed Toy and/or Blanket – If you're raising a puppy for Guide Dogs of America then you'll most likely get a plush stuffed toy and a blanket in your bag.  However, every year we make sure to bring a stuffed toy of our own rub on our puppy's litter mates.  This gets the scent of the litter and helps when it comes time for puppy's first night home in his kennel.  We wrote a short article on getting the scent of the litter a couple years ago after we brought home Stetson.
One final tip for Guide Dogs of America puppy raisers:  Make sure you try and listen to every word Louise says right before you head down to the nursery.  She has some great points that will help you raise your puppy.  I know it's difficult to listen it being so close to having your cuddly puppy in your hands, but it will definitely benefit you and your new Guide Dog Puppy In Training.
Have you guys been following us on Facebook or Twitter?  If not, check out our pages at http://www.facebook.com/PuppyInTraining and http://www.twitter.com/PuppyInTraining.  We've been adding short updates on our latest Guide Dog Puppy In Training, Dublin's progress including "Status" Updates, Updated Picture Albums, and links to some of our other GDA friends.
One final thing to note: We also plan on putting together a YouTube Channel and keep a Guide Dog Puppy Training Video Journal starring Dublin.  We plan on getting our first episode posted this week so make sure to subscribe to our channel at http://www.youtube.com/user/PuppyInTraining.
Top Picks For Our Puppies
Check out more of our favorites on our New Puppy Checklist.